When President Bush steps up to deliver his sixth State of the Union address, he will find a clear majority of evangelicals still support him, but their fervor has been weakening.
In the 2004 election, white evangelicals gave the President 76 percent of their votes. The strength of white evangelical support for Bush is similar to that of Jewish and African American support for Democrats. The big difference is that white evangelicals are a larger constituency, representing more than 25 percent of the U.S. voting population.
In recent months, evangelical support for the President and the Iraq war has drifted downward. In December 2002, a Pew Center poll found that 77 percent of white evangelicals approved of Bush's job performance. By October 2003, that approval rating had drifted down to 68 percent. In October 2005, it was 64 percent.
In addition, backers of Bush are less intense in their support. Previous Pew polls found that most evangelical supporters gave Bush an "excellent" rating as President. Now, most give a "good" rating.
Still, evangelical support is relatively strong. By way of contrast, non-evangelical job approval of Bush has fallen much farther. In December 2002, 61 percent of all Americans approved of Bush's job performance. Within a year, the President's approval rating had dropped to 50 percent. This fall, it bottomed out at 37 percent, the lowest level in his presidency.
To get a better handle on shifting evangelical reactions, Christianity Today interviewed a broad cross-section of evangelical leaders throughout 2005 on their evolving views of Bush. CT also spoke in greater depth with core supporters of the President at four churches: Folsom Community Bible Church in California; Christ Presbyterian in Victoria, Texas; Christian Cultural Center, a New York City megachurch; and a mixed-ethnic congregation, Resurrection Church, also in New York. We also spoke with professional pollsters and analysts about their research on evangelicals and politics.
While many use the word disappointed when they talk about the Bush presidency, the general mood among evangelicals is still supportive.
Strong Support for War
White evangelical support for the Iraq war has drifted downward more slowly than support for the President in general. But Richard Cizik, vice president for governmental affairs at the National Association of Evangelicals (NAE), cautions, "The President may be skating closer and closer to the edge with evangelicals on this war."
Throughout much of 2005, the military death toll was on average 2.3 fatalities per day. Since the start of the war on March 20, 2003, to the end of 2005, more than 2,350 soldiers have been killed, including 2,172 U.S. and 98 U.K. soldiers. More than 15,000 American troops have been wounded in action.
In addition, Bush's credibility has been weakened by a number of events. Claims about Saddam Hussein's weapons of mass destruction turned out to be greatly exaggerated. The knockout punch against terrorism hasn't yet been delivered. The President's approval of harsh interrogations made Americans seem to be the bad guys in the war on terrorism. And, scandal touched the White House. Scooter Libby, the vice president's chief of staff, was indicted for perjury, and top aide Karl Rove remains under investigation for his role in exposing covert cia operative Valerie Plame.
In the days prior to Christmas, Bush delivered five speeches touching on the Iraq war. He said the world is safer with Iraq's Saddam Hussein out of power. "I ask all of you listening to carefully consider the stakes of this war, to realize how far we have come and the good we are doing, and to have patience in this difficult, noble, and necessary cause."
So far, evangelicals have not run out of patience. In 2003, 77 percent of white evangelicals approved of Bush's decision to launch the war in Iraq. By last October, evangelical support for the Iraq war was down only to 68 percent.
Non-evangelical support for the Iraq war has always been lower than evangelical support. By August 2004, support for the war dropped below 50 percent for the first time. In October 2005, a majority of non-evangelicals believed that the Iraq war was wrong.
In the church interviews in New York, Texas, and California, Christianity Today found that Bush's evangelical core supporters still trust the President and give him solid personal endorsement. But they report being dissatisfied with his on-the-job performance and many administration policies.
Opinion poll analyst John Green at the Bliss Institute at the University of Akron told CT that almost 40 percent of white evangelicals are disenchanted with the President's leadership in one particular or another.
On the policy side, the Bush administration has earned high marks for giving access to federal funds to faith-based groups providing social services, for funding abstinence programs against HIV/AIDS, and for making peace between Muslims and Christians in Sudan a priority.
But some policy implementation has been slow in coming. NAE's Cizik says the administration has for five years been handing out reassurances, saying, "We're working on this." Cizik notes that as far as evangelicals are concerned, the Bush administration has earned its "slow-to-deliver" reputation.
Fumbling Disaster Relief
Evangelicals give mixed reviews regarding President Bush's handling of hurricane disaster relief, but most seem to be disillusioned.
African American church leaders told CT they found it nearly impossible to defend Bush in the face of images of poor African Americans marooned in New Orleans.
A. R. Bernard of New York City's Christian Cultural Center traveled to Houston to join African American leaders in support of the President's relief plan. But they also expressed deep unhappiness with many aspects of the federal response. One pastor told CT, "The President's flyover look at New Orleans sent the wrong message. He should have been on the ground with the people from day one."
African American pastors say the weak initial response set back their new partnership with Bush. The Presidents's compassionate conservatism seemed to be building a bridge between the races. The administration's response to the Gulf Coast disaster has stalled that bridge building.
By contrast, Bush's white evangelical core is more supportive of Bush's handling of Katrina. Leaders told CT that they point the finger at the incompetence of state and local politicians. Fall 2005 polls show that overall evangelical support had a temporary dip due to the Bush administration's Katrina missteps. Pollster Green says that the missed opportunities of disaster relief added to the sense among evangelicals that, under Bush, "Things don't seem to be performing as expected."
Loyal Backlash
Bush supporters observe that the administration's remaining 36 months give it ample time to recover. Pollster Green agrees. "If the U.S. was able to capture Al Qaeda leader Osama bin Laden, the President's approval rating would really shoot up."
A handful of recent developments have helped to shore up Bush's support among evangelical conservatives. For example, most evangelical leaders hailed Bush's nomination of conservative Samuel Alito to the U.S. Supreme Court. Evangelicals also largely supported Bush nominee Harriet Miers, whom other conservatives savagely attacked as unqualified. Miers, a Texas evangelical, withdrew her name.
Michael Cromartie of the Ethics and Public Policy Center, a leading conservative think tank, observes, "Evangelicals are most concerned about the war and the courts. Alito has galvanized people."
In addition, the violence-free election in Iraq provided a potent example of how Bush's Iraq strategy might win the day in the end.
Evangelical leaders say they appreciate democracy in the Middle East as much as anyone. They believe democratic governance shows the greatest promise for securing basic freedoms—including freedom of religion. Evangelicals interviewed by CT often spontaneously mentioned democracy as the linchpin of the President's foreign policy. But they also gave the President some leeway by lowering their expectations.
Cromartie says evangelicals are "learning not to get their hopes too far up."
At times, the fledging democracy in Iraq looks like it could become a fundamentalist Shiite state, like neighboring Iran, or devolve into unending internal war, as in Colombia.
Most evangelicals who spoke with CT thought that, due to the deep problems in Iraq, establishing a lasting democracy will take a generation or longer.
One pastor sounded a common theme: "It is a hard road to change thousands of years of thinking in a couple of years." Christian Cultural Center's Bernard, a former Muslim, thinks that Bush was "very idealistic—but you are not going to change an [established] religious belief system overnight."
Leading up to the State of the Union address at the end of January, White House aides told evangelical leaders that the President would define what "victory" would look like in Iraq, identify success stories there, and push for the Senate to approve the Alito nomination.
Inside the White House, top aides are divided between the true believers and the worried pragmatists. White House evangelicals are nearly all true believers. They dismiss criticism of Bush and press for the President to hold a steady course.
One question gaining speculation at year-end White House parties is whether Bush's senior advisers would remain for the rest of his second term. After the failed Miers nomination, some evangelical leaders suspected that White House chief of staff Andrew Card would move on. Some pined for a return to the White House staff of Karen Hughes, the Bush confidante now at the State Department.
In the end, Bush may regain rock-solid footing among evangelicals courtesy of his political enemies. When politicians and pundits attack Bush, many evangelical supporters reflexively back the man they put into the White House. Pollster Green says, "In their current mood, evangelicals think: I like Bush, until his enemies attack him, then I really like him."
David Frum, a former Bush speechwriter, wrote recently in the National Review that the President "has been politically protected by the faith of millions of … religious conservatives that he is 'a good Christian man.' "
Leslie Singenstreu, a pastor's wife and part-time nurse in Texas, told CT, "I would absolutely vote for Bush again! I believe him to be an effective leader with whom I share the same basic values."
She likes Bush's fortitude in the face of critics, saying, "I like his 'I don't give a hoot what you think' attitude."
Tony Carnes, a CT senior writer, is based in New York City.
Related Elsewhere:
More Christianity Today articles on Politics & Law include:
Major Case on Minors | Parental notification laws, under consideration by Supreme Court, are expanding. (Jan. 6, 2006)
Weblog In Print
Time to Get Judicially Serious | Evangelicals and the possible Supreme Court Catholic majority. (Dec. 28, 2005)
You'd Better Watch Out | 800 Christmas defense lawyers are coming to town. A Christianity Today editorial (Dec. 16, 2005)
Justice for Life? | "Of course he's against abortion," says Alito's mom. But Roe is expected to stand—and some say that shouldn't be the focus anyway. (Nov. 4, 2005)
Alito Nomination Pleases Christian Conservatives | Supporters cite judge's credentials and decisions on religious expression. (Nov. 2, 2005)
Have something to add about this? See something we missed? Share your feedback here.
Our digital archives are a work in progress. Let us know if corrections need to be made.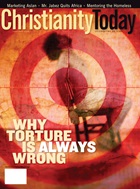 This article is from the February 2006 issue.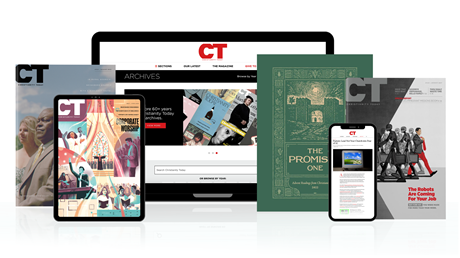 Subscribe to Christianity Today and get access to this article plus 65+ years of archives.
Home delivery of CT magazine
Complete access to articles on ChristianityToday.com
Over 120 years of magazine archives plus full access to all of CT's online archives
Subscribe Now
Disappointed but Holding
Disappointed but Holding