Ah, the seduction of sumptuous cashmere.
Lulled into a lustful stupor, I recently stood in the sweater aisle of an apparel store in Seattle and wondered, What would Jesus buy? Immediately, I knew the answer: Jesus would shell out $198 for the cashmere sweater that had me spellbound. Next question?
Just to be on the safe side, I counted off the reasons why this purchase would make the world a better place.
One: The pullover felt dizzyingly soft against the skin. (I'd stop here if I weren't a Christian.)
Two: The sweater felt just as easy on the conscience. The clerk informed me that the soft fibers had been combed gently—and not sheared—from the shedding underlayer of Kashmir goats on Mongolia's frigid high plateaus. Not only did the animals not suffer, they practically got a massage. Animal welfare: check.
Three: No harmful pesticides were used—so none seeped into the ground—as a result of the garment's production. Creation care: check.
Four: My purchase would move the world a little closer to ending poverty-level wages. The Mongolian herders—for whom the goats are a sole livelihood—were compensated fairly, the clerk said. Social justice: check.
Five: The sweater wasn't even for me. It was a gift for my husband. Magnanimity: check.
Six: I was sipping a cup of fairly traded coffee bought at an independently owned store that gives back to the community. Righteous intoxication: check.
Surely Jesus would be the kind of consumer I try to be: compassionate and fair to people and animals involved in production processes, concerned about the effect of products on the environment, and, at times, lavish in his choices (as the woman who anointed his feet with expensive perfume knew). He would buy organic eggs from cage-free hens that—unlike caged chickens—got room to spread their wings and live a little. He'd get his fair-trade coffee at Costco, especially after learning in The New York Times article, "How Costco Became the Anti-Wal-Mart," that the company is generous toward employees and consumers. And, if he needed a car, Jesus would buy a hybrid—or spend several hundred bucks on an old Geo that has its flaws but minimizes environmental damage by traveling at up to 45 miles per gallon.
As I clutched the cloud of cashmere and headed for the register, I visualized the moment when my husband would unwrap the gift, consider how generous and Christlike his wife is, and fight back the tears to say: "Excuse me? How much did you spend on this impulse buy?"
Ah, yes, the money. That pesky little impediment.
Maybe it was the Holy Spirit—or maybe the caffeine finally kicked in—but it occurred to me that perhaps the most Christian act of economic justice I could perform was to decide against buying a pricey sweater, opting not to have to put the month's heating bill on a credit card. Maybe this small act of restraint could best convey faithfulness to my husband and to the resources God has given me on this planet. Maybe it was the fairest trade I could make.
Funny how enlightened consumer choices can go hand-in-hand with conceit.
Buying from fair-trade retailers is a superb way to spread Christ's love. My husband and I buy Pura Vida Coffee's dark and smoky Kilimanjaro blend partly because the company "exists to help at-risk children in coffee-growing countries build more hopeful futures." And we love Ten Thousand Villages, a chain started by the Mennonite Central Committee that supports artisans living in poverty.
In Seattle I met with about 50 young Christians from various backgrounds to do a little research. Many of them mentioned social justice and fair trade among the top priorities that result from their faith.
But we also reckoned with an undeniable truth: Fair-trade purchases are an extravagance to most people. I may have the luxury, even on my nonprofit salary, to choose to buy eggs from relaxed hens. But not everyone does. Most Christians in developing nations don't have the time and money for this kind of sophistication. Jesus, since he owned nothing, would probably be among them.
We try to live fairly in an unfair world. But who can live a fully just life on this planet? Who has not benefited, if only inadvertently, from someone else's misery?
There clearly is a God if, even though everything we do is tainted by injustice, we still heed a faint aching for a just world deep within our souls—and if we, at least on occasion, don't allow our responsible purchases to turn us into snobs.
To that end, I put the sweater back on the shelf.
Related Elsewhere:
Agnieszka Tennant's previous articles include:
A Hard Pill to Swallow | How the tiny tablet upset my soul. (Nov. 8, 2005)
Ragamuffin | The patched-up life and unshabby message of Brennan Manning. (June 4, 2004)
'Jesusy' Anne Lamott | Chatting with a born-again paradox. (Jan. 8, 2003)
The Ultimate Language Lesson | Teaching English may well be the 21st century's most promising way to take the Good News to the world. (Dec. 6, 2002)
Possessed or Obsessed? | Many Christians say they are in need of deliverance but some may be giving demons more than their due. (August 24, 2001)
Have something to add about this? See something we missed? Share your feedback here.
Taste and See
Agnieszka Tennant is a former associate editor and editor at large for Christianity Today. She earned her master's degree in international relations at the University of Chicago, where she focused on how religiously-rooted norms influence world politics. Her "Taste and See" column ran from 2006 to 2007.
Previous Taste and See Columns:
Our digital archives are a work in progress. Let us know if corrections need to be made.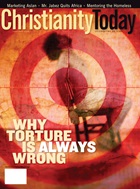 This article is from the February 2006 issue.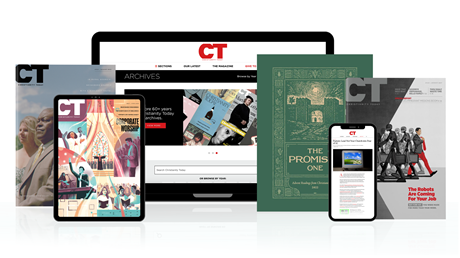 Annual & Monthly subscriptions available.
Print & Digital Issues of CT magazine
Complete access to every article on ChristianityToday.com
Unlimited access to 65+ years of CT's online archives
Member-only special issues
Subscribe
What Would Jesus Buy?
What Would Jesus Buy?