Today's top five stories
1. Alito votes against Roberts, Scalia, and Thomas on death penalty case
Samuel Alito's first case as Supreme Court justice was a life ethics issue, and he apparently voted not to lift a lower court's stay of the execution of Missouri's Michael Anthony Taylor. Opinion varies on whether it's significant that his vote went against the three conservative Catholic justices whom observers had predicted he would emulate: Chief Justice John Roberts and Justices Antonin Scalia and Clarence Thomas. The Times of London headlines its story "Alito's first judgment surprises conservatives," but doesn't actually quote any surprised conservatives. The bloggers at National Review Online don't seem surprised.
The Associated Press gets the best quotes from a jurisprudence perspective, with Richard Dieter of the Death Penalty Information Center remarking, "It's a reasonable, cautionary vote. It doesn't necessarily indicate leanings toward death penalty defendants. But at least he's going to be his own person." The Kansas City Star has the best religion anecdotes, noting that Taylor spent yesterday with the Bible, the Koran, a tract called If you died today, would you go to heaven?, and Pastor Kim Gladney of Oak Grove Missionary Baptist Church in Kansas City. SCOTUSBlog's Lyle Denniston has more analysis.
2. Fundamentalist Christian terrorists in Guatemala?
Guatemalan police say they have arrested seven members of a group known as Vengadores Del Pueblo (Social Cleansing of the Town). "This was a fundamentalist Christian organization in character that harangued the town's population on religious themes, saying things like 'having two women is against the Bible,'" national police commissioner Victor Soto told the media. "We are investigating them in connection with five deaths. … They started out saying they were protecting the town from criminals, and they wound up extorting money from people." The Associated Press paraphrases Soto explaining that the group would send Bible quotations and death threats to residents suspected of various sins, especially theft and infidelity. Weblog has questioned the "Christian terrorist" moniker for the likes of Eric Rudolph and others, but this group might just fit the bill. Still, English information on this group is pretty hard to come by online, so it's unclear what Soto means by "fundamentalist Christian."
3. Glasgow's priests under attack
In less than three weeks, Roman Catholic priests in Glasgow have been attacked at least seven times, apparently by unconnected petty thieves and vandals. On Sunday, for example, a knife-wielding assailant broke into the chapel house of an 83-year-old priest, threatening the priest and stealing £300 ($530). Archbishop Mario Conti is asking for increased police protection.
4. National Association of Evangelicals to sit out global warming issue as an organization
"The National Association of Evangelicals said yesterday that it has been unable to reach a consensus on global climate change and will not take a stand on the issue, disappointing environmentalists who had hoped that evangelical Christians would prod the Bush administration to soften its position on global warming," The Washington Post reports today. But there's a difference between saying that the NAE won't take a stance as an official body and saying that evangelicals won't prod the Bush administration on this issue. It's almost certain that NAE vice president of governmental affairs Rich Cizik is going to keep prodding on this point, for example. (Cizik is surprisingly absent from this article.)
Cal DeWitt sounds crushed in the Post piece, calling the NAE's decision "a retreat and a defeat … A year ago, it looked as though evangelicals would become a strong, collective voice for what we call 'Creation care' and others may call environmentalism. This will have negative consequences for the ability of evangelicals to influence the White House, unfortunately and sadly."
The White House will stop listening to evangelicals because the NAE isn't going to take a stance on global warming? Buck up, Cal. The NAE has reams of statements promising attention to creation care—The Sandy Cove Covenant, for example, and major sections of For the Health of the Nation: An Evangelical Call to Civic Responsibility. And while Chuck Colson, James Dobson, Richard Land, and others have pushed to make sure that the NAE doesn't issue an official statement on global warming, there's a huge choir of evangelical leaders eager to see action on this point.
And it's too bad that the Post's Alan Cooperman didn't read the NAE's own Washington newsletter on this subject, since there's a brief article noting that an evangelical statement on climate change is in the works:
A statement of spiritual principles from a large number of evangelical leaders — called the "Evangelical Climate Initiative" [not the NAE, as has been erroneously reported in some news articles] — is expected to be released sometime in February. The signers, speaking as individuals not their respective organizations, would agree that they have not yet created a "consensus" among all leaders on the topic within, say, religious-right circles. But it is a start at building some critical bridges between religion and science in this the 21st Century. And, it's a sign of the growing interest in "creation care," the evangelical alternative to environmentalism.
According to the National Press Club calendar, it looks like that statement is due out on Wednesday. What, too far in the future for the Post to preview it?
5.A Christian sex toy store
It seems that there's a Christian version of everything these days, but one might not have expected a Welsh couple to launch a Christian sex shop online. The U.K's Church Times profiles Stan and Stella Hagarty's Wholly Love, which chooses all its products and images based on two criteria: "sex in marriage is based on wholly love (so we have not selected hurtful products), and the Biblical portrait of marital sex as a reflection of God's holy love for us (so we have avoided inappropriate images wherever possible)."
"We are constantly told as Christians what we can't do, but there is little promotion of what we can," Stella Hagarty tells the paper.
Christian sex manuals are far from unanimous on when and if sex toys are appropriate, but all advise caution. Maybe it's time for Christianity Today's sister publication Marriage Partnership, which regularly discusses the appropriateness of "marital aids" (and found that 8% of its readers use them regularly) to cover Wholly Love's American counterpart, Book 22.
Quote of the day
"I'm talking to somebody as nice as you. I don't want to put my foot in my mouth. I'm not on my own show."
—Pat Robertson, responding to Good Morning America anchor Robin Roberts's remark that he seemed "on his best behavior" in this morning's interview. Robertson attempted to explain his recent ludicrous comments by saying, "The problem is, I ad lib … I'm very passionate about certain things and unfortunately my passion maybe runs ahead of me. In the context of what I'm saying it maybe isn't quite so strong as it sounds" Then he said that a former Good Morning America news producer sitting in the control room was telling him to "cool it" in his earpiece.
More articles
Politics | Ten Commandments displays | Church and state | India | Hate laws | Scotland attacks on priests | Abuse | Catholicism | Wal-Mart sued over Plan B | Plan B in Manitoba | Abortion | Life ethics | Sexual ethics | Marriage | Anglicanism and homosexuality | End of the Spear casting | Media and entertainment | Dove Awards | Super Bowl | Pat Robertson on GMA | Bibles | Church life | Missions & ministry | Education | Other stories of interest
Legislation would protect display of 10 Commandments | The Georgia House overwhelmingly approved legislation today that authorizes local governments to display the Ten Commandments in public buildings (The Atlanta Journal-Constitution)


Ten Commandments: Trial may be next | A lawsuit over whether followers of the Summum faith can erect a monument listing their Seven Aphorisms in a Pleasant Grove city park that already holds a Ten Commandments monolith is headed to a trial (The Salt Lake Tribune, Ut.)


Some jurors could get religious exemptions | Hutterites and others whose religious beliefs conflict with serving on juries should not be forced into jury duty, South Dakota legislators agreed Wednesday (Associated Press)


State not privy to religious organizations' finances | Local legislators and community religious leaders breathed a little easier this week after a bill that would have required religious organizations to file their finances with the state is now dead (Mallborough Enterprise, Mass.)


Norwegian Muslims want blasphemy law | Norway needs anti-blasphemy regulations to protect minorities against derisive and hateful expression, says lawyer Abid Q Raja (Aftenposten, Oslo)


A victory for freedom and a warning to Blair | Tuesday's defeat of the Government over the Religious Hatred Bill was a simple victory for freedom, and a tribute to all the people, secular and religious, who have lobbied and prayed against the measure (Editorial, The Telegraph, London)


Victory for free speech | Shock defeat for the Government's Racial and Religious Hatred Bill (Press release, Evangelical Alliance UK)


Police urged to protect priests after spate of church crimes | The leader of Glasgow's Roman Catholics is calling for more police protection for priests after a spate of attacks and break-ins at their homes. (The Herald, Glasgow, Scotland)


Spate of attacks on city priests | In little over two weeks, police in the city have received reports of seven attacks including robbery, break-ins, thefts and vandalism (BBC)


Cardinal: John Paul II didn't want to quit | Ailing Pope John Paul II did not resign because he feared that future popes might be pressured to step down based on the "dangerous" precedent, a Vatican cardinal says in a new book (Associated Press)


The pope's first encyclical: Whatever love means | What this week's encyclical says about the pope's theology and beliefs (The Economist)


Shroud makes Turin a world-renowned city | The Vatican remains steadfastly neutral on this popular religious puzzle (Associated Press)


Sisters excluded | Would-be women priests are still knocking on closed church doors (The Australian)


Hub women file complaint against Wal-Mart | Group also sues over failure to sell morning-after pill (The Boston Globe)


Women sue Wal-Mart over contraception | Backed by abortion rights groups, three Massachusetts women sued Wal-Mart on Wednesday, accusing the retail giant of violating a state regulation by failing to stock emergency contraception pills in its pharmacies (Associated Press)


Wal-Mart sued after morning-after pill not stocked | Three Massachusetts women sued Wal-Mart Stores Inc on Wednesday, claiming that the retailer's pharmacies refused to fill their prescriptions for the morning-after contraceptive pill. (Reuters)


Plan B damned | Some pharmacists reject 'abortion in a pill' (Winnipeg Free Press, Manitoba)


No more questions | Whether levonorgestrel is an abortion in a pill or a simple contraceptive is an issue that can be debated for years. Manitobans today can worry about that if they choose to, but they should be crystal clear in their minds about what the issue is in regard to the dispensation of levonorgestrel in drugstores (Editorial, Winnipeg Free Press)


Do religious beliefs trump women's health care needs? | If you're going to have an accident with a condom, don't do it in Manitoba (Dianne Rinehart, The Hamilton Spectator, Ont.)


House passes two abortion-related measures | The Indiana House took aim at abortion tonight, passing one measure requiring women seeking to end a pregnancy to be informed that life begins at conception and another that could shut down abortion clinics in the state (The Indianapolis Star)


Rep. Bartlett wins support to ban abortion pill | Not only is the abortion pill RU-486 killing babies, Maryland Rep. Roscoe Bartlett said Wednesday, it's now known to kill their mothers and should be banned immediately (Fox News)


Standing for rights, not on the right | Religious people support abortion rights (Connie Schultz, The Plain Dealer, Cleveland)


Alito votes to stay Mo. execution | Supreme Court Justice Samuel Alito split with the court's conservatives in a death penalty case on his first day on the court (Associated Press)


Child 'mercy killing' warning by bishop | The Bishop of Manchester has hit out against euthanasia saying changes in the law could pave the way for the 'mercy killing' of unwanted children (Manchester Evening News, U.K.)


Health workers face issues of moral conflict | Several states consider laws protecting health workers who refuse to provide services that conflict with their beliefs. Where is the line between an individual's religious or moral beliefs and one's duties as a licensed professional? And what about the rights of patients? (Talk of the Nation, NPR)


Christians offered marital thrills | Sex toys and aids can be ordered from a new Christian website, Wholly Love. Its message is: "Sex is a great gift from God — we stock products to enhance your sex life with your spouse!" (Church Times)


Protester targets use of models | A former unsuccessful City Council candidate has called for a Feb. 11 daylong public protest of a controversial downtown lingerie shop's use of scantily clad live models. (Kennebec Journal, Me.)


Fighting the holy war | The religious right's crusade against gay citizens is at base an assault on religious liberty (Richard J. Rosendall, Metro Weekly, gay magazine)


Anglicanism and homosexuality:
St. Anne's Church votes to quit Episcopal Diocese | 2nd congregation in 2 months to leave (San Diego Union-Tribune)


Anglicans hope to refocus church amid gay row | The worldwide Anglican church is looking to re-focus attention on pressing global issues of poverty and disease after being sidetracked by a damaging internal rift over gay priests, bishops said on Thursday (Reuters)


Jensen condemns sin of homosexual acts | The Archbishop of Sydney, Dr Peter Jensen, has called on the Anglican Church to declare homosexual practices a sin, defending the church's "obsession" with human sexuality (The Sydney Morning Herald)


Church imperilled by gays: archbishop | Homosexuality is a life and death issue for the church, the Anglican Archbishop of Sydney, Peter Jensen, has told an audience of evangelical Christians in England (The Age, Melbourne, Australia)


Related: Onward Anglican soldiers | Sydney Anglicans will ordain a record number of clergy at St Andrew's Cathedral on Saturday, while the Catholic Church continues to struggle to reverse a decline in priest numbers (The Sydney Morning Herald)


Evangelical filmmakers criticized for hiring gay actor | The casting of a gay actor has all but eclipsed a movie made by an evangelical film company and has revealed fault lines among evangelicals (The New York Times)


Gay actor's roles in movie stir controversy | The lack of explicit Christian references has also been criticized by some (Jim Jones, Ft. Worth Star-Telegram)


Earlier: Christian studio explains hiring of gay actor | The makers of End of the Spear didn't find out about co-star Chad Allen's homosexuality until after they offered him the job, and then they felt obliged to honor the contract (Christianity Today Movies)


GMA Music Awards mark changing of the guard | Praise, worship artists get several nominations (The Tennessean, Nashville)


Tomlin leads Dove Award gospel nominations | Christian singer Chris Tomlin led the Dove Award nominations for gospel music on Wednesday with nine, including artist of the year and male vocalist of year (Associated Press)


Does Pittsburgh have a prayer? | Fans turn to prayer to boost team (The Patriot-News, Harrisburg, Pa.)


Talking football during sermons has its rewards | Parishioner wins Super Bowl tickets, gives them to pastors (The News Journal, Wilmington, Del.)


Why won't the coach's wife be at the Super Bowl? | People, to put it politely, think the coach's wife has gone nuts. Give up the Super Bowl for a country in the toilet bowl? (Robert L. Jamieson Jr., Seattle Post-Intelligencer)


Robertson on Good Morning America:
Pat Robertson: U.S. needs a miracle | The popular and polarizing religious leader says he is passionate, politically incorrect (Good Morning America, ABC News, video)


Robertson explains on-air statement | "The problem is, I ad lib," he tells Good Morning America. "Unfortunately, my passion runs ahead of me." (Associated Press)


Queen's scribe works on £2m handwritten Bible | Calligrapher and Queen's scribe Donald Jackson is producing the first handwritten Bible since the invention of the printing press (The Guardian)


Bible owned by MLK's mother sold | Brings tens of thousands of dollars at auction (Associated Press)


Lost religious books restored to cathedral | Two religious books, including a medieval Bible bearing the fingerprints and signatures of 14th century monks, have been restored to Durham Cathedral after nearly 500 years lost in other collections (The Guardian, London)


Sex therapy woman takes on church | A legal battle by the NG Church in Doornkloof to get a woman, who advertises her sexual services under the name "Duchess", out of their parsonage, will come to a head in the Pretoria High Court next month (Citizen, South Africa)


Church denies 'pushing businesses out' | Tenants at the Niu Valley Shopping Center say it has turned into more of a religious campus than a place to shop since the center was purchased by the King's Cathedral almost two years ago (The Honolulu Advertiser)


'Priest force' will target hoodies and rappers for Church | The Church of England will today unveil plans for a new squad of pioneering priests to work among rappers in nightclubs and "hoodies" in shopping arcades (The Telegraph, London)


Return of the wayward Bishop | He helped found Shelter, then became one of Ireland's most prominent bishops—until forced to admit he had a secret son. Now the Catholic Church has forgiven Eamonn Casey and he is on his way home (The Independent, London)


Pastors weigh church's place in community | Involvement in society is key, say panelists in IPFW discussion (The News-Sentinel, Ft. Wayne, Ind.)


Faith-based program teaches basic skills | Feather River Men's Center provides a faith-based rehabilitation program for men addicted to drugs and alcohol (Appeal-Democrat, Marysville-Yuba City, Ca.)





Faith group marches on | Members see organization mature beyond original goal of improving life (Springfield News-Leader, Mo.)


Shutting out a voice for Islam | Our colleague, Tariq Ramadan, an Islamic scholar and theologian, has been barred from entering the United States to participate in the discussion of one of the most important topics of today: contemporary Islam in the West (Diana L. Eck, The Boston Globe)


Course in Bible as literature has merit | Without a basic knowledge of the Bible a person can see only the surface of the river of Western culture as it flows through history (Editorial, Concord Monitor, N.H.)


Guatemalan police arrest armed vigilantes | Guatemalan police say they have arrested seven Christian fundamentalist vigilantes who extorted travelers and may have killed five people they believed were criminals (Associated Press)


Catholics find more freedom in Vietnam | Phat Diem's distinctive 19th-Century Catholic cathedral is a popular draw for local and foreign tourists (BBC)


Related Elsewhere:
Suggest links and stories by sending e-mail to weblog@christianitytoday.com
See our past Weblog updates:
February 1
January 25 | 20 | 19 | 18 | 17
January 13b | 13a | 10
January 6 | 5 | 4
December 28 | 21 | 16 | 14 | 12
December 9 | 7 | 6
December 2b | 2a | November 30
Weblog
Launched in 1999, Christianity Today's Weblog was not just one of the first religion-oriented weblogs, but one of the first published by a media organization. (Hence its rather bland title.) Mostly compiled by then-online editor Ted Olsen, Weblog rounded up religion news and opinion pieces from publications around the world. As Christianity Today's website grew, it launched other blogs. Olsen took on management responsibilities, and the Weblog feature as such was mothballed. But CT's efforts to round up important news and opinion from around the web continues, especially on our Gleanings feature.
Ted Olsen is Christianity Today's executive editor. He wrote the magazine's Weblog—a collection of news and opinion articles from mainstream news sources around the world—from 1999 to 2006. In 2004, the magazine launched Weblog in Print, which looks for unexpected connections and trends in articles appearing in the mainstream press. The column was later renamed "Tidings" and ran until 2007.
Previous Weblog Columns: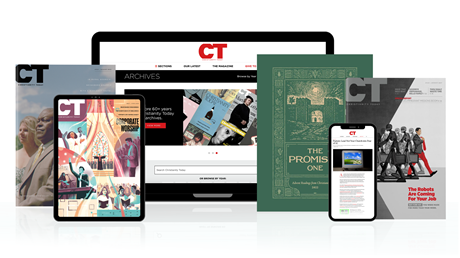 Annual & Monthly subscriptions available.
Print & Digital Issues of CT magazine
Complete access to every article on ChristianityToday.com
Unlimited access to 65+ years of CT's online archives
Member-only special issues
Subscribe
Alito's First Decision Is a Life-or-Death Matter
Alito's First Decision Is a Life-or-Death Matter