The Air Force issued revised guidelines on religious expression Thursday, reiterating its official neutrality on matters of belief but making subtle changes in language that drew both criticism and praise from disparate groups.
Religious activists gave diverse interpretations of whether and how the guidelines address some of the most controversial issues, such as whether Christian chaplains can evangelize and say public prayers "in Jesus' name," as many are accustomed to doing.
"We will respect the rights of chaplains to adhere to the tenets of their religious faiths and they will not be required to participate in religious activities, including public prayer, inconsistent with their faiths," the new document reads.
Reduced from four pages to one, the latest "interim" guidelines were released after the Air Force received feedback on a previous version issued in August. Air Force officials said they heard from religious groups, members of Congress and others and interviewed 500 Air Force personnel.
Jennifer Stephens, an Air Force spokeswoman, said it is likely that Air Force officials will make the latest guidelines the permanent ones, but she said the service branch "will need experience with how the guidelines work in practice before deciding on the finalization date."
Immediate reaction to the guidelines was unusual in that some groups were in agreement with organizations they normally oppose. Critics of the latest version range from the head of an evangelical organization that endorses chaplains to Americans United for Separation of Church and State. On the other hand, Focus on the Family, a conservative Christian group, and a more liberal Reform Jewish organization praised the changes.
"It is subtle language and it does not answer the question, 'Can a chaplain pray in the name of his Lord in a public ceremony?'" said the Rev. Billy Baugham, executive director of the International Conference of Evangelical Chaplain Endorsers in Greenville, South Carolina.
Rabbi David Saperstein, director of the Washington-based Religious Action Center of Reform Judaism, said he thinks the latest language permits chaplains to pray naming the divinity of their choice, "but they're not going to be invited to do that with broad, inclusive groups."
He said that achieves an "appropriate balance" for those in the military service, protecting the free exercise rights of both chaplains and the men and women in the Air Force.
Tom Minnery, senior vice president of government and public policy for Focus on the Family, applauded the latest rules, saying they would "bring an end to the frontal assault on the Air Force by secularists who would make the military a wasteland of relativism."
His organization is based in Colorado Springs, the home of the Air Force Academy.
"We particularly thank the Air Force for specifically recognizing that 'voluntary participation in worship, prayer, study and discussion is integral to the free exercise of religion,'" Minnery added.
In a separate but related matter, the National Association of Evangelicals announced that it filed a motion Wednesday to intervene in a case in which Air Force veteran Mikey Weinstein wants to halt what he views as unconstitutional evangelistic practices within the service branch's ranks.
"We believe this is a watershed issue," said NAE President Ted Haggard in a statement noting his opposition to Weinstein's position.
"How can we ask our men and women in uniform to give their lives extending freedom and civil liberties to oppressed people across the globe while they are denied the very freedoms they are fighting to secure for others?"
Related Elsewhere:
In addition to the guidelines, the Air Force has a press release and explanatory memo.
Focus on the Family has issued a press release.
Thursday's Weblog has links to news coverage of the NAE motion.
Past CT coverage of Air Force controversies include:
New Air Force Religion Guidelines May Restrict Evangelism | Policy allowing chaplains "to instruct and/or evangelize" withdrawn, lawsuit seeks explicit ban on all members (Oct. 28, 2006)
A Wing and Less Prayer | New Air Force religion guidelines get mixed response. (Oct. 6, 2005)
'No Overt Discrimination' | Air Force Academy cleared, but some faulted for insensitivity. (July 7, 2005)
Air Force Chaplains Allege Bias | Independent survey finds perceptions of racial, gender, and religious discrimination. (Oct. 18, 2001)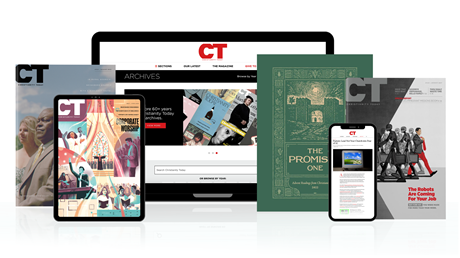 Annual & Monthly subscriptions available.
Print & Digital Issues of CT magazine
Complete access to every article on ChristianityToday.com
Unlimited access to 65+ years of CT's online archives
Member-only special issues
Subscribe
Air Force Issues Revised Guidelines on Religion
Air Force Issues Revised Guidelines on Religion