Today's Top Five Stories
1. Winning the non-existent Valentine wars
Did the war over Christmas really exist, or was it purely a fabrication cooked up by activist groups and media outlets? First Things recently argued the former, and ran a compendium (in a less hoity-toity mag like CT, it'd be called a "list,") of "instances in which any reference to Christmas was expunged from the season, frequently with the threat of government force."
But do the Valentine's Day wars really exist? A group of parents in Texas's Katy Independent School District got a judge to issue a restraining order today to make sure that children can pass out Valentine's Day cards with religious themes. The school district, however, says it doesn't understand what the parents' lawsuit is all about, and was never contacted by the parents about the issue. "This restraining order is telling us not to do things we don't do anyway," spokeswoman Kris Taylor told the Houston Chronicle. The Alliance Defense Fund claims, "A memo recently distributed to parents prohibited students from including religious symbols on holiday gifts and cards, including ones related to St. Valentine's Day." Taylor said that any teacher who might have done so in an isolated case was acting contrary to the policies of the board. (Widely supported guidelines on religious holidays in the public schools are available from the First Amendment Center.)
In any case, kids in the district get to give out religious cards today. But did you ever consider what historically accurate religious Valentine's Day cards might look like? Here are some ideas: "I Love Your Martyr Complex." "Baby, I'd Rather Die Than Renounce Our God." "If Love Is Blind, Maybe I Can Cure It." "I May Not Exist, But My Love Is Real."
2. Bible Society of India shuts down office after police detention
A few days after India saw a massive anti-evangelism rally, much is being made of accusations against two Bible Society of India workers in Jammu and Kashmir, where the society is engaged in post-earthquake relief work. "The group of missionaries from the Kashmir chapter of the Bible Society of India had been visiting Madian village in Uri sector and had distributed gas cylinders, water bottles, audio cassettes, and a copy of the New Testament in Urdu to 230 families of the village," the PTI news service reported. In India, offering spiritual and physical help together is seen as enticement, and it is illegal in many states. After police detained the two workers, the Bible Society shut down operations in the area.
3. "Gay bishop" Gene Robinson enters alcohol rehab center
Gene Robinson, who may be the most prominent clergyman in the Episcopal Church USA because of his status as the church's first openly practicing homosexual bishop, announced yesterday that he entered an alcohol treatment center earlier this month. Some response from conservative Anglicans has been compassionate. Some has not.
4. Kelly Clark has guts
Considering how little press the Olympics is getting in general, perhaps it's not surprising that there have been few profiles of athletes' faith—something that's quite common around the Summer Games. But since Weblog has a bit of Olympic fever, we'll point out a Denver Post column highlighting Kelly Clark, who had that amazing run last night before falling at the end of her 900-degree spin. "I love Jesus," she said after her run. "It's more joyful knowing him than all that snowboarding stuff. And so being able to snowboard for him is amazing." That was David Crowder's "O Praise Him" (sample) playing during her run, by the way. Good for her, says Post columnist Mark Kiszla: Her comments were as risky and strong as her run; she's putting herself on the line. "Expressing something as personal as faith on a world stage as big as the Winter Games can be risky business," Kiszla wrote. "But I admire Clark for having the guts to do it."
5. A little closer to heaven
The Rocky Mountain News reports on the ministry of helicopter pilot Jeff Puckett, who has flown nearly 200 pastors on 26 Monday "prayer flights" around the city since May. Puckett does it largely to give local pastors a recreational excursion, but some pastors involved say it affects their ministry, too. Praying with a bird's-eye view "changed my vision of the city," Greenwood Community Church pastor Tom Melton told the paper. Praying from above is kind of a nifty idea—and it doesn't necessarily require a helicopter. Weblog wonders: Is anyone using Google Earth as a prayer tool?
Quote of the day:
"We won't be able to say, 'Yes, this is Joan of Arc', but within six months we will able to say if these remains belong to a female of 19 years whose body was burned three times in Rouen in 1431."
—Philippe Charlier, who will run tests on relics thought to be those of Joan of Arc. The relics include "fragments of ribs, material, wood, and traces of human body tissues on pieces of bone and wood from the pyre," he told The Guardian.
More articles
Church arsons in Alabama and Canada | Crime and violence | India | Missions & ministry | Military | Homosexuality | Gene Robinson enters treatment center | Church life | Divestment | Abuse | Church and state | Law | Politics | Evangelical Climate Initiative | Abortion | Australia's RU486 debate | Life ethics | Evolution | Education | Theater | Money & business | People | Joan of Arc | Other stories of interest
Church arsons in Alabama and Canada:
Christian missionaries' role under scanner in J&K | The detention of Christian missionaries, who were allegedly trying to convert earthquake-affected people of Uri Tehsil in Jammu and Kashmir under the garb of providing relief, has once again brought to light the role of missionaries in the state under scanner (PTI, India)


Missionaries booked for conversion: Cops | The J-K Police today swooped down on a Christian missionary group for using "earthquake relief as a means to convert people in far-flung villages along the LoC" and seized cassettes, Urdu-translations of the New Testament and other materials from the group. A case has also been registered against the Bible Society of India (The Indian Express)


Christian missionaries detained in Jammu & Kashmir | Authorities in India's Jammu and Kashmir state have detained a group of Christian missionaries, whom officials allege have been trying to convert the earthquake-affected people in the border state with Pakistan (Indian Catholic)


Pilot carries ministers, prayers to sky | Almost every Monday, two or three groups of religious leaders board the seven-seat Prayer One helicopter—a Bell 206 Long-Ranger—and pray for the city and its residents high in the sky (Rocky Mountain News, Denver)


US evangelicals lose Venezuelan court appeal | Venezuela's Supreme Court rejected an appeal filed by the New Tribes Mission to block a government order that revoked a 1953 permit allowing them to carry out evangelical work in the country's indigenous communities (Reuters)


A shattered alliance | In 1992, a band of black ministers united and launched an unprecedented effort to fight youth crime. Now three of those leaders barely speak to one another (The Boston Globe)


Also: 'Don't ask' costs more than expected | Military's gay ban seen in budget terms (The Washington Post)


Gene Robinson enters treatment center:
Gay bishop is treated for alcoholism | In his letter, Robinson said he had been dealing with alcoholism for years and had considered it "as a failure of will or discipline on my part, rather than a disease over which my particular body simply has no control, except to stop drinking altogether." (Associated Press)


Bishop Gene Robinson enters alcohol treatment center | A letter from the bishop (via TitusOneNine)


World Council of Churches begin meeting | Islam, global Pentecostalism are hot topics (Associated Press)


Clergy work too hard, says bishop | A bishop, who fears vicars are working so many hours that they are risking burnout, has called for a national debate on what parishioners can realistically expect from their clergy (The Times, London)


Also: Overworked clergy risk burn-out, says bishop | The Bishop of Hulme, the Rt Rev Stephen Lowe, said that the number of clergy had declined but the demands on them had increased (The Telegraph, London)


Anglican hopefuls to remain a secret | The names of the 31 bishops and clergy considered but rejected as candidates to be the next Anglican archbishop of Melbourne will be sealed and not released for 30 years (The Age, Melbourne, Australia)


Treme church fights for survival | But handwriting is on the wall for historic St. Augustine parish (The Times-Picayune, New Orleans)


Church again tackles Mideast | Presbyterians to vote on investment plan (Chicago Tribune)


Church plan on Israel in question | Divestment policy unfair, some say (The Courier-Journal, Louisville, Ky.)


Scalia dismisses 'living Constitution' | "They are not looking for legal flexibility, they are looking for rigidity, whether it's the right to abortion or the right to homosexual activity, they want that right to be embedded from coast to coast and to be unchangeable," he said (Associated Press)


Orthodox Jew's lawsuit over Times Square photo dismissed | Surreptitious picture is art, not commerce, and is therefore protected by First Amendment, New York trial judge rules (Associated Press)


Bush agrees to work with U.N. on international force for Darfur | In a move that ultimately could lead to the deployment of U.S. troops to Africa, President Bush on Monday agreed to work with the United Nations on the creation of a new international force to stop ethnic killings in Sudan's Darfur region (Knight Ridder)


Zeeland turns to committee to help with alcohol question | In an emotional appeal Monday, city leaders asked for residents' help in resolving a split that has developed in the community over whether a ban on the sale of alcohol should be lifted (The Grand Rapids Press, Mi.)


Silvio Berlusconi is not Jesus Christ | When are people in public life going to learn that comparing yourself to Jesus is never, ever, a good idea? (Oliver Burkeman, The Guardian, London)


Evangelical Climate Initiative:
The environgelicals | Evangelicals have an excellent track record of getting the president's attention on issues ranging from sex trafficking to the AIDS epidemic in Africa to the Darfur genocide. Now they are attempting to accomplish what scientists, economists, business leaders and others have so far failed to do—persuade the president and Congress that the time has come to act, and act forcefully, on global warming (Editorial, The Register-Guard, Eugene, Ore.)


Noah's bark | Some evangelical leaders proclaim that man is ruining God's creation and that Christians must fight global warming. Will the meek inherit a scorched earth? (Editorial, Investor's Business Daily)


Agenda-driven life | What is it with evangelical Christians that so many of them need a cause beyond the commission they've been given? (Cal Thomas)


Anti-abortion center cites bias | An anti-abortion center in Deer Park may have to shut its doors because it does not have enough parking spaces as required by the Town of Babylon, sparking charges of discrimination from the center's executive director. Babylon officials say the action is strictly business (Newsday, Long Island, N.Y.)


Bridging the divide on abortion | A more authentic middle ground would use government not to outlaw abortion altogether but to reduce its likelihood (E.J. Dionne Jr., The Washington Post)


Bill proposes fetal homicide law | Unborn babies would be separate victims (Concord Monitor, N.H.)


British propose larger egg donor plan | Women in Britain may be allowed donate their eggs for stem-cell research without having to undergo fertility treatment under a proposal by the government's fertility watchdog. (Associated Press)


Art imitates politics in drama over a drug | 'Morning-after pill' is prime-time issue on Boston Legal (The Philadelphia Inquirer)


Study pours cold water on Darwin's theory of life | Life is likely to have emerged in warm puddles of fresh water and not the piping-hot volcanic springs that have often been proposed as its source, research has suggested (The Times, London)


Ohio expected to rein in class linked to Intelligent Design | A reversal in Ohio would be the most significant in a set of developments signaling a sea change against the disputed theory (The New York Times)


Creationism lives: well, would you Adam and Eve it | More than half the British population is unconvinced by a theory that Dawkins would consider uncontestable. Clearly the professor for the public understanding of science has a bit of work to do (Richard Morrison, The Times, London)


An inquisitive rooster wonders: Why does evil exist? | The Book of the Dun Cow is a heartfelt, occasionally moving animal allegory and not-so-subtle antiwar statement (The New York Times)


"And suddenly, you're part of some religion boom" | Juha Jokela's new play examines attitudes towards faith (Helsingin Sanomat, Finland)


Christian group furious at 'Springer's' £30,000 grant | It's the final insult. After a long, shouty, and largely unsuccessful campaign, Britain's religious right has discovered that Jerry Springer: The Opera is to receive a government subsidy (The Independent, London)


Slimming clubs weigh into trademark war over who has the right to 'sin' | Two diet companies are locked in a heavyweight battle after one of them claimed that it owns the word "sin" (The Telegraph, London)


Dr. Warren's lonely hearts club | EHarmony sheds its mom-and-pop structure, setting the stage for an IPO (Business Week)


Snowboarding Olympian Clark refuses to hide her faith | Imagine the double-takes when, after finishing a disappointing fourth place in the finals, Clark said: "I love Jesus. It's more joyful knowing him than all that snowboarding stuff. And so being able to snowboard for him is amazing" (The Denver Post)


Olympians fuse faith and sport | Paul Kobylarz, a Michigan native who played college and minor league hockey, is in Turin as a pastor, helping coordinating the Protestant chaplains. He said three kinds of athletes seek out the chaplains: the curious, the deeply devout, and those in some sort of personal crisis (Associated Press)


Minister Rodney Shaw, 88; population control activist | United Methodist Church minister's work over five decades resulted in national legislation and church initiatives on civil and human rights, world peace, nuclear disarmament and population control (The Washington Post)


DNA test for Joan of Arc | "We won't be able to say, 'Yes this is Joan of Arc', but within six months we will able to say if these remains belong to a female of 19 years old whose body was burned three times in Rouen in 1431" (The Guardian, London)


See also: Joan of Arc | Teenage war hero with visions (131 Christians Everyone Should Know, Christian History & Biography)


Related Elsewhere:
Suggest links and stories by sending e-mail to weblog@christianitytoday.com
See our past Weblog updates:
February 13
February 10 | 9 | 7
February 3 | 2 | 1
January 25 | 20 | 19 | 18 | 17
January 13b | 13a | 10
January 6 | 5 | 4
December 28 | 21 | 16 | 14 | 12
Weblog
Launched in 1999, Christianity Today's Weblog was not just one of the first religion-oriented weblogs, but one of the first published by a media organization. (Hence its rather bland title.) Mostly compiled by then-online editor Ted Olsen, Weblog rounded up religion news and opinion pieces from publications around the world. As Christianity Today's website grew, it launched other blogs. Olsen took on management responsibilities, and the Weblog feature as such was mothballed. But CT's efforts to round up important news and opinion from around the web continues, especially on our Gleanings feature.
Ted Olsen is Christianity Today's executive editor. He wrote the magazine's Weblog—a collection of news and opinion articles from mainstream news sources around the world—from 1999 to 2006. In 2004, the magazine launched Weblog in Print, which looks for unexpected connections and trends in articles appearing in the mainstream press. The column was later renamed "Tidings" and ran until 2007.
Previous Weblog Columns: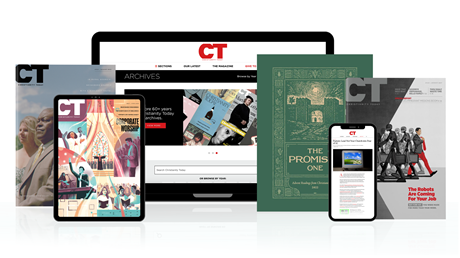 Annual & Monthly subscriptions available.
Print & Digital Issues of CT magazine
Complete access to every article on ChristianityToday.com
Unlimited access to 65+ years of CT's online archives
Member-only special issues
Subscribe
A St. Valentine Martyr Complex
A St. Valentine Martyr Complex