true
While we're on the subject of what to see, don't miss David Sutherland's documentary, Country Boys, which will air on PBS in three installments on January 9, 10, and 11. You may recall Sutherland's 1998 documentary, The Farmer's Wife, one of the best pieces I've seen on the fate of the small farmer and the state of rural America. Country Boys is equally powerful, focusing on two teenage boys in Appalachia. One of the boys is transformed by his faith in Christ and the support of the church he joins.
Roy Anker's Top Ten
Not in ranked order, though #1 really is number 1.
1. Capote. The title says it: a chilling look at the means and person of author Truman Capote (1924-84) as he develops In Cold Blood (1966, and in 1967, a much-praised film), his best-selling nonfiction novel on the 1959 murder of a Kansas farm family. The wonderful, even eerie performance by Philip Seymour Hoffman as the flamboyant Capote dissects his deviousness, narcissism, and guilt as he extricates all he needs to know from too-trusting killer Perry Smith (Clifton Collins, Jr.). Moral compass comes from Harper Lee (Catherine Keener), Capote's childhood friend, later his research assistant, and then herself best-selling author of To Kill a Mockingbird (1960), in which Capote appears as the character Dill. What script and acting don't display, stunning cinematography does. The year's best film, it is also the best in years on how individual evil happens.
2. Good Night and Good Luck. Another period piece, directed and co-written by actor George Clooney, this spare, haunting treatment of the founders of CBS news and journalist lodestar Ed Murrow not only gets the feel of the Fifties right but displays what guts and grace look like, the occasion being the McCarthy communist-conspiracy hubbub. David Strathairn, age 56, finally gets the lead that shows his stuff. And Clooney exercises more intelligence and passion behind the camera than he ever displays in front of it.
3. The Constant Gardener. Director Fernando Meirelles (City of God) is the first to nail John Le Carre's elusive tone—this time prophetic nightmare—since the BBC's 1980s version of spymaster George Smiley (Alec Guinness). As a British diplomat posted to a pestilent Africa, a splendid Ralph Fiennes is diffidence perfected, until his wife dies for her curiosity about multinational pharmaceuticals' use of Africa for lab testing. Here, as in the novel, Le Carre's once-rueful moralism has gone furious and dire.
4. Syriana. The global oil trade occasions still more international skullduggery, this time fostered by American corporate greed and its CIA servants who murder and generally foment Mideast turmoil in order to foster American oil dominance. Regardless of the accuracy of the tale, writer (Traffic) and director Stephen Gaghan's storytelling is elegant and searing visually, and the cast is really good.
5. Saraband. Flawed but still magisterial (and somber), the aged (87) Ingmar Bergman's film is analytic, ruminative, and haunting. As usual, Bergman inspects what people do to each other unto the third and fourth generations for God only knows what reasons. Against all odds, though, God waves still at a truculent humanity. Liv Ullmann and Erland Josephson reprise their roles from Bergman's 1970s Swedish TV series, Scenes From a Marriage.
6. Millions. Full of visual wit, directed by rowdy Brit Danny Boyle (Trainspotting, 28 Days Later), and the freshest Christmas story in a very long time, Millions tells the story of a motherless, mystical eight-year-old (sees saints) who comes upon a huge bag of cash. Dead-serious respectful while avoiding the least bit of preachiness, the story delivers a cogent reading on blessing and generosity.
7. The March of the Penguins. Indeed, in the year of the documentary—Grizzly Man, Enron: The Smartest Guys in the Room, and Darwin's Nightmare—this is the one that hit it really big, and rightly so, though the artic feathery ones come off looking nobler than most people. Elegant photography and editing do their magic.
8. The Chronicles of Narnia: The Lion, the Witch, and the Wardrobe. Against all odds, director Andrew Adamson serves up a very good version of Lewis' novel. An entertainment for children, one that hones the soul, it is just about pitch-perfect. Sets and computer graphics are great (without overkill), the narrative flies, the actors suffice, especially Georgie Henley as Lucy, and the story, well, feels like Lewis himself.
9. Munich. Dressed up as thriller on Israeli revenge after the 1972 Munich Olympics debacle, Steven Spielberg's latest is in fact a searing meditation on responsibility, terrorism, revenge, and guilt in global politics. Deft, efficient, and powerful, the film is free of its maker's habitual operatics until the end, and by then one hardly cares.
10. Choose from candidates that I missed or that have yet to arrive in Grand Rapids: Broken Flowers, Brokeback Mountain, The Three Burials of Melquiades Estrada, Match Point (Woody Allen), Duma, The Squid and the Whale, The Holy Girl (Argentina), and The Best of Youth (Italy).
Peter Chattaway's Top Ten
Top ten lists are inevitably somewhat autobiographical, as they reflect both personal tastes and personal circumstances. For years, my own custom has been to consider only those movies that were given a regular theatrical release in Vancouver during the year specified. This means that many films which appear on others' lists—because they were released in Los Angeles and New York at the last minute to qualify for the Oscars—simply haven't shown up on my radar yet, because they won't play here for weeks or even months.
That said, here is what I did like of the films that I did see in 2005:
1. Dear Frankie (dir. Shona Auerbach). A single mother hires a total stranger to pretend to be the absent father to whom her deaf son has been writing letters all his life. What could easily have been a contrived, manipulative melodrama turns out to be a remarkably delicate study in character, mood, and tone. These characters really grow on you.
2. Hotel Rwanda (dir. Terry George). Don Cheadle gives the performance of a lifetime as Paul Rusesabagina, a hotel manager who saved over a thousand Hutu and Tutsi lives as the world sat by and allowed his country to be ravaged by civil war. A powerful reminder that genocide is not merely the stuff of old Holocaust movies, but continues to this day.
3. Millions (dir. Danny Boyle). A wonderful, enchanting story about a child's faith, his desire to be like the saints, and his efforts to be generous. Boyle lets us see the world through a child's eyes, and he brings the saints themselves to vivid, if occasionally irreverent, life.
4. Murderball (dir. Henry Alex Rubin & Dana Adam Shapiro). Quadriplegics with attitude kick major butt in this documentary about a sport played in wheelchairs, and about the rivalry between several athletes and the former teammate who now coaches the other side.
5. Batman Begins (dir. Chris Nolan). At last, a movie that "gets" the Dark Knight! The latest version of the Caped Crusader's origin story focuses on the nature of fear, rather than insanity, and along the way it tackles questions of personal responsibility and social justice.
6. Grizzly Man (dir. Werner Herzog). An often funny but basically tragic look at the life and work of Timothy Treadwell, a naïve activist who was eaten by one of the bears he tried to befriend. Built around the copious video footage that Treadwell left behind, Herzog's film is a thoughtful look at the relationship between ego, faith, and the violence inherent in nature.
7. Born into Brothels (dir. Zana Briski & Ross Kauffman). A documentarian visits Calcutta's red-light district, comes to know the local prostitutes and their families, and looks for ways to help the children rise above their circumstances—not least through the power of art.
8. Paradise Now (dir. Hany Abu-Assad). In a year replete with big-budget thrillers and action epics striving for political relevance, Abu-Assad's modest account of two Palestinian suicide bombers packs the biggest punch. Subtly horrific but also knowingly irreverent, Abu-Assad's film examines how honor and shame can seem more important than life and death.
9. A History of Violence (dir. David Cronenberg). This deconstruction of popular American genres—the Western, the gangster flick, the high-school movie—and the moral codes lurking within them is such a strange mix of tragedy and satire that I'm still not sure what to make of it. But it did provoke some of the best discussions about film I've had recently.
10. Corpse Bride (dir. Tim Burton & Mike Johnson). Burton's latest ghoulish whimsy is a surprisingly mature riff on the nature of marriage. It's a nice illustration of the biblical principle that we should love the one we are married to, rather than—as our post-Romantic culture would have it—that we should marry the one we have feelings for.
One final caveat: I have allowed more films than usual to pass through town unseen this year, and this list could easily change once I've done some catching up. Friends tell me that movies like The Squid and the Whale, Nobody Knows, and Me and You and Everyone We Know deserve to be considered—and I believe them. But I have not seen them yet. They say that films are never finished, only abandoned; that applies to Top Ten lists, too.
Related Elsewhere:
Also posted today is:
Ring Out the Old Year | Some highly subjective awards for 2005.
Books & Culture Corner and Books & Culture's Book of the Week, from Christianity Today sister publication Books & Culture: A Christian Review (want a free trial issue?), appears regularly on Tuesdays at Christianity Today. Earlier editions include:
Not Just Looking | Books for the eye. (Dec. 27, 2005)
The Top Ten Books of 2005 | A charming bedside miscellany, a new novel by P. D. James, and much more. (Dec. 20, 2005)
Article continues below
How to Survive a Bookalanche | Some more keepers from 2005. (Dec. 13, 2005)
'Tis the Season for Books (And Lists of Books) | Part one of our 2005 roundup. (Dec. 6, 2005)
Taizé in the Fall | A parable of community. (Nov. 29, 2005)
'Have Mercy on Me, O God' | A report from AAR/SBL. (Nov. 22, 2005)
The Shrine Next Door | A superb study of Chinese popular religion helps to set the context for the appeal of Christianity in China today. (Nov. 8, 2005)
Dissecting Divorce | A new book by Elizabeth Marquardt offers a child's-eye-view of divorce. (Oct. 25, 2005)
Heavenly Real Estate | A geography of art in New York at the midpoint of the 20th century. (Oct. 18, 2005)
Narnia Etc. | A chronicle of reading. (Oct. 11, 2005)
How Wide the Divide? | A proposal for compromise between "value evangelicals" and "legal secularists" on church-state issues. (Sept. 13, 2005)
Poet with Three Heads Talks with King Solomon | Conversation touches on Hebrew parallelism, marriage, and the making of many books. (Aug. 30, 2005)
For book lovers, our 2005 CT book awards are available online, along with our book awards for 2004, 2003, 2002, 2001, 2000, 1999, 1998, and 1997, as well as our Books of the Twentieth Century. For other coverage or reviews, see our Books archive and the weekly Books & Culture Corner.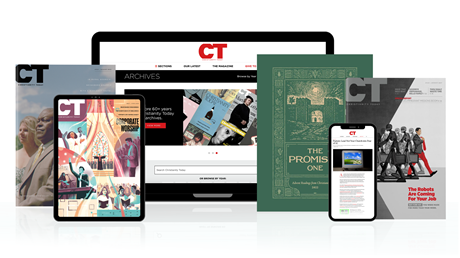 Annual & Monthly subscriptions available.
Print & Digital Issues of CT magazine
Complete access to every article on ChristianityToday.com
Unlimited access to 65+ years of CT's online archives
Member-only special issues
Subscribe
Books & Culture's Top Ten Movies
Books & Culture's Top Ten Movies