true
The opening sequence of Terrence Malick's The New World—a dramatic re-visioning of the 17th century legend of John Smith and Pocahontas, opening January 20—is a stunning musical/visual overture of hope and birth, set to Wagner's swirling, slow-building Das Rheingold prologue. The deeply romantic music, accompanied by a cornucopia of images reflecting the initial landings of English ships in Virginia, captures in a 10-minute nutshell why Malick is one of the most distinctive, revered, and mysterious voices in cinema today.
The NewWorld is just the fourth feature in Malick's 32-plus-year career, which only fuels the writer/director's cult mystique. The filmmaker made two classics in the 1970s, Badlands (1973) and Days of Heaven (1978)—but then dropped off of the industry map for two decades before returning with 1998's WWII epic, The Thin Red Line. The infrequency of Malick's filmmaking, combined with his hermit-like abstention from the media, has made him an icon of artistic mystery to the tune of, perhaps, a J.D. Salinger. But Malick is more than just an intriguing auteur. He is an example of how cinema as artistic form can express ineffable truths by poetically examining the way the world is.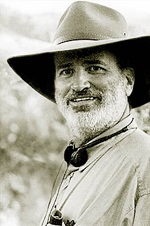 The philosophical filmmaker
What little we know of Malick's history helps in unlocking his mystery. Born in 1943, he grew up on a Texas farm, attended Harvard, was a Rhodes scholar at Oxford, and studied cinema at the American Film Institute. He was a freelance journalist for Life, New Yorker and Newsweek. He has a great knowledge and love of American art and literature. But perhaps most illuminating is Malick's philosophical side—literally. He studied philosophy in college and went on to teach it at MIT, becoming something of an expert on the German existentialist Martin Heidegger, even translating some of Heidegger's shorter works into English.
Malick's affinity for Heidegger is a focal point for understanding his films, especially the aesthetic styles that are Malick trademarks. Heidegger and Malick share the idea that the world reveals itself to us through our moods and emotion, not cognition and rationalism. Thus, it is easier to understand Malick's de-emphasis of plot in favor of flowing imagery and "natural encounter" cinema—films not as interested in how the world is, but that it is. For many viewers, such an unconventional method is off-putting, but for those who are open to more experiential cinema, Malick's organic, spur-of-the-moment style is a beautiful trademark. The NewWorld producer Sarah Green echoes this: "Terry is not big on convention; he's big on what has an impact on him in the moment."
For Malick, like Heidegger, truth and beauty exist most fully in the unexplained and momentary experience of encounter—evidenced in Malick's visceral brand of filmmaking. Indeed, a Malick signature is the primacy and invasive "thereness" of nature, whether in close-ups of dying animals (Badlands), glistening vistas of blowing wheat fields (Days of Heaven), or shimmering sunlit rivers in a dark, unexplored land (The New World). But beyond the visual, Malick echoes Heidegger's claims in his refusal to morally judge or even attempt to explain the actions of his characters. There are no heroes or villains in Malick; just humans from all walks of life, on all sides of the central struggle of existence.
The New World brings this ambiguity to the forefront, tackling a sensitive topic without passing any blame. Malick sides neither with the indigenous "Naturals" (as they are called in the film) nor with the "civilized" Christian Europeans, but instead focuses on how they might coexist (however precariously) and forge a new, hybrid nationality. As the film makes so very clear, blame, vengeance and lamentation do little to move things forward. Instead, as Pocahontas (stunningly portrayed by newcomer Q'Orianka Kilcher) shows us, we must try to be happy in spite of life's difficulties. 
This "living in spite of" theme is found in each of Malick's films. Badlands follows a Bonnie & Clyde pair of teenagers on the road, trying to live peacefully in spite of their murder spree and inevitable capture. Days of Heaven explores the dying pastoral myth in the face of jealousy, murder, and the onset of modernism. The Thin Red Line embodies the existential ponderings of soldiers confronting mortality. Each film exhibits the precarious balance of life—between being and non-being, light and dark, good and evil, etc.—a concept straight out of Heidegger's notion of "dwelling."
A longing for heaven
Heidegger sees human "dwelling" as fourfold: saving the earth, receiving the sky, awaiting the divinities, and escorting mortals. In layman's terms: to dwell is to be stuck between earth and heaven, aware of one's eventual mortality and looking for divine redemption. Malick visualizes this in his constant upward-searching camera shots. We are aware of the sky and a concealed deity by looking up at the birds in the vast blue, or by feeling its distance in the rays of sun filtering through a canopy of trees. "Man, as man," Heidegger wrote, "has always measured himself with and against something heavenly" ("Poetically, Man Dwells").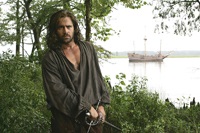 The skyward looking and longing for a seemingly distant God is a reoccurring motif in Malick's films. The New World is very much preoccupied with the presence of God and his gift of "the promised land" of America. John Smith (portrayed by Colin Farrell) and the Virginian settlers hoped for a peaceful, bountiful Eden in which they could start over and, as Smith says, "exchange this false life for a true one." But when the Jamestown colony quickly falls on hard times, Smith prays for redemption: "Lord, we have gone away from you … let us not be brought to nothing." For the settlers and natives, who clash and suffer the birthing pains of a new nation, God seems quite distant, and hope seems naïve. However, amid the squalor and cannon-fire of a fallen Eden, paradise is just beyond the mountains, in "the land that has no end."
Malick understands something that many Christian filmmakers do not—that we can redeem our broken existence in part by seeing in the very lack of goodness some evidence of an ultimate good. In his essay, "What Are Poets For?", Heidegger speaks of this ability of art to capture what is holy amid a world so plagued by evil: "To be a poet in a destitute time means: to attend, singing, to the trace of the fugitive gods. That is why the poet in the time of the world's night utters the holy."
In his cinematic envisioning of life on the brink, Malick performs such poetic duties. Each of Malick's films can be characterized as somber, elegiac meditations on life amid the "world's night," and yet therein Malick manages to glimpse the "fugitive gods." His films are the best and worst of times, with moments of transcendent glory and beauty existing in harmony with reminders of life's temporality and destitution. Much of the first half of World features the poetry of a passionate, ephemeral, Adam & Eve romance (between Smith and Pocahontas), a feeling of paradise soon-to-be lost that is mirrored in the classic Badlands scene in which Sissy Spacek and Martin Sheen dance in the cold prairie darkness to Nat King Cole: "The dream has ended / for true love died / the night a blossom fell / and touched two lips that lied."
Indeed, if there is one expressly biblical motif that continually drives Malick, it is the question of a perfect Eden. His films represent a yearning for that peaceful goodness that was originally given us—the wholeness that can now only be glimpsed in traces of something missing. The characters in The Thin Red LineLine constantly seek this place: "How do we get to that distant shore?" one soldier asks. Another thinks he's found that place on leave away from battle: "Walked into the golden age. Stood on the shores of a new world … "
Still hasn't found what he's looking for
Searching for the "new world" is an unfulfilled quest in the films of Malick, and remains so with the aptly titled The New World, where he again explores the questions of harmony and Eden: Can man, so divided by his own sin nature, ever live together on this earth as in the beginning? John Smith ponders it with optimism ("We shall make a new start—a fresh beginning—where the blessings of earth are bestowed upon all"), as does Christopher Plummer's Captain Newport ("We have escaped the Old World and its bondage … God has given us a promised land"), but the film ultimately leaves the questions unanswered, the hope unfulfilled.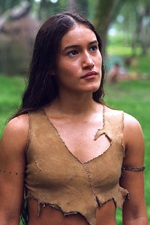 If Malick's films evoke such desire for heaven and redeemed existence, even if they go no further in answering that search, they at least make our weary souls all the more desperate for fulfillment. And if the state of the world and the conflict of man is truly the best evidence, as Lewis and Chesterton (among others) believed, of the divine Other, then perhaps Christians should pay attention to the Heidegger/Malick approach to art. What if we strive, as Malick does, to represent the world as it is, in all its turbulence and unanswered anxiety? Rather than finding creative—though unnatural—ways to package the answers, shouldn't we first focus on honestly portraying the questions?
The voiceovers of The NewWorld, as in all Malick films, are heavy on questioning. As Smith sets out to chart new territory, he questions the drive in his soul to find the utopia he longs for: "Who are you I so faintly hear; who urged me ever on?" Pocahontas questions her decision to become Christianized and abandon her roots. She also questions Smith's love. Nothing is certain for these characters, and life—in all its evanescent glory—is in constant question. But within that spiritual restlessness there is a deep and beautiful otherness, and Malick mines it well. The simultaneous bliss and emptiness, glory and lacking, transcendence and dissonance that fill the screens of Malick's pictures confront us with our imperiled existence in ways that can only really be satiated by a look to the sky.
Eventually, we are told in Scripture, there will be a new heaven and new earth. For human existence, where the loss and longing of Eden are ever present, such a hope is an ultimate comfort. But until we get to that place—the distant shore and unending land that Martin Heidegger, Terrence Malick, and all of us seek—we must dwell in this impermanent world, between earth and sky … somewhere between fallen Eden and the New World.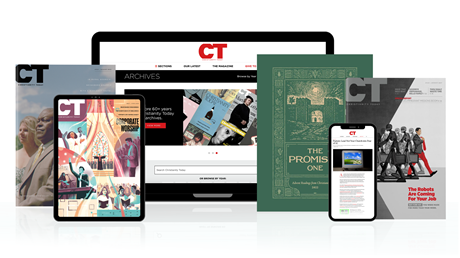 Subscribe to Christianity Today and get access to this article plus 65+ years of archives.
Home delivery of CT magazine
Complete access to articles on ChristianityToday.com
Over 120 years of magazine archives plus full access to all of CT's online archives
Subscribe Now
Searching for a New World
Searching for a New World