true
The opening sequence of Terrence Malick's The New World—a dramatic re-visioning of the 17th century legend of John Smith and Pocahontas, opening January 20—is a stunning musical/visual overture of hope and birth, set to Wagner's swirling, slow-building Das Rheingold prologue. The deeply romantic music, accompanied by a cornucopia of images reflecting the initial landings of English ships in Virginia, captures in a 10-minute nutshell why Malick is one of the most distinctive, revered, and mysterious voices in cinema today.
The NewWorld is just the fourth feature in Malick's 32-plus-year career, which only fuels the writer/director's cult mystique. The filmmaker made two classics in the 1970s, Badlands (1973) and Days of Heaven (1978)—but then dropped off of the industry map for two decades before returning with 1998's WWII epic, The Thin Red Line. The infrequency of Malick's filmmaking, combined with his hermit-like abstention from the media, has made him an icon of artistic mystery to the tune of, perhaps, a J.D. Salinger. But Malick is more than just an intriguing auteur. He is an example of how cinema as artistic form can express ineffable truths by poetically examining the way the world is.
The philosophical filmmaker
What little we know of Malick's history helps in unlocking his mystery. Born in 1943, he grew up on a Texas farm, attended Harvard, was a Rhodes scholar at Oxford, and studied cinema at the American Film Institute. He was a freelance journalist for Life, New Yorker and Newsweek. He has a great knowledge and love of American art and literature. But perhaps most illuminating is Malick's philosophical side—literally. He studied philosophy in college and went on to teach it at MIT, becoming ...
1
Searching for a New World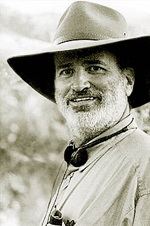 This slideshow is only available for subscribers.
Please log in or subscribe to view the slideshow.
Searching for a New World