Today's Top Five
1. Global Fund graft in Uganda
On our site today, we have a Religion News Service article about the criticism that James Dobson and some others have leveled against the Global Fund to Fight AIDS, Tuberculosis, and Malaria. (The organization Friends of the Global Fight has put together a response, but so far it's not posted on its website.) Now comes more PR trouble: The Christian Science Monitor reports:
The phrase "Global Fund" has become synonymous with graft in Uganda. A government inquiry recently revealed that tens of millions of dollars of the country's Global Fund grants have gone missing, much of it plundered by high-ranking public officials. Through months of hearings, which began in September and concluded just a few weeks ago, a disgusted Ugandan public heard how monies meant for lifesaving AIDS drugs were spent on personal phone bills, lavish "Christmas packages," and fancy four-wheel drive vehicles. … Problems with Global Fund monies have surfaced recently in other countries as well.
In a large sense, this is old news: The Global Fund suspended its grants to Uganda last August after an audit revealed "evidence of serious mismanagement by the Project Management Unit in the Ministry of Health." After Uganda restructured management of the grants, the Global Fund lifted the suspensions in November.
What's new is the Ugandan government report, which the Global Fund says is evidence of improvement, not of new problems. "The openness and thoroughness with which President Yoweri Museweni addressed the Global Fund's concerns about the management of the grants it finances in Uganda has set an example for how allegations of corruption should be dealt with," executive director Richard Feachem says in a press release.
Ugandans, meanwhile, note that the those involved in the graft have not faced any legal consequences. (The report recommends a criminal investigation.) Ugandan Health Minister Jim "Muhwezi should have been in Luzira Prison as we speak," Ugandan MP Charles Angiro tells The Monitor. "He is as dangerous as [Lord's Resistance Army leader Joseph] Kony. Kony kills by the sword but he has killed by denying HIV positive Ugandans' health services."
The bottom line: When talking about fighting AIDS in Africa, the question of how much money goes to corruption vs. how much of it goes to actual aid is a much, much bigger issue than the question of how much gets spent on condoms vs. how much goes to promoting chastity.
2. Louisiana bans abortion, but not yet
A bill passed by the Louisiana House is the latest "trigger" ban on abortion, meaning it will go into effect only if the federal constitution is amended to allow states to ban abortion or if the U.S. Supreme Court overturns Roe v. Wade. The bill, which would only except abortions where the woman's life or permanent health is in danger, will now go back to the state senate, which passed a similar bill (without the "permanent health" exception) in April.
3. Study: Religious Right more sectarian than Religious Left
John Evans, associate professor of sociology at the University of California, San Diego, says Religious Right groups are more likely to be at odds with each other than Religious Left groups, which are more likely to "build cooperative political partnerships with those of similar ideological views." Sectarianism, he says, "has receded for the Religious Left."
Not so for religious conservatives. "What may be holding back the religious right from achieving its full potential is that, compared to the groups that comprise the religious left, participants in conservative religious groups do not want the other religious right groups to influence public opinion," Evans says in the Journal for the Scientific Study of Religion. "It is particularly clear that conservative Protestants are wary of the influence of Catholics."
Weblog doesn't have access to the full study (which costs $40.85!), but one wonders about the effect of size: The Religious Right, at least as an organized force, is much larger than the Religious Left, so there may be more groups to disagree with. Another question is the effect of the current political climate: The Religious Right is seen as having significant political influence now, so they'll be arguing over which agenda items they should push for. The Religious Left can agree on a central agenda point for now: Get influence, and reduce the influence of the Religious Right.
4. The estrogen-driven church
More details on something that almost all churchgoers know already: Adult men don't tend to go to church, even if their kids do. Seven out of ten Hispanic men do not attend church with their children, compared with 64 percent of whites and 54 percent of blacks, says a report on fatherhood from the National Center for Health Statistics, as reported by The Washington Times. In related news, Promise Keepers is apparently tweaking its message a bit. The aim is still "spiritual, moral, ethical, and sexual purity," but right now the focus seems to be on Promise Five of its seven promises: "A Promise Keeper is committed to supporting the mission of his church by honoring and praying for his pastor, and by actively giving his time and resources." In other works, Promise Keepers is trying to get men back to church.
5. VeggieTales to launch another feature film
The cost of the first VeggieTales movie, Jonah, contributed to Big Idea's declaring bankruptcy in 2003. Now owned by Classic Media, VeggieTales is taking another run at the big screen. Universal Pictures will release The Pirates Who Don't Do Anything—A VeggieTales Movie in early 2008. VeggieTales co-creator Mike Nawrocki (voice of Larry the Cucumber) will direct the film. The script is by Phil Vischer, who still works with VeggieTales as he runs the entertainment group Jellyfish.
Quote of the day:
"I wore jean shorts to the beach when I was a teenager. I was an insecure teenager and a born-again Christian hanging out with a group of kids that made me feel bad about showing my body. But I learned I shouldn't be ashamed of what God gave me."
—actress Jessica Alba, explaining to USA Today why she prefers bikinis to one-piece bathing suits.
Note
The stories below are from Thursday. We'll be posting Friday stories soon.
More articles
AIDS | Persecution | Church and state | Abortion | Research | Taylor crash | Crime | Abuse | Church life | Missions & ministry | People | Books | Da Vinci Code | Entertainment | Same-sex marriage | More on sexual ethics and family | Other stories of interest
AIDS:
African graft stings donors | A recent inquiry revealed gross misuse of AIDS donations in Uganda (The Christian Science Monitor)


A flagging commitment on AIDS | The AIDS epidemic turns 25 this week, and while new infections are declining in a few countries, the number of infected is still growing, especially among young women (Editorial, The New York Times)


Public health vs religion | Uganda was a beacon of hope in Africa's struggle against HIV, but the Christian right's grip on US policy is undermining this effort with fatal consequences (Oliver Duff, The Belfast Telegraph)


Taming the Tigers | Again and again, they have tried to provoke a civil war between the island's different religious groups. Christians have been assassinated in church during Christmas mass. Good Friday this year was marred by violence (Mahinda Rajapaksa, The Wall Street Journal)


Deportation of 9-year-old deaf boy is put on hold | Family will get a chance to make an unusual claim: that an entire family be granted asylum on the basis of a child's persecution (The Philadelphia Inquirer)


Sectarianism is problem for religious right political partnerships | Members of groups that comprise the "religious right" exhibit negative attitudes toward other religious groups on the right, making the building of political coalitions more difficult (Press release, University of California, San Diego)


Study: Cooperative Coalitions on the Religious Right and Left: Considering the Resilience of Sectarianism (Journal for the Scientific Study of Religion)


25pc 'success' rate in power of prayer study | A new Dutch study has established 91 percent of the country's orthodox Christians believe God can heal illness. But only 25 percent of those who took part reported feeling better after appeals to the Deity (Expatica, Netherlands)


Security tight for "Satanist" date | All across Norway precautions are being mounted to prevent churches being torched on June 6, 2006 - 06.06.06 (Aftenposten, Oslo)


Gun buybacks a shot in the dark | Research shows little drop in violence or shootings as a result of politically popular gun-buyback programs. More cities are relaunching them anyway (Joan Vennochi, The Boston Globe)


Child victims must sue by age 20 | Ruling could wipe out scores of suits against priests (The Cincinnati Enquirer)


Also: Deadline still valid for suing Ohio clergy | Adults who accuse priests of abusing them when they were children must follow time limits for filing lawsuits despite the trauma of sexual abuse possibly causing delays in reporting the event, the Ohio Supreme Court ruled Wednesday (Associated Press)


Catholic priest convicted of raping girl | During the six-day Ireland trial, the victim, whose identity was not make public, testified that Rev. Daniel Doherty raped her in a church sacristy twice in 1985 (Associated Press)


Bishop stranded in Africa blames the devil | Speaking about the difficulties for the first time this afternoon, Bishop Gladwin, 64, a former evangelical who has moved to the liberal wing of the Church and is chairman of Christian Aid, described events in Kenya as they unfolded (The Times, London)


Religion today: Making reparations | The Episcopal Church is poised to apologize for failing to oppose slavery, but making up for its 19th century inaction won't come without 21st century controversy (Associated Press)


Lord, give me strength | Local gym owner responds to growing trend for Christian-infused workouts that combine religious music and less revealing clothes (Daily Pilot, Newport Beach, Ca.)


Operation blessings | The Operation Blessing agency Pat Robertson founded continues helping the needy around the world, and will keep doing such humanitarian work long after Mr. Robertson's more, well, colorful statements are long forgotten (Editorial, Daily News-Record, Harrisonburg, Va.)


Jessica Alba plans a fantastic summer | "Bikinis are more flattering on my body. I wore jean shorts to the beach when I was a teenager. I was an insecure teenager and a born-again Christian hanging out with a group of kids that made me feel bad about showing my body. But I learned I shouldn't be ashamed of what God gave me." (USA Today)


Never too late to learn | Temple Hills priest, 92, earns associate's degree at PGCC (The Washington Post)


Woman OK after bolt in her own kitchen | Daphne's Clara Brown says room 'was engulfed in a huge ball of fire' as she prayed (Press-Register, Mobile, Ala.)


Religion from the outside | Freeman J. Dyson reviews Breaking the Spell: Religion as a Natural Phenomenon by Daniel C. Dennett (New York Review of Books)


Tattoos, piercings, and prayers | Author Andrew Beaujon discusses his year-long journey into the heart of that most forbidding of all musical genres -- Christian rock (Alternet)


Excerpt: 'Body Piercing Saved My Life' | A brief foray into the not-so-seedy underbelly of the Christian rock scene (Alternet)


Tamil Nadu refuses to decode The Da Vinci | Tamil Nadu has banned cinema screenings of the The Da Vinci Code, the second state to do so after protests by minority Christians (Reuters)


The Da Vinci sequel | Lord help us (Kim Masters, Slate)


Universal to release VeggieTales movie in 2008 | The Pirates Who Don't Do Anything - A VeggieTales Movie will be directed by Mike Nawrocki and is based on a script written by Phil Vischer, who will serve as executive producer through his production company, Jellyfish Labs. David Pitts of Franklin-based Big Idea will produce the film (Nashville Business Journal)


Rockies: Hey, we aren't the angels | 'Christian-based code of conduct' disputed (Rocky Mountain News, Denver)


Also: Team takes issue with portrayal | Christian clubhouse story "over the top" (The Denver Post)


More on sexual ethics and family:
Ancient scroll may yield religious secrets | A collection of charred scraps kept in a Greek museum's storerooms are all that remains of what archaeologists say is Europe's oldest surviving book — which may hold a key to understanding early monotheistic beliefs (Associated Press)


Related Elsewhere:
Suggest links and stories by sending e-mail to weblog@christianitytoday.com
See our past Weblog updates:
May 31 | 26 | 24
May 19 | 18 | 17
May 11 | 10 | 9 | 8
May 5 | 4 | 3
April 28 | 27b | 27a | 19
April 12 | 11 | 7
March 31 | 30 | 28
March 24 | 24 | 23 | 21
Weblog
Launched in 1999, Christianity Today's Weblog was not just one of the first religion-oriented weblogs, but one of the first published by a media organization. (Hence its rather bland title.) Mostly compiled by then-online editor Ted Olsen, Weblog rounded up religion news and opinion pieces from publications around the world. As Christianity Today's website grew, it launched other blogs. Olsen took on management responsibilities, and the Weblog feature as such was mothballed. But CT's efforts to round up important news and opinion from around the web continues, especially on our Gleanings feature.
Ted Olsen is Christianity Today's executive editor. He wrote the magazine's Weblog—a collection of news and opinion articles from mainstream news sources around the world—from 1999 to 2006. In 2004, the magazine launched Weblog in Print, which looks for unexpected connections and trends in articles appearing in the mainstream press. The column was later renamed "Tidings" and ran until 2007.
Previous Weblog Columns: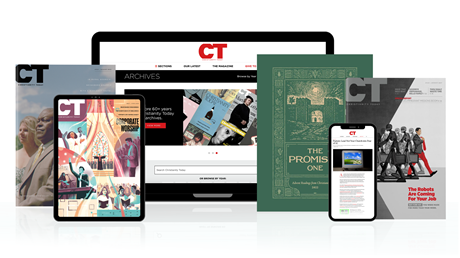 Annual & Monthly subscriptions available.
Print & Digital Issues of CT magazine
Complete access to every article on ChristianityToday.com
Unlimited access to 65+ years of CT's online archives
Member-only special issues
Subscribe
A Bigger Problem for Fighting AIDS
A Bigger Problem for Fighting AIDS