Evangelical commentators from Ron Sider to George Barna have bemoaned the apparent disconnect between Christian beliefs and practice. Robert Jeffress, minister at First Baptist Church of Wichita Falls, Texas, looks at the problem from a pastoral perspective in Grace Gone Wild: Getting a Grip on God's Amazing Gift (WaterBrook, 2005). Stan Guthrie, a CT senior associate editor, sat down with him.
Why did you write the book?
There is little to no discernable lifestyle difference between Christians and non-Christians. I believe we're using grace as a cover, as a license for sin.
How does this work out?
There's great confusion on the relationship between grace and works. In the 1990s, Chuck Swindoll and Philip Yancey and others wrote some wonderful books on grace—The Grace Awakening, What's So Amazing About Grace?—and they did a valuable service rescuing the doctrine of grace from the legalists who say that we must earn our salvation. But the pendulum has gone in the other direction, and we've unwittingly taken grace out of the hands of the legalists and delivered it into the hands of the libertarians.
Have you seen this issue at work in your church?
Absolutely. There are probably more unsaved people in my pews than I want to acknowledge. And as a Southern Baptist, as an evangelical, as a Dallas Theological Seminary graduate, certainly I have preached all of my life the eternal security of the believer or, as Baptists have popularized it, Once saved, always saved. But of course, the key part in that phrase is once saved.
In the past, I've made the mistake as a pastor of trying to assure people of their salvation when they never possessed it to begin with. Here are people who profess to be Christians, but they have no interest in God's Word, they never pray, they don't want to be in church, there is absolutely no fruit in their life. Why should we give false security to people like that? The Bible certainly gives no assurance of salvation for such people.
What do you say to someone who fears you are just trying to reinstitute legalism?
It comes down to the question, What place does obedience have in the life of a Christian? What does grace say is my responsibility in marriage, in friendships, in the church? I don't believe that obedience earns God's salvation of our souls. But it certainly earns God's favor in our lives.
But many Christians who are faithful, who try to obey God, and who try to be true Christian disciples don't experience God's favor. The Christians in Sudan are an obvious example.
I believe there is a payoff for obeying God. I think the mistake is determining when that payoff is going to come.
How does church discipline fit?
Jesus told a parable about a man who was ambushed and beaten and left for dead. Only one person stopped to render aid. The most loving thing we can do when we see a fellow Christian who's being mugged and left for dead by sin is to stop and render aid. That requires a judgment, but it also requires a restoration procedure.
We've got to delineate what sins actually require discipline. For example, there are personal offenses. If somebody hurts me, the Bible says I'm to forgive. If I see you involved in a harmful addiction, there's nothing that requires me to take you before the church to be disciplined.
Galatians 6:1 says that those who are spiritual are to come alongside such a person.
But there are some sins against the body of Christ that require church actions: sins that threaten the doctrinal health of the church, sins that threaten the emotional health of the church, or sins that threaten the witness of the church. Matthew 18 gives us a procedure. We ought to deal as privately as possible with sins unless they require the church to take action.
Related Elsewhere:
Grace Gone Wild is available from Christianbook.com and other book retailers.
Other articles on grace include:
Amazing Sin, How Deep We're Bound | Finding the courage to trust in grace. (May 4, 2004)
The Uncommon Benefits of Common Grace | Does God only take delight in saving souls? (July 19, 2002)
Where I Minister, Grace Abounds Over Sin | At Ground Zero, a New York pastor strives to be a symbol that God is present and available. (Sept. 24, 2001)
What's So Amazing About Grace? Part 1 | The notion of God's love coming to us free of charge, no strings attached, seems to go against every instinct of humanity.—excerpted from What's So Amazing about Grace? By Philip Yancey (Oct. 6, 1997)
What's So Amazing About Grace? Part 2 | The notion of God's love coming to us free of charge, no strings attached, seems to go against every instinct of humanity.—excerpted from What's So Amazing about Grace? By Philip Yancey (Oct. 6, 1997)
For book lovers, our 2005 CT book awards are available online, along with our book awards for 2004, 2003, 2002, 2001, 2000, 1999, 1998, and 1997, as well as our Books of the Twentieth Century. For other coverage or reviews, see our Books archive and the weekly Books & Culture Corner.
Have something to add about this? See something we missed? Share your feedback here.
Our digital archives are a work in progress. Let us know if corrections need to be made.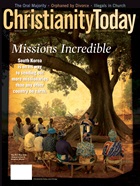 This article is from the March 2006 issue.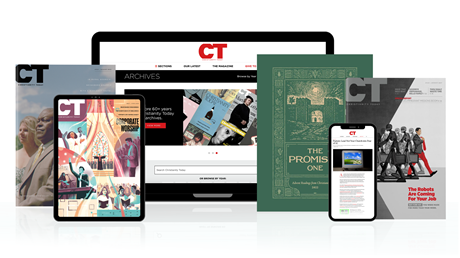 Subscribe to Christianity Today and get access to this article plus 65+ years of archives.
Home delivery of CT magazine
Complete access to articles on ChristianityToday.com
Over 120 years of magazine archives plus full access to all of CT's online archives
Subscribe Now
Grace as a License for Sin
Grace as a License for Sin