Today's Top Five
1. Lent: It's not just for Catholics and mainliners anymore
Yes, the "Happy Ash Wednesday" title is supposed to be ironic. But it may represent a way in which the holy day and the Lenten season are changing as they're adopted by happy evangelical Protestants who once rejected the church calendar as "too Catholic." The Tennessean subtly notes the parallels between the imposition of ashes and evangelical altar calls: "There is something about coming forward, walking down the aisle with a purpose," Thomas Kleinert, senior minister at Vine Street Christian Church (Disciples of Christ), tells the paper. "On Ash Wednesday, that purpose is very much about a person acknowledging that they want to concentrate on God and reduce whatever is keeping them from God." Roman Catholics would agree, but they probably wouldn't describe Ash Wednesday in quite those same terms.
2. Pope Benedict XVI relinquishes a title
In other church unity news, the Italian news agency ANSA takes note of a quiet story that may have long-term significance. Pope Benedict XVI has ordered that one of his nine official titles—Patriarch of the West—be dropped in the new edition of the Vatican yearbook. He took the move to ease tensions with Eastern Orthodox churches, but at least one observer worries that the move could signal "indirect affirmation of himself as 'universal patriarch.'" Indeed: it's the titles like "Supreme Pontiff of the Universal Church" and "Vicar of Jesus Christ" that are more problematic for church unity.
3. Dirty laundry in Orthodox Church in America?
The Washington Post reported Sunday that the OCA's former treasurer says top church officials "misappropriated millions of dollars in donations … to cover personal credit card bills, pay sexual blackmail, support family members and make up shortfalls in various church accounts." The church's governing Holy Synod is scheduled to meet today to consider an internal investigation and an independent audit.
4. Da Vinci Code goes to court
Nobody has a monopoly on truth, it's often said (though not frequently by evangelicals). Now that a British court is considering whether Dan Brown ripped off Holy Blood, Holy Grail, the question arises: Can you have a monopoly on a specific falsehood?
5. Fearing the media—the Christian media
"It's the liberal mainline churches whose congregations are shrinking and the conservative evangelical ones that are growing," Graduate Theological Union in Berkeley's Stewart Heller tells the San Francisco Chronicle. His analysis: It's the media. So for his "Electronic Christian Media" class, he's bringing in conservative evangelicals as guest lecturers at the notoriously liberal school. Some students are worried that they'll be "marginalized" by the instructors, some of whom see their classroom mission as evangelistic. But don't worry, Heller told his students. "They don't hate you." One thing that doesn't show up either in the Chronicle story or, seemingly, Heller's class: the reason conservative evangelical churches are growing faster than liberal mainline ones may not have anything to do with media savviness.
Quote of the day:
"I would say that there was broad dismay with some of Pat's comments and a feeling they were not helpful to Christian broadcasters in general, but by no means was there any broad effort in our association to dissociate ourselves with him."
—National Religious Broadcasters president Frank Wright, on Pat Robertson's failure to be re-elected to the NRB's board, despite being one of 36 candidates for 33 slots. He was quoted by The Washington Post (second item).
Beyond the top five
Since we haven't had the opportunity to post a new weblog since Friday (sorry about that, folks), there are many stories beyond the "top five" worth noting. For example, the Supreme Court's abortion protest decision, Time's article on home churches, a statement of principles from Roman Catholic Democrats in the U.S. House, and a survey of professors' faith. The links below really are worth combing through.
More articles
South Dakota abortion ban | More abortion | Embryonic stem-cell research | Life ethics | Politics | Free speech | Church and state | Silver Ring Thing | Education | Higher education | Hinduism textbook controversy | Evolution | Immigration | IRS rules and churches | Church life | Church evangelistic strategies | Missions & ministry | Catholicism | Abuse | Detroit church shooting | Crime | China | World conflicts | Nigeria | Sudan | Church of England divestment | Anglicanism | Homosexuality and the church | More on homosexuality | Family | Fat Tuesday and Ash Wednesday | Protestants and Lent | Bible and theology | History | Da Vinci Code suit | Books | Music | Entertainment, art, and media | Roadside crosses | Other stories of interest
South Dakota abortionban (news & analysis):
South Dakota's governor says he favors abortion ban bill | If Mike Rounds, the governor, signs the bill in the coming 15 days, it will be the broadest measure to outlaw abortion anywhere in the United States (The New York Times)


South Dakota abortion ban(opinion):
Emboldened, abortion foes attack 'Roe' head-on | Unless checked, the process South Dakota is starting could lead to the most draconian rollback of personal liberties in U.S. history (Editorial, USA Today)


Our time has come | Momentum builds to fight for rights for unborn babies (Roger Hunt, USA Today)


Pro-lifers may do best by taking gradual steps on abortion | While I wish the fence-swingers well and hope they hit a home run, my guess is they will not succeed; not now. Perhaps a better strategy would be to attempt to get on base with a simpler plan that is even now causing abortion-minded women to choose to have their babies (Cal Thomas)


Abortion returns to center stage | The abortion issue is back, one might say, except that it has never gone away (Peter Steinfels, The New York Times)


Amid the abortion rifts, a history of court shifts | A vote to allow bans on certain abortion procedures won't, by itself, prove that Roberts and Alito lack open minds, or that the Supreme Court is driven by politics (Peter S. Canellos, The Boston Globe)


South Dakota's fetal position | State would ban more than abortions (Ronald Bailey, Reason)


Nurse raped for refusal to carry out abortions | The gang rape of a nurse who refused to perform illegal abortions has outraged Pakistan and intensified calls for the repeal of its rape laws (The Telegraph, London)


SCOTUS tries to get a little bit pregnant | Why the broader abortion ban is the one that's constitutional (Jacob Sullum, Reason)


Pope says pre-implanted embryo is sacred | The Vatican has long held that human life begins at conception, but Benedict's comments were significant because he specified that even an embryo in its earliest stages — when it is just a few cells — is just as much a human life as an older being (Associated Press)


The House's Catholic Democrats detail role religion plays | Still reeling from the attacks on Sen. John F. Kerry's brand of Roman Catholicism during the 2004 presidential race, 55 House Democrats issued a joint statement yesterday on the central role that the Catholic faith plays in their public lives (The Washington Post)


Also: Public officials under God | A "Statement of Principles By Fifty-Five Catholic Democrats in the U.S. House of Representatives" is, to the best of my knowledge, an unprecedented attempt by a large number of elected officials to explain the relationship between their religious faith and their public commitments (E. J. Dionne Jr., The Washington Post)


Boston College topic is Catholics and the swing vote | ''Can a Catholic officeholder be a good Republican and Catholic, and a good Democrat and a Catholic?" asks Tim Russert (Rich Barlow, The Boston Globe)


Mrs Museveni wins in Uganda, other 'Mamas' falter | Most famous for her support for abstinence programmes to fight HIV/AIDS, the staunchly born-again Christian first lady was making her first foray into politics by joining the parliamentary race (Reuters)


What's a 'red-letter Christian'? | Jesus is neither a Republican nor a Democrat. That's why we created a new name for our Christian political movement (Tony Campolo, Beliefnet)


The other Christians in politics | Anybody who thinks the church should stay out of politics can take up the argument with three groups in Texas. Conservative Christians, moderate Christians and liberal Christians. (Rick Casey, Houston Chronicle)


Praise the Lord and pass the petition | An activist Christian left is slowly emerging of late, practicing "faith-based community organizing" for social and economic justice (Ira Chernuss, Mother Jones)


Onward Christian organizers | A lot of activism on the Left springs from deeply held faith (David Hilfiker, Mother Jones)


Lord, have mercy | The U.S. delegation to the World Council of Churches apologizes for America (Mark D. Tooley, The Weekly Standard)


9th Circuit finds Ore. city violated street preacher's rights | Panel says Portland gave groups that held events at city parks too much discretion to eject people (Associated Press)


Offensive religious T-shirt angers | Tauranga's James Marx was so outraged by an offensive message brandished on another man's T-shirt he complained to police. Papamoa police now want to find the man (Bay of Plenty Times, New Zealand)


Goode in the 'Ring' for teen abstinence | Former Mayor W. Wilson Goode is initiating an effort to make Philadelphia one of the hubs for a faith-based sexual abstinence program, known as "The Silver Ring Thing" (Philadelphia Daily News)


Going too far | Silver Ring Thing loses federal funds (Editorial, Pittsburgh Post-Gazette)


Spiritual, but not in the classroom | Survey of professors finds plenty of faith — and a correlation between life of the soul and teaching styles (Inside Higher Ed)


Cartoons depict Jesus, cause stir at Radford University | University officials will meet with students to discuss balancing free speech and good taste (The Roanoke Times, Va.)


Hinduism textbook controversy:
IRS finds sharp increase in illegal political activity | The tax agency found problems at three-quarters of the 82 organizations it examined after it got complaints about their political activities (The New York Times)


Church politicking 'disturbing' to IRS | To prevent a repeat in the upcoming congressional elections, the agency said it is gearing up to quickly investigate and quash any violations that arise this year (The Washington Times)


Political gifts by churches break IRS rules | At least 115 in Maryland have donated money to candidates since 2000 (The Baltimore Sun)


The collection plate | Because a church is a tax-exempt institution, any money it gives a politician is in essence also tax-exempt, and that's just not allowed by the law (Editorial, The Baltimore Sun)


Pastor challenges volunteers to spend $100 on good deeds | The Rev. Gary Marzolf challenged church members to further God's kingdom on Earth (Des Moines Register, Ia.)


Church evangelistic strategies:
O.C. congregation's 40 years of wandering are over | St. John the Baptist Roman Catholic parish opens its renovated church (Los Angeles Times)


2nd victim dies in Mich. church shootings | Alarie Davis, 54, had been shot in an arm and the chest while defending his wife during a carjacking attempt by the gunman several blocks from the church, police said (Associated Press)


Forgiveness in a culture stripped of grace | How forgiveness may arise from even bitter hatred (Miroslav Volf, The Times, London)


Faith, in its place | What we are experiencing is a growing "value split," where identity lies more in belief than in job or background (Mortimer B. Zuckerman, U.S. News & World Report)


Civil war or holy war? | That the Holy One is wholly other is the first principle of human toleration, since no single person or group has an exclusive claim on the divine. The second principle of toleration is that God, as its author, belongs to the entire cosmos, not to any mere part of it (James Carroll, The Boston Globe)


Egypt is uneasy stop for Sudanese refugees | dark-skinned Sudanese Christians stand out among the Egyptians, typically lighter-skinned Muslim Arabs. Human rights workers say the Sudanese are subject to taunts, discrimination and violence (The Washington Post)


Archbishop of Canterbury visits Sudan | "Together as groups, as tribes … as religions, we know that God alone is king and we can therefore be at peace with each other," he said (Reuters)


Realism and Darfur | Idealists may have the best case for stopping the Darfur genocide, but they do not have the only case. Why America's national interest demands intervention in Darfur (James Forsyth, The New Republic)


Chief rabbis to meet Anglican head | Israel's two chief rabbis have questions for the Archbishop of Canterbury, but will not cancel plans to meet the leader of Britain's state church this May in light of the vote by the General Synod of the Church of England to divest its shares in companies whose products are used by the Israeli government in the territories (The Jerusalem Post)


A gospel of intolerance | The support of Archbishop Peter J. Akinola, primate of the Church of Nigeria and leader of the conservative wing of the communion, for an anti-gay Nigerian law violates numerous Anglican Communion documents that call for a "listening process" involving gay Christians and their leaders (John Bryson Chane, The Washington Post)


A memo from the Vatican | The following questionnaire should be used to help identify and root out such truly committed homosexuals (Paul Rudnick, The New Yorker)


No Nordic bliss | There's no refuting the claim that same-sex partnerships harm marriage (Stanley Kurtz, National Review Online)


Marriage activists headed for Colorado showdown | Two of the West's most influential power brokers are headed for a turf war in November over Colorado's proposed constitutional amendment affirming traditional marriage (The Washington Times)


Bring on the daddy wars | How the younger generation of fathers is starting to wrestle with its own juggling dilemma—and why that's a good thing (Nancy Gibbs, Time)


Rules of engagement | Before saying 'I do,' many couples are seeking help in resolving inevitable conflicts—to better their odds against divorce (The Washington Post)


Fat Tuesday and Ash Wednesday:
Christians mark solemn season as Lent begins | While Mardi Gras—Fat Tuesday—is much publicized for its celebration of excess, today is the more significant occasion (Editorial, Norwich Bulletin, Ct.)


Days of Lenten penance should bring focus on similarities, not differences | Millions of orthodox Christians today enter the penitential season of Lent, one of the holiest times of their liturgical year, even as religious differences and conflict highlight much of our news around the world (Editorial, The Brownsville Herald, Tex.)


Lent is a good time to celebrate the old-fashioned virtue of courtesy | We may no longer live in a culture of deference, but there are still serious questions to be raised about a culture of brash assertiveness insensitive to the virtues of reverence and courtesy (Geoffrey Rowell, The Times, London)


Get Lent | Protestants do the sober season (Andrew Santella, Slate)


Lent: Not just for Catholics | Protestant churches embrace the sacrifice and repentance, traditionally observed by the Catholic Church (Des Moines Register, Ia.)


More denominations join Lent observance | Sense of purpose in ritual attracts people, minister says (Tennessean, Nashville)


It could be the head of Nicolaus Copernicus | Breakthrough in search for remains forces reckoning in Poland (The Washington Post)


Rediscovering a relic of a past long obscured | For the longest time, no one disturbed the two boxlike enclosures at the rear of the balcony in St. Augustine's Episcopal Church on the Lower East Side (The New York Times)


Gospel artist Clark Sheard says it's far from "Over" | Just mention the Clark Sisters, and fans like Missy Elliott, Mariah Carey, Faith Evans and Mary J. Blige line up to sing their praises (Reuters)


Arms and the Mass, or: why does this liturgy sound so familiar? | No fewer than 50 Masses of the Renaissance are set to "The Armed Man," a French song that is far from holy (The New York Times)


Alan Jackson records gospel CD | Alan Jackson's mother had been after him for 10 years to make a gospel record. Last year, when the country superstar's father-in-law died, he recorded "Turn Your Eyes Upon Jesus" for the funeral. Then the whole family got after him, too. (Associated Press)


Entertainment, art, and media:
Power, maturity steer Christian movement | Muted Brokeback Mountain reaction shatters other stereotypes (Michael Medved, USA Today)


Crowds throng to Damien Hirst opening | "The Death of God," the result of Hirst's three-month stay in Mexico, includes human skeletons, animals preserved in formaldehyde and skinned lambs, propped up as if praying or splayed upon crucifixes (Associated Press)


Errors of faith: The urban, liberal media meet religion | In boardrooms, newsrooms and at dinner parties in the big cities, you can be gay, disabled or an immigrant, and you'll be welcomed in the spirit of diversity—as you should be. But mention you're a Pentecostal or a Mormon and you risk getting funny looks. (Leonard Stern, Ottawa Citizen)


Display erected along U.S. 41 on north side of Terre Haute | Some say cross an "eyesore" (Tribune-Star, Terre Haute, Ind.)


UHP memorial crosses in the cross hairs | Professor agrees with atheists that 'religious symbols' should not be on public land (The Salt Lake Tribune, Ut.)


Related Elsewhere:
Weblog
Launched in 1999, Christianity Today's Weblog was not just one of the first religion-oriented weblogs, but one of the first published by a media organization. (Hence its rather bland title.) Mostly compiled by then-online editor Ted Olsen, Weblog rounded up religion news and opinion pieces from publications around the world. As Christianity Today's website grew, it launched other blogs. Olsen took on management responsibilities, and the Weblog feature as such was mothballed. But CT's efforts to round up important news and opinion from around the web continues, especially on our Gleanings feature.
Ted Olsen is Christianity Today's executive editor. He wrote the magazine's Weblog—a collection of news and opinion articles from mainstream news sources around the world—from 1999 to 2006. In 2004, the magazine launched Weblog in Print, which looks for unexpected connections and trends in articles appearing in the mainstream press. The column was later renamed "Tidings" and ran until 2007.
Previous Weblog Columns: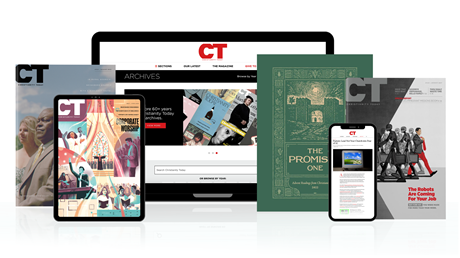 Annual & Monthly subscriptions available.
Print & Digital Issues of CT magazine
Complete access to every article on ChristianityToday.com
Unlimited access to 65+ years of CT's online archives
Member-only special issues
Subscribe
Happy Ash Wednesday!
Happy Ash Wednesday!