The thrill of victory abounds in the NCAA men's basketball tournament. But sometimes it's the agony of defeat that sticks with you.
Duke senior J. J. Redick and Gonzaga junior Adam Morrison grabbed the headlines all year as they battled each other to lead the nation in scoring. Morrison invited comparisons to other rangy forwards with smooth jumpers. Redick broke all sorts of records with a shot that surprised you if it didn't rip the net. Sports Illustrated posed the two back to back on its March 6 cover and asked, "Who's the Best?"
But those stories were just appetizers for the sport's annual feast, the Big Dance. Both stars had something to prove in the tournament. Gonzaga had disappointed the last couple years after shedding their underdog reputation and earning high seeds. Duke expects all its stars to win at least one national championship. But Redick's teams had not yet translated ACC accolades into NCAA success in his first three tourney tries.
Neither will be leading his team to the Final Four this weekend. The thrill of George Mason has replaced the agony of unfulfilled potential. Last Thursday, Redick couldn't shake LSU's athletic defenders. Morrison couldn't stop his team from blowing a 17-point lead. Neither could fight back tears when faced with the end of their college careers. Redick's face reddened and his eyes welled when Coach Krzyzewski pulled him from the game with a few seconds left. Morrison's mouth contorted with pain as UCLA took the lead. After the final buzzer, he crumpled into a heap and bawled on the hardwood. He needed his opponents—subjects of his infamous trash talking for 40 minutes—to cut short their postgame celebration and pick him up.
Not all of us grieve our life's most painful moments before a live national audience. We're the better for it. The same media that touted this two-man contest turned on its fallen stars. ESPN the Magazine columnist Bill Simmons wrote, "During this year's March Madness, we've seen more bawling than in the entire 1993 season of Sally Jesse Raphael." Loud voices on talk radio expressed no little glee as they brandished their own machismo and criticized the show of emotion. The Chicago Tribune offered a subtle dig as the newspaper played on an opponent's nickname. "Redick disappeared for the third time in four Sweet 16 games in his ballyhooed career," the newspaper observed. "He hit just 3 of 18 shots as LSU, led by its own "Big Baby," Glen Davis, toppled the nation's No. 1 team 62-54."
The on-court emotion showed only part of the shock and pain these two endured after realizing they would never reach their goals. Redick and Morrison wore their school colors with pride. They were the face of their schools. But no more. They will never again play with such close friends to the raucous cheers of their classmates. (Morrison is expected to leave school early and enter the NBA Draft.) I only played high school football, but I'll never forget my last game. On a wet, fog-obscured night, we lost the regional championship to one of our closest rivals. I etched the evening's finality in my memory by tossing my mud-caked cleats into the locker-room garbage. I don't remember if I cried, but it hurt. I spent years training and dreaming about my senior year. In a moment, it all ended.
Sports take us through emotional peaks and valleys. Christianity, too, stirs the affections. Scripture teems with visceral emotion. The exiles mourned when they lost Jerusalem, the very home of God. "By the rivers of Babylon we sat and wept when we remembered Zion" (Ps. 137:1). Paul poured his soul into the beloved churches he planted and encouraged. And despite the hardship inflicted on him by his fellow Jews, he never got over their rejection of Jesus. "I have great sorrow and unceasing anguish in my heart. For I could wish that I myself were cursed and cut off from Christ for the sake of my brothers, those of my own race, the people of Israel" (Rom. 9:2-4).
I only pray we all have something—much more important than basketball—that we cherish so dearly that losing it would bring us to tears.
Collin Hansen is an associate editor of Christianity Today.
Related Elsewhere:
Earlier Play Ball columns include:
Pirates vs. Braves | Reforming sports one city at a time. By Mark Galli (March 23, 2006)
Bjorn Again? | It's been a while since tennis legend Bjorn Borg was in the news. Too bad he's back because he's selling his Wimbledon trophies. By Mark Moring (March 16, 2006)
Steroids 'R' Us | It's not just Barry Bonds's heart that is desperately wicked. By Mark Galli (Mar. 9, 2006)
Heavy Medal | At the Olympics, if you don't medal, you certainly must be a loser. By Mark Moring (Feb. 23, 2006)
Opening Ceremony Blues | The Olympics is symbolic, but not of world peace. By Mark Galli (Feb. 16, 2006)
Punches, Smashes, and Bombs | Boxing gives us a window into the violence inherent in all sports. By Mark Galli (Nov. 11, 2006)
Should We Ban Boxing? | The usual arguments against the "sweet science" cut many ways. By Mark Galli (Oct. 28, 2005)
Play Ball
From 2005 to 2007, "Play Ball" examined the relationship of sports and faith: sports is important precisely because it is a form of play, that is, a manifestation of the Sabbath. Contributors included Mark Galli, Collin Hansen, Mark Moring, and others.
Previous Play Ball Columns: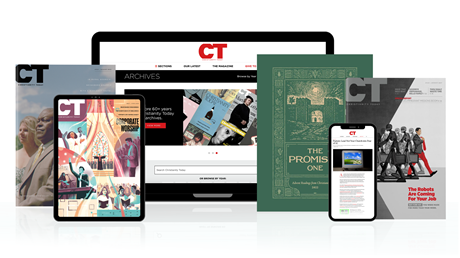 Annual & Monthly subscriptions available.
Print & Digital Issues of CT magazine
Complete access to every article on ChristianityToday.com
Unlimited access to 65+ years of CT's online archives
Member-only special issues
Subscribe
There IS Crying in Basketball
There IS Crying in Basketball