true
Sounds like … a screechier Sufjan Stevens, mixing the '60s arty folk/pop of Brian Wilson, Frank Zappa, or Captain Beefheart with the modern alternative sensibilities of Polyphonic Spree, Super Furry Animals, and Flaming Lips.
At a glance … there are moments of brilliance with the unique musical vision, creative arrangements, and interesting lyricism, but Ships is ultimately too weird and inaccessible for the average listener unprepared for Danielson's experimental ramblings
The mounting popularity and critical acclaim of Sufjan Stevens in the last year has helped pave the way for other alternative folk and "freak folk" acts to gain acceptance, so it's only fitting that Danielson (formerly Danielson Famile) should now find greater exposure as the group that helped birth Stevens' career. At the creative core is Daniel Smith, surrounded by an ever-changing talent pool of family and friends. Ships is his seventh release in a career that started in 1995 as a senior thesis project at Rutgers University, and features his wife, siblings, and father, as well as Stevens, John Ringhofer (Half-handed Cloud), and a long list of other artistic contributors.
For those who think Stevens is too weird, Danielson is synonymous with "cult following" and "acquired taste." Both share a reputation for goofy costumes onstage and convention defying arrangements that mesh acoustic guitars and drums with all manner of horns, woodwinds, strings, and percussion. Adding to Danielson's mystique is Smith's strained vocal quality, which sometimes recalls early Peter Gabriel and Mickey Mouse; his screechy falsetto in "Bloodbook on the Halfshell" is enough to try anyone's patience.
It's a sound that's equally brilliant and insane—children's music as recorded by Stevens, Brian Wilson, Polyphonic Spree, Frank Zappa, Super Furry Animals, and Captain Beefheart. I can't help but laugh and agree with the review that describes Ships as "Veggietales on acid," and the chaotic finale to "Two Sitting Ducks" makes the famed ending of The Beatles' "A Day in the Life" seem melodic and orderly. Top that off with almost stream-of-consciousness lyrics that are often delivered too quickly to grasp without liner notes or repeat listen. Some would say that songwriting is not only about self-expression, but also effective communication. This is unusual stuff, and many people won't know what to make of it.
Still, oddly enough, Ships could well be Danielson's most ambitious and accessible album yet. Weird as it may be, you can't call this boring, and there's something strangely compelling and imaginative about the whole thing. The opening "Ship the Majestic Suffix" has an almost regal quality in its call to action, peppered with drum fills in the chorus that build the excitement like a film soundtrack, while "Cast It at the Setting Sail" recalls psychedelic rock from the '60s. And it's this kind of progressive hippie folk/rock that makes Smith's vocal style a little more acceptable in context.
It's also ironic that some are calling Danielson a Christian band that's easier for non-believers to embrace, even though at times they wear their faith as prominently as the hearts on the sleeves of their costumes. The bizarrely freeform "My Lion Sleeps Tonight" reenacts the parable of the Prodigal Son, while the rambling epic confessional "Kids Pushing Kids" quotes Mark 10:13-15 in noting how difficult it can be to love others. "Cast It at the Setting Sail" addresses the First Commandment and uses the album's nautical imagery as a metaphor for casting aside sinful burdens. And "Did I Step on Your Trumpet" seems to address tensions between two friends of differing beliefs: "Pleasing people is so predictable/We love you now then stab you/How many times I obsess and am making a mess, failing to impress you in all that I can't do."
I haven't the slightest idea how to recommend an album like this. It'll never be widely embraced, and Smith himself has said that he's "too weird for the Christians and too Christian for the weirdos." But some are able to look past the obvious strangeness and recognize Ships for the unique musical vision, creative arrangements, and interesting lyricism. Despite Danielson's cheery polka of gratitude "Five Stars and Two Thumbs Up," I simply can't rate it that highly. Ships is something that needs to be discovered and experienced on its own by those willing to give experimental music a chance.
Browse All Music Reviews By: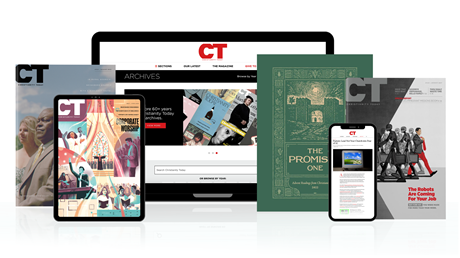 Subscribe to Christianity Today and get access to this article plus 65+ years of archives.
Home delivery of CT magazine
Complete access to articles on ChristianityToday.com
Over 120 years of magazine archives plus full access to all of CT's online archives
Subscribe Now
Ships
Ships