InterVarsity Christian Fellowship and five other evangelical groups still hope to reverse Georgetown University's August decision to eject them from the Washington, D.C., campus.
Protestant chaplain Constance Wheeler notified the evangelical groups on August 14 that they would not be allowed to advertise Georgetown as a ministry site or sponsor events such as Bible studies and worship services. If the 300 affiliated students wanted to continue meeting as members of those organizations, she said, they would need to meet off campus.
"While we realize this comes as a great disappointment," Wheeler told them in the letter, "please know we are moving forward with this decision only after much dialogue with the Lord."
InterVarsity president Alec Hill, whose daughter attends Georgetown, noted the discontinuity between the decision and the school's commitment to diversity.
"As a parent, I am surprised Georgetown as a major university would close down freedom of association for their students," Hill said. "That seems contrary to Georgetown's ethos. It's an open marketplace of ideas."
Georgetown spokesman Erik Smulson said the Catholic university wants to build its own Protestant ministry, rather than relying on outside groups.
Georgetown InterVarsity leader Kevin Offner said the chaplains have been nervous about evangelicals for the past few years.
"The thing that really felt hurtful is when they go to the press and say, 'We're restructuring,'" Offner said. "The reality is they've made it very hard on the evangelical groups in the past two years. They could've just said, 'There's just tension.'"
One chaplain told the groups they were being dismissed because the college could not control what they did or said, according to Chi Alpha Georgetown director Shawn Galyen.
"He gave the example that outside groups could come on and say something crazy like, 'Let's bomb Palestine,'" Galyen said. "[He] reiterated that they did not have control over us and what we said or did, and did not want the liability."
InterVarsity previously signed a covenant with Georgetown that included a promise not to proselytize, Offner said. Since the meaning of the word is often unclear, group members sought and received assurances from chaplains that the statement did not preclude evangelism.
"It's a very diverse religious community on campus, but there's always been difficulty with the evangelical groups," said Nathanel Oakes, a Georgetown senior and InterVarsity member. "They feel they can't trust us to not proselytize students."
On the first day of class, students collected 400 signatures protesting the decision. Smulson said Protestant chaplains have been holding listening sessions with students.
Related Elsewhere:
The Hoya ran a copy of Wheeler's letter.
Other news coverage includes:
Chaplain resigns to protest ministry | A part-time chaplain in the Office of Protestant Ministry resigned last week after just five weeks on the job over the university's decision last month to bar several affiliated Protestant ministries from campus (The Hoya, Georgetown U., Oct. 3)
Georgetown University chaplain quits amid campus ministry woes | The Rev. Derrick Harkins said the Campus Ministry staff was now too small for its needs and that the decision to rescind was "very strong-handed" (The Washington Post, second item, Sept. 29)
Georgetown chaplain resigns | A Protestant chaplain at Georgetown University has resigned amid fallout from the school barring outside evangelical groups from having an official presence on campus (The Washington Times, Sept. 28)
Georgetown sets panel to examine ministry relations | Georgetown University officials have formed a committee to evaluate the school's relationship with off-campus ministries but say the move will not immediately change a recent decision to bar Protestant groups from having an official presence on campus (The Washington Times, Sept. 24)
Panel to discuss ministry policies | Following confusion and criticism in the wake of its decision last month to bar affiliated Protestant ministries from campus, the Office of Campus Ministry formed an advisory committee last week to review student complaints (The Hoya, Georgetown U., Sept. 19)
Disconnect seen cause of Georgetown ban | The director of Georgetown University's Campus Ministries says outside Protestant groups lost their official status on the Catholic campus this semester because of "ongoing difficulties" in communication and cooperation with the university (The Washington Times, Sept. 9)
Ministry decision draws criticism | Dozens of students circulated petitions in Red Square on Wednesday criticizing the university's recent decision to bar six Protestant ministries from campus, following a week of extensive media coverage and complaints from alumni and students (The Hoya, Georgetown U., Sept. 1)
Some affiliates saw emerging split | While the university's decision to cut its ties with six affiliated ministries two weeks ago came as a surprise to many, some of those involved in the dispute said that the relationship between the university and affiliates has become strained in recent years (The Hoya, Georgetown U., Sept. 1)
Article continues below
Ministry groups' ejection protested | Some evangelical students at Georgetown University spent the first day of classes yesterday collecting 400 signatures from people who said they were displeased that the school had ejected several private ministry groups from campus (The Washington Post, Aug. 30)
Barred ministries push back | Members of several outside Protestant ministries recently barred from the campus of Georgetown University yesterday began a petition drive appealing the decision by school administrators (The Washington Times, Aug. 30)
Georgetown rejects evangelical groups | Catholic university known for welcoming people of other faiths confronts Protestant divisions (Inside Higher Ed, Aug. 28)
Georgetown U. ejects private ministry groups | Six Protestant organizations affected (The Washington Post, Aug. 26)
Georgetown bars ministries from campus | Georgetown University has banned outside Protestant ministries from holding on-campus events and using the school's name, prompting group leaders to question whether the prestigious Catholic school is restricting religious choice (The Washington Times, Aug. 25)
Campus ministry removes affiliates | Citing a desire to centralize the administration of Protestant campus ministry groups, Georgetown abruptly severed its ties with all of its affiliated ministry organizations last week, barring several long-established religious groups from campus (The Hoya, Georgetown U., Aug. 25)
Opinion articles on the dispute include:
Ministry misguided | The Georgetown administration's recent decision to strictly prohibit affiliated ministries from operating on campus has precipitated a firestorm of criticism from both inside and outside the university community (Editorial, The Hoya, Georgetown U., Sept. 1)
Religious "diversity" at Georgetown | Conservative evangelicals are singled out for exclusion (Joseph M. Knippenberg, The American Spectator, Aug. 31)
Georgetown's Protestant campus ministry spat | How Catholic is it? (Grant Gallicho, Commonweal, Aug. 31)
Control of religion activities on campuses still questioned | Georgetown leaders said the goal is a more unified Protestant voice on campus. Groups rocked by the decision say it's an attack on diversity (Terry Mattingly, Scripps Howard News Service, Aug. 30)
Georgetown rediscovers its Catholicism | There's an obvious irony here—employed too often to be surprising—in which people begin by protesting in the name of diversity against centralized authority, and later discover, once they're in charge, how useful those old forms of authority can be in controlling diversity (Joseph Bottum, First Things, Aug. 28)
Have something to add about this? See something we missed? Share your feedback here.
Our digital archives are a work in progress. Let us know if corrections need to be made.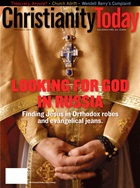 This article is from the November 2006 issue.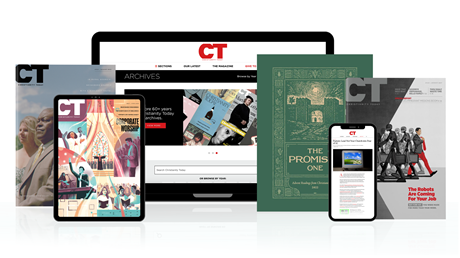 Subscribe to Christianity Today and get access to this article plus 65+ years of archives.
Home delivery of CT magazine
Complete access to articles on ChristianityToday.com
Over 120 years of magazine archives plus full access to all of CT's online archives
Subscribe Now
Expelling InterVarsity
Expelling InterVarsity