Bishop Harry R. Jackson Jr., pastor of Hope Christian Church, a 3,500-member charismatic congregation in Lanham, Maryland, has become one of the leading voices in an emerging movement of black religious conservatives. His High Impact Leadership Coalition has mobilized thousands of black evangelicals to "protect the moral compass of America." Last year, he introduced his ambitious "Black Contract with America on Moral Values," targeting such issues as same-sex marriage and abortion (which he calls black genocide). His goal is 1 million signatures by 2008.
While some traditional black leaders are critical of his conservative message, National Association of Evangelicals president Ted Haggard told Religion News Service last year, "He's building a bridge between white evangelicalism and African American evangelicalism that we haven't had in 20 years."
CT editor at large Edward Gilbreath recently spoke to Bishop Jackson.
You're a registered Democrat who pastors a predominantly black church, yet you're now a leading voice for conservative causes. What happened?
I voted for President Bush, but here in Maryland—a primarily Democratic state—in order to vote in the primaries that affect the election, you need to be a Democrat. That's where I started. Over time, however, I've found that I have very little in common with the Democratic Party in terms of national moral values issues. Still, being able to say I'm a registered Democrat disarms many of the people who want to write me off as an "Oreo" or an "Uncle Tom."
How do you convince African Americans that Republicans can care about their issues?
I tell them that one party has taken us for granted, because they feel like we've got nowhere else to go. And if the other party thinks that you're never going to vote for them anyway, then they're not going to prioritize any legislation around your issues. So we wind up being patronized by one group and ignored by the other.
There are a whole lot of black Christians who may not be Republicans but who share similar moral values. So I appeal to the fact that more than 2 million black babies have been lost to abortion over the last four years and that over 70 percent of black babies are born to unwed mothers. The Democrats are not doing anything about those issues.
Is converting blacks to the Republican Party part of your mission?
Heavens no! I love the moral values of the Republican Party on some issues, but I still think the party needs to be reformed—just like the Democrats. It can do better on issues like education, justice reform, and health care. I'm with the Republican Party right now for a reason, based on an agenda. But my greatest prayer would be that the Democratic Party would come back from the precipice of moral madness and that there would be people from both parties whom we could count on to stand for good things. Recently, I was with some politicians at a press conference who were for the Marriage Amendment. One of them was Sanford Bishop, a Democratic representative from Georgia who's a part of the Congressional Black Caucus. He came out and said, "I don't like the season in which this Marriage Amendment stuff is being brought up; it's clearly political. But I'm going to stand for what's right, in season or out of political season."
Some analysts believe black Christians in Ohio and Florida helped give Bush the winning margin. Do you see those numbers growing?
I do think there's an overall gain potential still on the table, but we've had a bit of a slowdown. Hurricane Katrina gave voice to a lot of concerns, and it gave some sense of validity to the skeptics who said, "I'm not going to drink that Kool-Aid." Even those who thought Republicans had some good points felt they couldn't quite trust them yet. But with black Republican candidates like Lieutenant Governor Michael Steele running for U.S. Senate here in Maryland and Ken Blackwell running for governor in Ohio, I think the momentum can be recaptured.
You talk a lot about "the new black church." What do you mean?
I coined that phrase in my book High Impact African-American Churches, which I coauthored with George Barna. In our research, we discovered that there's a disproportionate number of black megachurches in relation to blacks in the general population. In every major urban area, there are all these huge black churches that no one has ever heard of. The leaders in most of these huge churches have an entrepreneurial kind of orientation. Kirbyjon Caldwell of Windsor Village United Methodist in Houston would probably be the consummate example of a new black church pastor. They're trying to restore the city through community outreach that includes housing, businesses, and multiple streams of income into the church. Yet they're equally committed to improving the moral values of their community.
Aren't these the churches that some civil rights leaders recently accused of preaching a prosperity gospel?
There's definitely an emphasis on teaching people how to excel in the world, but I don't think all of them are dealing in a "prosperity gospel." Most are simply entrepreneurial. My church, Hope Christian, tends to attract middle-class folks—doctors, lawyers, a wealthy crowd. So an entrepreneurial sensibility comes naturally for us, but we're engaged in transforming our communities both spiritually and socially. For those civil rights warhorses, such as Jesse Jackson and Al Sharpton, to say churches like ours have abandoned Jesus' call for social justice to preach a gospel of wealth shows how out of touch they are with the current needs of the black community.
You also use the phrase "new civil rights movement." How do you define it?
I believe it's time for African Americans to focus on a new set of issues that are relevant to our community today. There are six key points in our "Black Contract with America on Moral Values" that I believe can guide this new movement. They include family reconstruction, poverty relief (or wealth creation), continued educational reform, prison and justice reform, health care reform, and African relief.
The items you've just ticked off could just as easily be coming from someone with a more liberal bent.
Could be, except my goals are to attack those issues a bit differently. The liberal side makes grand statements about these things, but their follow-through is terrible. We need to see a merger of the family issues with the important justice issues. The justice issues have been the purview of the Left, but then they tend to overlook the personal responsibility side of things. They'll say poor people's problems are because society is bad and racism is real.
Do you deny the existence of systemic racism and injustice?
Of course not. I'm simply saying it's going to take a little more of a redemptive intervention, such as the kind of faith-based prison aftercare that we see from ministries like Chuck Colson's Prison Fellowship. With many conservatives, there tends to be an all-or-nothing personal responsibility thing over and against systemic issues. Sadly, you don't see many people from either side of the spectrum saying, "Hey, could it be that the truth is somewhere in the middle? Perhaps there's a genuine role for society, government, and the church working together with the family and individuals to make a difference." I believe that's closer to the biblical balance of social justice and individual responsibility to which Christ calls us.
Do you aspire to run for political office someday?
I'm not currently thinking that way. I do believe people with the heart and background that I have need to be involved in politics. But I think that the moment I run for office, the moral authority that we have to call people to the table and get them involved would be compromised, and people would be skeptical of my motives.
You've recently battled cancer.
About a year and half ago, I was diagnosed with esophageal cancer, and overcoming it has been the journey of my life. This kind of cancer has a 15 to 20 percent survival rate, and folks diagnosed as late as I was sometimes don't even make it to surgery. I'm something of a walking miracle. I'm now cancer free, but I've had to cut back a bit on my activity while I do chemotherapy. I'm learning to share more of the load with my ministry staff.
Has it mellowed your activism?
No, but it has made me more focused. It made me take a harder look at the impact we want to have on the church and society. I don't want to sound either maudlin or messianic, but I feel that perhaps God has allowed me to stay alive so I can continue sounding a moral alarm.
Edward Gilbreath is the author of Reconciliation Blues: A Black Evangelical's Inside View of White Christianity (IVP), which will be released in December.
Related Elsewhere:
Hope Christian Church's site has more on Jackson and the congregation. The High Impact Leadership Coalition's site also has information.
The Washington Post profiled Jackson in August 2005.
Tavis Smiley interviewed Jackson (audio | transcript) for his PBS show in February 2005.
Have something to add about this? See something we missed? Share your feedback here.
Our digital archives are a work in progress. Let us know if corrections need to be made.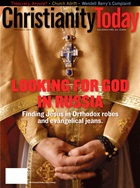 This article is from the November 2006 issue.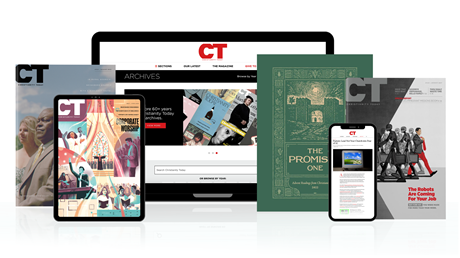 Annual & Monthly subscriptions available.
Print & Digital Issues of CT magazine
Complete access to every article on ChristianityToday.com
Unlimited access to 65+ years of CT's online archives
Member-only special issues
Subscribe
High-Impact Leader and Shaker
High-Impact Leader and Shaker