1. Unarmed Turkish Christian hijacks jet, seeks pope
Favorite headline of the day? "Pope safe despite hijack." Of course, Pope Benedict XVI was never in danger yesterday as 28-year-old Hakan Ekinci hijacked a Turkish Airlines flight bound from Tirana, Albania, to Istanbul, and directed it to land in Brindisi, Italy. But Ekinci did say he had a message for the pope.
The message he wanted to give Benedict XVI may have been the same message he sent in an August letter, asking the pope to intervene in his efforts to avoid military service. "I am a Christian, and I never want to serve in a Muslim army," Ekinci had written, according to Turkey's Anatolia news service.
Ekinci was a relatively new convert, Brindisi prosecutor Giuseppe Giannuzzi told reporters. "Having taken up the Christian religion, he feared going back to Turkey," he said. Now Ekinci is seeking asylum in Italy, Giannuzzi said.
Ekinci was reportedly unarmed, but he told the pilot that accomplices on another plane would "blow that plane up" if he didn't get his message to the pope. When the plane landed, Turkish passenger Ergun Erkoseoglu told the Associated Press that Ekinci "walked through the middle of the business class and said, 'I apologize to all of you. … Good night."
2. When was God taken out of Amish schools?
There's a mini-furor over Tuesday night's CBS Evening News broadcast remarks by Brian Rohrbough, who lost his son in the 1999 Columbine High School shootings. "Since that day, I've tried to answer the question, Why did this happen?" he said. "This country is in a moral free-fall. For over two generations, the public school system has taught in a moral vacuum, expelling God from the school and from the government, replacing him with evolution, where the strong kill the weak, without moral consequences, and life has no inherent value."
The Washington Post's Howard Kurtz noted the segment today, as well CBS and Katie Couric's efforts to distance themselves from the remarks. CBS's ombudsman defended airing the remarks as "exactly the type of commentary in general that makes me want to see the segment continue and thrive. But there is a very legitimate criticism of this particular episode, an issue of relevance. Because both recent school shootings involved an outside adult and not students, whether or not our educational system is creating a moral vacuum seemed out of place and creates confusion about just what the immediate issue is."
Actually, there's a much bigger issue of relevance than that. Rohrbough's comments specifically referenced the shooting at the Amish school (though he did mention "last week's school murders" as well). It's hard to argue that Charles Roberts's violence was a symptom of secularism when his own suicide note declares anger at God. When he called his wife, she was leading a prayer meeting. Rohrbough is right to point out that the shooting is an example of "moral free-fall," but it's not their problem. It's ours.
3. The Foley cycle
New religion angle on the Foley story: He says he was abused by a clergyman. David Clohessy, director of the Survivors Network of those Abused by Priests, says he should say who it was. "If these events happened when he was a teenager, there is a distinct possibility—maybe even a certainty—this person is still alive," Clohessy told The Miami Herald.
"To throw that out there like that, I think it's despicable," former priest Bill Brooks, who was Foley's guidance counselor in 1969 and 1970, told The Palm Beach Post. "If there's somebody out there, name him."
4. Where are Fereshteh Dibaj and Reza Montazami?
Iranian police have arrested Fereshteh Dibaj and Reza Montazami, leaders of an independent church in Mashhad. Now they won't say why, and they won't let relatives visit them. Montazami coverted to Christianity more than 10 years ago. His wife is from a Christian family. In fact, notes Radio Free Europe, "her father, Mehdi Dibaj, was a well-known priest of the Jamiat-e Rabbani Church, the Iranian branch of the Assemblies of God. He spent more than nine years in prison and was sentenced to death in 1993 for his faith. He was freed in January 1994 in the face of an international outcry. But a few months later, he was abducted and later found murdered—one of at least three priest killings that activists blame on Iranian authorities."
Family members say Christians are now facing the worst persecution in the country in more than a decade.
5. Lawsuit U.
InterVarsity Christian Fellowship is suing the University of Wisconsin-Superior in what's becoming a familiar storyline. The school de-recognized the organization because of the group's leadership requirements.
Meanwhile, itinerant evangelist "Brother Jim" Gilles is suing Murray State University for banning him from its high-traffic Curris Center.
Quote of the day
"To truly know Jesus requires discovering him personally, Pope Benedict XVI said at his weekly general audience. While hearing about Christ through the Bible or through other people can introduce a person to Christian belief, 'it must then be ourselves (who) become personally involved in an intimate and deep relationship with Jesus' in order to know he is truly the savior of the world, the pope said."
—From a Catholic News Service article
More articles
Christian hijacks Turkish plane | Religious freedom | Shooting at Amish school | Sweden | Pensacola abuse case | Foley page scandal | Politics | Abortion | Marriage and family | Church and state | Education | Higher education | Catholicism | Rick Warren | Hell-ish | Other stories of interest
Christian hijacks Turkish plane:
Related Elsewhere:
Suggest links and stories by sending e-mail to weblog@christianitytoday.com
See our past Weblog updates:
October 4
September 21 | 15b | 15a | 14
September 6 | 1 | August 29
August 25 | 24 | 23
August 15 | 11 | 10
August 4 | 1
July 28 | 27 | 26
July 21 | 19
Weblog
Launched in 1999, Christianity Today's Weblog was not just one of the first religion-oriented weblogs, but one of the first published by a media organization. (Hence its rather bland title.) Mostly compiled by then-online editor Ted Olsen, Weblog rounded up religion news and opinion pieces from publications around the world. As Christianity Today's website grew, it launched other blogs. Olsen took on management responsibilities, and the Weblog feature as such was mothballed. But CT's efforts to round up important news and opinion from around the web continues, especially on our Gleanings feature.
Ted Olsen is Christianity Today's executive editor. He wrote the magazine's Weblog—a collection of news and opinion articles from mainstream news sources around the world—from 1999 to 2006. In 2004, the magazine launched Weblog in Print, which looks for unexpected connections and trends in articles appearing in the mainstream press. The column was later renamed "Tidings" and ran until 2007.
Previous Weblog Columns: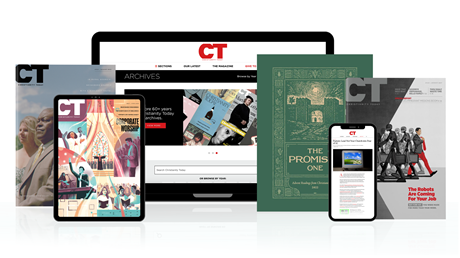 Subscribe to Christianity Today and get access to this article plus 65+ years of archives.
Home delivery of CT magazine
Complete access to articles on ChristianityToday.com
Over 120 years of magazine archives plus full access to all of CT's online archives
Subscribe Now
A Christian Hijacker
A Christian Hijacker