"As non-Muslim Arabs and citizens of Israel, many of us have adopted a cynical, seen-it-all, spectator pose," Nazareth Baptist School director Botrus Mansour wrote in an article for Christianity Today's website. "We imagined we would have the same attitude in this round of reprisals between Israel and Hezbollah."
The attitude was even more common among Western Christians, with countless Mercutios proclaiming "a plague on all your houses." But on all whose houses? In Lebanon, Hezbollah troops fired rockets from Christian towns, knowing Israel would be more heavily criticized for retaliating there. One woman fleeing Ain Ebel told The New York Times that Hezbollah fighters were killing some who tried to leave. The Times noted that interviewed Christians "considered Hezbollah's fighting methods as much of an outrage as the Israeli strikes." As much.
The Western Christian response to the Middle East conflict is to shake our head at what seems like a familiar series of events and moralize a solution, something between Rodney King's "Can't we all just get along?" and President Bush's "Stop doing this [stuff ] and it's over."
"It is often said that 'everyone' really wants peace," wrote CT columnist David P. Gushee. But really, he continued, "the desire for peace, while Godgiven, competes in the human heart with the desire for destruction—at least, the destruction of one's enemies. … We must pray that cooler heads will prevail, and that our own government will undertake policies to help foster a reduction of tensions in the region."
"Please, Christians! Let's grow up and get over our childish wishes." That was the response to Gushee from Martin Accad, the academic dean of the Arab Baptist Theological Seminary in Lebanon. Like Western Christians, Accad saw few heroes in the conflict. But with his country in flames, his response was not frustration. It was fury. "I am angry at self-centered Hezbollah," he wrote. "I am angry that citizens of a nation like Israel … would allow themselves such an out-of-proportion reaction. … I am just as angry at—I have lost hope in—the international community that is keeping silent. … By both sides, I would be lynched for what I have just said, if they had the chance. But what have I got to lose anymore?"
Western Christians "who have but disdain for Arabs" weren't spared Accad's anger: "World events in the last few years—even decades—have had as their main catalyst tens of thousands of evangelical Christians … who believe that apocalyptic destruction of all but their beloved Israel will be a precursor to global salvation."
Christians worldwide have learned to "speak about peace and to run seminars on conflict resolution," another Lebanese evangelical leader, Riad Kassis, wrote. Pity, he said, that they're so ineffective at working "for a real and just peace, particularly in the case of the Arab-Israeli conflict."
The writings continued to come from Christians most affected by the fighting. They tell of friends killed, of ministries halted, of hopes dashed. They also tell of new ministries, like caring for those fleeing the bombings (there are heroes in the conflict). But these are not nice memos. They're anguished. And they're angry. At us.
The Katyusha rockets that struck Nazareth, Mansour wrote, reminded the church there that their calling was obvious. "We had simply neglected it. Our calling as the remnant of Christians in the birthplace of our faith is to pray for the people of this broken land." Likewise, these voices call us not to throw up our hands, but to fall to our knees. Like the Katyushas, the comments sometimes miss the mark (yes, ours too). But they also remind us that as both Americans and Christians, we're already part of this conflict. We're not distant spectators.
Related Elsewhere:
Our full coverage of commentary on the Israel/Lebanon war continues.
This column originally ran in the September 2006 print edition of Christianity Today. The column "Tidings" was formerly called "Weblog in Print." Earlier columns by Ted Olsen include:
Latter-day Complaints | Mormons and evangelicals fret over movies, politics, and each other. (Jul. 6, 2006)
Peace, Peace | From the front page to the obits, one day's news about Christian peacemaking. (Apr. 18, 2006)
The Art of Abortion Politics | A unanimous Supreme Court decision opens the door to real change. (Feb. 20, 2006)
Time to Get Judicially Serious | Evangelicals and the possible Supreme Court Catholic majority. (Dec. 28, 2005)
The Katrina Quandary | America questions the role of Christian charity. (Oct. 20, 2005)
Abolishing Abstinence | Telling underage kids not to have sex is surprisingly controversial (Aug. 24, 2005)
Dirty Qur'ans, Dusty Bibles | If Leviticus or Jude suddenly disappeared from Scripture, would we notice? (June 20, 2005)
Who's Driving This Thing? | Everyone is asking who leads the evangelical movement. (Feb. 21, 2005)
Bad Believers, Non-Believers | Do religious labels really mean anything? (Oct. 19, 2004)
Pro-Abortion Madness | The abortion lobby has abandoned its rationales amid pro-life gains. (Aug. 17, 2004)
Grave Images | The photos from Abu Ghraib have reopened debate on the power of pictures.
Misfires in the Tolerance Wars | Separating church and state now means separating belief and action (Feb. 24, 2004)
Have something to add about this? See something we missed? Share your feedback here.
Our digital archives are a work in progress. Let us know if corrections need to be made.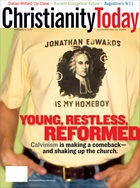 This article is from the September 2006 issue.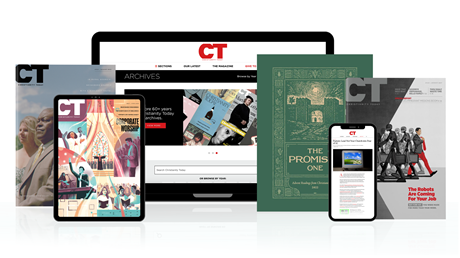 Subscribe to Christianity Today and get access to this article plus 65+ years of archives.
Home delivery of CT magazine
Complete access to articles on ChristianityToday.com
Over 120 years of magazine archives plus full access to all of CT's online archives
Subscribe Now
We're Not Spectators
We're Not Spectators