Top five, quote of the day, and commentary will return next week. We're taking U.S. Labor Day off, so no fresh postings of any sort on the Christianity Today site until Tuesday. Enjoy your weekend.
Politics:
Katherine Harris:
Abortion:
Colombian rift over abortion widens | A news report that a cardinal threatened doctors who performed an abortion with excommunication sparked controversy Wednesday and a denial from the prelate (Associated Press)


Fretting over Roe v. Wade, Planned Parenthood takes offensive | Gearing up for a state-level fight over abortion, Planned Parenthood staged a pledge-signing ceremony in Vermont Thursday to rally its legislative supporters and take aim at pro-life Lt. Gov. Brian Dubie (Associated Press)


Abortion rules for minors to include notarized consent | The Texas Medical Board has adopted rules for minors getting abortions requiring written parental consent forms that must also be notarized, officials said (Associated Press)


Choosing life | How pro-lifers become pro-lifers (Fred Barnes, The Weekly Standard)


Same-sex marriage & homosexuality:
New California gay anti-bias law assailed | Conservative groups say it will allow attacks on organizations that believe homosexuality is unnatural or sinful, and is an "assault" on religious freedom (The Washington Times)


AIDS:
Abstinence evasion | Contrary to what came out of the International AIDS Conference this month, the president's anti-AIDS program is helping in Africa (Paul Chesser, TheAmerican Spectator)


Purpose-driven AIDS prevention | It's as simple as ABC (Kathryn Jean Lopez, National Review Online)


Church & state:
Local government:
Pastor sues Marietta over denial of zoning | Just a few weeks after the Marietta City Council rejected a rezoning request that would have allowed Anderson's Covenant Christian Ministries to build a sanctuary, school and dormitory on 8.2 acres off Powder Springs Street, the pastor has sued in U.S. District Court in Atlanta seeking to overturn the decision (The Atlanta Journal-Constitution)


Ruling allows Buddhists to continue worshiping | A federal judge ruled Wednesday that a Vietnamese Buddhist temple may hold religious services in a Chapman Avenue building despite the city's objections over traffic and noise (Los Angeles Times)


Panel hears protests of YMCA tax exemption | In his opening statement to State Board of Assessment Appeals members, Larimer County attorney George Hass contended the YMCA's 860-acre Estes Park center "is a resort, and not a place of religious worship" and therefore shouldn't be exempt from paying local property taxes (The Daily Times-Call, Longmont, Co.)


Education:
Fundamentalist Christian group gets school of their own | A group of fundamentalist Christians in Bavaria has won a long battle for the right to privately teach their children -- without sex ed and lessons on evolution. Bavarian officials are calling it an "emergency solution" (Deutsche Welle, Germany)


Odessan threatens Bible class suit | OC Professor David Newman questions PHS teacher's background as Baptist minister (Odessa American, Tex.)


'God's Sugar Daddy' | School voucher proponent James Leininger has spent millions trying to buy political power in Texas (Bill Berkowitz, Bend Weekly, Ore.)


Science & evolution:
Health:
Experts advise no free IVF for obese women in UK | Severely overweight women should be denied access to free fertility treatment in England and Wales and obese women must lose weight before being offered the chance to try IVF, experts said on Wednesday (Reuters)


Medical practices blend health and faith | Doctors, patients distance themselves from care they consider immoral (The Washington Post)


Doubt cast over brain 'God spot' | A University of Montreal team found Christian mystical experiences are mediated by several brain regions (BBC)


Life ethics:
Georgetown evangelical groups ejection:
Ministry groups' ejection protested | Some evangelical students at Georgetown University spent the first day of classes yesterday collecting 400 signatures from people who said they were displeased that the school had ejected several private ministry groups from campus (The Washington Post)


Barred ministries push back | Members of several outside Protestant ministries recently barred from the campus of Georgetown University yesterday began a petition drive appealing the decision by school administrators (The Washington Times)


Ministry decision draws criticism | Dozens of students circulated petitions in Red Square on Wednesday criticizing the university's recent decision to bar six Protestant ministries from campus, following a week of extensive media coverage and complaints from alumni and students (The Hoya, Georgetown U.)


Some affiliates saw emerging split | While the university's decision to cut its ties with six affiliated ministries two weeks ago came as a surprise to many, some of those involved in the dispute said that the relationship between the university and affiliates has become strained in recent years (The Hoya, Georgetown U.)


Ministry misguided | The Georgetown administration's recent decision to strictly prohibit affiliated ministries from operating on campus has precipitated a firestorm of criticism from both inside and outside the university community (Editorial, The Hoya, Georgetown U.)


Control of religion activities on campuses still questioned | Georgetown leaders said the goal is a more unified Protestant voice on campus. Groups rocked by the decision say it's an attack on diversity (Terry Mattingly, Scripps Howard News Service)


Religious "diversity" at Georgetown | Conservative evangelicals are singled out for exclusion (Joseph M. Knippenberg, The AmericanSpectator)


Religious freedom:
Religious freedom in Malaysia:
Petition filed wrongly | The Syariah Court here turned down a former Roman Catholic's attempt to return to Christianity after his conversion to Islam because he had used the wrong process (The Star, Malaysia)


Judge: Syariah (Shariah) process applies | Muslims cannot renounce the religion without following the process of the Syariah, says Syariah High Court judge Husin Ahamad (New StraitsTimes, Malaysia)


Learning from conservatism in Malaysia | How can we force someone to be a Muslim without her/his consent while Islam requires voluntary submission? (Arif Maftuhin, The Jakarta Post, Indonesia)


Africa:
Zimbabwe:
Situation still dire for Zimbabweans | A new report by human rights activists Wednesday paints a grim picture of life in Zimbabwe, more than a year after authorities demolished urban houses, shelters and market stalls in a campaign called "Operation Drive Out Trash." (Associated Press)


Uganda:
Peace talks set to resume in Uganda | Ugandan government forces began withdrawing to neutral positions Wednesday to provide northern rebels safe passage to two camps across the border in southern Sudan where they can be monitored until a final peace deal is reached to end 19 years of civil war. (Associated Press)


Peace pact may free women, youths held by LRA | Martin Ojul, who heads the LRA team in peace talks to end a 19-year insurgency, yesterday told reporters in Juba, southern Sudan's capital, that arrangements were under way to free women and children in captivity (The Washington Times)


Uganda sets emergency plan for displaced | The government has drafted an emergency resettlement plan for the close to 2 million people displaced by the brutal 19-year northern Uganda insurgency, the prime minister said Thursday, two days after a truce with rebels began (Associated Press)


Pastors demand investigation | Several pastors under the advocacy group, Arising for Christ, yesterday asked the police to investigate all born again pastors and evangelists involved in questionable dealings (The Monitor, Uganda)


When criminals pose as church pastors | A group of 20 pastors have decided to take the bull by the horns and fight the rot that is threatening to destroy the born-again Christian churches in Uganda (Editorial, The Monitor, Uganda)


Church life:
Missions & ministry:
Pastor has global mission | New director of Beeson center wants students to see possibilities of worldwide outreach (The Birmingham News, Ala.)


Catholicism:
Pope visits "Veronica's Veil" with face of Jesus | But the Pope stopped short of endorsing the veil, venerated since the Middle Ages, as the true face of Christ. (Reuters)


Archbishop steps into gay pride row | The Catholic Archbishop of Glasgow said on Friday he had given his backing to nine firefighters who were disciplined for refusing to hand out leaflets during a gay pride rally (Reuters)


Crime:
Charity-raiding Va. mayor spared prison | A federal judge sentenced a former Lynchburg, Va., mayor to three years of probation Wednesday for raiding his church's charity and stealing from disabled Social Security recipients (Associated Press)


Pastor who resigned amid money probe has new job | Norfolk church says it has hired Wendell Johnson (Winston-Salem Journal, N.C.)


First things first | Memo to members of the ministry: When the accusation against an employee is rape, 911 is the first number to dial, not the last (Eileen McNamara, The Boston Globe)


Abuse:
A choice for New York priests in abuse cases | Priests accused of sexually abusing children have been given a choice: Live in supervised housing or quit (The New York Times)


Attorney: Milwaukee Archdiocese settles sex abuse lawsuits | The Archdiocese of Milwaukee has reached settlements that could total $16 million or more with eight victims of clergy sexual abuse whose lawsuits were heading for trial in California, according to an attorney representing one of the victims (Milwaukee Journal-Sentinel)


$16M settlement reached in priest abuse | The Archdiocese of Milwaukee has agreed to pay more than $16 million to settle sexual abuse claims involving 10 victims in California and a priest the archdiocese had transferred there, church officials said Friday. (Associated Press)


Music:
Sports:
Charles Barkley addresses politics, religion | "Religious people in general are so discriminatory against other people, and that really disturbs me," he said. "My idea of religion is we all love and respect. We all sin, but we still have common decency and respect for other people. So right now I'm struggling with my idea of what religion is" (Associated Press)


Pastor says Catholics aren't barred as coaches | Calvary says they've always been welcome in church youth league (The Charlotte Observer, N.C.)


Books:
Evangelicals find a friend in Catholic author | Working alongside evangelicals at the American Bible Society ignited a deep curiosity in Peter Feuerherd about what is arguably one of the most influential branches of Protestant Christianity. That curiosity—ueled by his daughter joining an evangelical church and Feuerherd's participation in a 2003 summer seminar on religion and journalism at Northwestern University—led to him writing "Holy Land USA: A Catholic Ride through America's Evangelical Landscape." (Renee Schafer Horton, Northwest Explorer, Tucson, Az.)


Taylor crash:
Student rejoins her Taylor family | Campus still coping with revelation of wrong identifications (Associated Press)


Charges filed in Taylor U. crash | The trucker whose big rig slammed into a Taylor University van on Interstate 69 this spring, killing four students and a college employee, has been charged with five counts of reckless homicide, prosecutors said today (The Indianapolis Star)


Whitney Cerak's family thanks public | The final blog post (The Indianapolis Star)


People:
Film:
Sweet Jesus | Greg Sterlace's new film, Sweet Jesus, is more ambitious and provocative than his previous efforts, Ross and Gwen and Failure (ArtVoice, Buffalo, N.Y.)


British slavery drama set for U.S. release | Michael Apted's slave-trade drama "Amazing Grace" has lined up a U.S. distribution deal on the eve of the Toronto International Film Festival, where it will make its world premiere in the closing-night slot (Reuters)


No link between Gibson's anti-Semitism and 'Christ' film, evangelicals say | The Christian evangelical community that so firmly supported Mel Gibson's blockbuster movie, "The Passion of the Christ," has remained conspicuously silent in the wake of the Hollywood star's recent outburst of anti-Semitism, Anti Defamation League national chairman Abraham Foxman charged (Haaretz, Tel Aviv)


More articles of interest:
Related Elsewhere:
Suggest links and stories by sending e-mail to weblog@christianitytoday.com
See our past Weblog updates:
August 29 | 25 | 24 | 23
August 15 | 11 | 10
August 4 | 1
July 28 | 27 | 26
July 21 | 19
July 14 | 13 | 12b | 12a | 10
July 7 | 6 | 5 | 3
Weblog
Launched in 1999, Christianity Today's Weblog was not just one of the first religion-oriented weblogs, but one of the first published by a media organization. (Hence its rather bland title.) Mostly compiled by then-online editor Ted Olsen, Weblog rounded up religion news and opinion pieces from publications around the world. As Christianity Today's website grew, it launched other blogs. Olsen took on management responsibilities, and the Weblog feature as such was mothballed. But CT's efforts to round up important news and opinion from around the web continues, especially on our Gleanings feature.
Ted Olsen is Christianity Today's executive editor. He wrote the magazine's Weblog—a collection of news and opinion articles from mainstream news sources around the world—from 1999 to 2006. In 2004, the magazine launched Weblog in Print, which looks for unexpected connections and trends in articles appearing in the mainstream press. The column was later renamed "Tidings" and ran until 2007.
Previous Weblog Columns: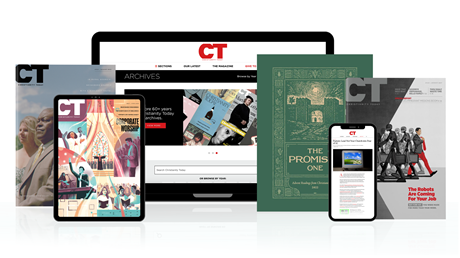 Subscribe to Christianity Today and get access to this article plus 65+ years of archives.
Home delivery of CT magazine
Complete access to articles on ChristianityToday.com
Over 120 years of magazine archives plus full access to all of CT's online archives
Subscribe Now
W.V. School District Won't Fight ACLU Over Jesus Painting After Theft
W.V. School District Won't Fight ACLU Over Jesus ...