The "top one" story of the week makes everything else pale by comparison. It is almost impossible to keep up with all the news and commentary on Pope Benedict XVI and Islam. But we've done our best to compile both the news and commentary from the controversy, and hit those religion stories that are getting lost. Commentary returns next week.
Pope Benedict XVI and Islam
All apologies | Mideast Christians worry | Muslims attack | Other Muslim reactions | Defending the Pope's comments | Jewish reaction | Other papal critics | Pope's upcoming Turkey visit | Did he know what he was doing? | Earlier Benedict XVI comments on Islam | Explaining papal infallibility | Other pope comments news | Editorials | Blame the Pope | Blame the Muslims | Blame religion in general | Blame the media | Other op-eds
Beyond Benedict
Islam | Nun killed in Somalia | Indonesia executions | India | U.S. State Dept. religion report | Darfur | Iraq | War and violence | Military prayer dispute | Church and state | All Saints vs. IRS | Education | Higher education | Evolution and Intelligent Design | Law and courts | Politics | Evangelicals and politics | John Kerry's religion speech | Religious Left | Religious Right | Dobson in Pa. | Life ethics | Abortion | Environment | Immigration | Race and ethnicity at church | Church life | Church buildings | Church bells | Catholicism | History | Bible | Books | Art | Music | Television | Films | Jesus Camp | These young people today | Sexual ethics | Abuse | Crime | People | Deaths | Missions & ministry | Travel | Money and business | Baylor religion survey | Science | Other stories of interest
Five Palestinian area churches attacked | Palestinians wielding guns and firebombs attacked five churches in the West Bank and Gaza on Saturday, following remarks by Pope Benedict XVI that angered many Muslims (Associated Press)


Churches attacked in Gaza, W. Bank | A hitherto unknown group calling itself the Swords of Islamic Right on Saturday threatened to blow up all churches and Christian institutions in the Gaza Strip to protest remarks made by Pope Benedict XVI about Islam and the Prophet Muhammad (The Jerusalem Post)


Defending the Pope's comments:
Clinton, Gingrich both defend the pope | "It's just outrageous and offensive that people would be threatening violence against him based on what he said, especially when there is so much they should be working on together," New York senator said (Associated Press)


Tancredo urges pope to stand his ground | Controversy over the pope's recent statements about Islam spilled into Colorado politics on Wednesday, as Rep. Tom Tancredo urged the pontiff to "resist calls to apologize," and a Muslim congressional staff member accused Tancredo of throwing "fuel on the fire with his hateful words" (Rocky Mountain News, Denver)


Archbishop defends Pope, sympathizes with Muslims | The head of the world's Anglican church stepped in to defend Pope Benedict on Monday in the face of fury from some Islamic groups about the Roman Catholic leader's use of a medieval quotation on Islam and violence (Reuters)


Pell links Islamists to violence | The Archbishop of Sydney has drawn a link between Islamists and violence in a strident attempt to defend the Pope - just as the pontiff tries to hose down the flames of Muslim anger around the world (The Sydney Morning Herald)


Also: Cardinal adds to Islam-violence debate | The head of Australia's Catholic church said the violent reaction to the Pontiff's comments on Islam in many parts of the Islamic world "justified one of Pope Benedict's main fears" (Reuters)


Pope's remarks on Jews risk ire | minutes after saying he was "deeply sorry" about the reaction to his earlier remarks, he cited a passage from the New Testament highlighting the gulf between Christian and Jewish attitudes to Jesus' crucifixion (The Age, Melbourne, Australia)


Chief Rabbi unhappy with Pope's condemnation of Islam | In an official statement presented to Muslim leaders over the weekend, Chief Sephardi Rabbi Shlomo Amar expressed sorrow over Pope Benedict XVI's condemnation of Islam (The Jerusalem Post)


Pope needs to refocus, critics say | He has veered away from interfaith efforts, some say (The Baltimore Sun)


Pope's style disturbs critics | This is what Pope Benedict XVI's critics feared (Religion News Service)


Don't visit Istanbul, John Paul's attacker warns Pope | Jailed failed assassin says Benedict's life is in danger (The Guardian, London)


Angry Turk workers urge Pope's arrest during visit | Employees of the state body that organizes Muslim worship in Turkey asked the authorities on Tuesday to open legal proceedings against Pope Benedict and to arrest him when he visits the country in November (Reuters)


Catholic Archbishop questions Turkish entry to EU | The head of the Roman Catholic Church in England and Wales today questioned whether Turkey should join the European Union (The Times, London)


Did he know what he was doing?:
How the Pope's PR machinery failed | If it was so easy to foresee that Benedict's remarks about Islam would set off a furor, why didn't the Vatican anticipate it? (Time)


Did he realize what the effect of his words would be? | He may lack experienced media-savvy advisers who can warn him of the inflammatory effect some remarks might have (The Times, London)


Analysis: Should Vatican have foreseen Muslim rage? | Some fault Benedict's academic background (Reuters)


Analysis: Pope's 'jihad' remarks a sign | Pope Benedict XVI's comments on religious radicalism are another sign of his intention to bring his voice into one of the world's most critical showdowns: Islam's internal struggles between moderates and extremists (Associated Press)


Earlier Benedict XVI comments on Islam:
Analysis: Pope's remarks are consistent | Pope Benedict XVI's remarks on Islam and holy war that have angered much of the Muslim world are in line with his efforts to spare religion from violence and extremism (Associated Press)


Tough-talking pope has history with Muslims, refuses to give in | Unlike his predecessor, Pope John Paul II, Benedict has never drawn flak for saying that Muslims and Christians pray to the same God or been accused of waffling on whether Christianity is superior to the religion of prophet Muhammad (The Washington Times)


Pope's public skepticism of Islam's role dates back to 1997 | Nine years before Pope Benedict XVI delivered implied criticism of Islam in a speech last week and ignited angry Muslim protests worldwide, he expressed skepticism of the religion's commitment to tolerance (Bloomberg)


Explaining papal infallibility:
Is the Pope infallible? | Only when he says he is. (Slate)


How infallible is the Pope? | Papal infallibility only comes into play with issues of faith that concern the whole Church. It doesn't apply when the Pope is expressing a personal opinion or, in this case, quoting from a historical text. (BBC)


Both sides feel threats in Pope-Islam row | "Muslims see this as part of a whole campaign, in the same line as the Afghan and Iraq wars and Abu Ghraib," says Mustafa Akyol (Reuters)


Pope backlash deals blow to interfaith ties | The angry response to remarks on Islam has undermined efforts to forge better relations between Christians and Muslims, many say (Los Angeles Times)


"We have no relationship to our diverse Muslim society" | German Interior Minister Wolfgang Schäuble, 64, discusses the pope's criticism of Islam, the prospect of imams preaching in German, and the risk of terrorism in Germany now that the military is so busy overseas. Germany's first-ever "Islamic conference" between Muslims and the government takes place next Wednesday in Berlin (Der Spiegel, Germany)


Pope deploys damage-control envoys | Protests and threats against Benedict XVI continue. Vatican diplomats will travel to Muslim states to clarify the pontiff's remarks (Los Angeles Times)


EU should take Pope threat very seriously-EU official | European Union countries should take "very seriously" the threat to Pope Benedict after his comments on Islam sparked outrage in the Muslim world, the EU's top security official said on Thursday (Reuters)


Sorry's the easiest word | With thousands of people dying of Aids from unprotected sex and the Vatican's silence over Nazi Germany, there are many matters more deserving of a papal apology than a misjudged appeal for peace (Editorial, Scotland on Sunday)


Faith in each other | It would be in the interests of the Pope to display greater awareness of the sensitive political context into which remarks about other faiths are made. It is still more important that the Muslim majority avoid being taken hostage by the minority of extremists who wish to turn this sorry drama into a global crisis (Editorial, The Guardian, London)


Benedict's Papal bull is worthy of Blair | The Pope's sectarian attack on Islam at Regensburg was strikingly reminiscent of Tony Blair's Los Angeles speech on August 1, whooping it up for the War on Terror (Editorial, The Belfast Telegraph)


Terrorists are always 'outraged' | Islamofascists could care less about the Pope's advice. What they want to do is twist his words out of context into a smear against Islam (Editorial, Toronto Sun)


The Pope's challenge | Let's hope that the pontiff's recent address will be remembered not for a controversial sound bite, but as the beginning of a dialogue based on reason and faith (Editorial, Ottawa Citizen)


Storm over Vatican | Only India can help to assuage these religious tensions (Editorial, The Times of India)


A religious misunderstanding | We realize that Pope Benedict is still relatively new to the lifetime position he now holds. We hope that he learns a valuable lesson from this very recent case of miscommunication (Editorial, Philippine News)


Blame the Pope*:
Blame the Muslims*:
Pope's focus: Reason | Its relationship to the divine was the subject of a recent speech that upset some Muslims (Thomas W. Smith, The Philadelphia Inquirer)


The quality of cruelty | Those protesting the Pope's comments give hypocrisy a good name (Doug Bandow, The American Spectator)


Come together | The meaning behind Pope Benedict's jihad reference. And just who was Manuel II Paleologus? (Christopher Orlet, The American Spectator)


Blame religion in general*:
If only both sides could lose | We should spend less time practicing 'tolerance' of some religions and more time questioning all of them (Niall Stanage, The Guardian, London)


Getting reasonable about faith | Through dialogue and debate between our various faiths, regions and tribes, we can cut through the myths and stereotypes to educate one another as to who we really are, what offends us and what legacies of history have shaped our present-day attitudes. Ultimately, we tend to learn that we have a lot more in common than we have that is different (Clarence Page, Chicago Tribune)


Blame the media*:
Pope bashers | The Pope is accused of bringing this on himself by pouring fuel on the jihadi fire (Lisa Fabrizio, The American Spectator)


No need for grim faces | Why is Pope Benedict XVI taking friendly fire for his Regensburg speech? (Patrick O'Hannigan, The American Spectator)


Jihad enablers | The pope, the protesters & White Guilt (Jonah Goldberg, National Review Online)


Indonesia executes Christian militants (Associated Press)


Executing Tibo solves nothing | If the executions do go ahead, it could start a cycle of public demands for the death penalty, again playing upon the same religious enmities that caused the violence in the first place (Dave McRae, The Jakarta Post, Indonesia)


Also: Indonesia's Death Quota | Advocates question motive for executing Christians (Christianity Today)


U.S. State Dept. religion report:
Protests target violence in Darfur | With thousands of people gathered in Central Park to protest the violence in the war-torn Darfur region of Sudan, one speaker likened the destruction there to the Holocaust (Associated Press)


World rallies for peace in Darfur | Protesters demanding an end to conflict in Sudan's Darfur region have been staging a day of global demonstrations (BBC)


Activists around the world focus on Darfur | Peace activists around the world staged a day of action on Sunday to highlight the "forgotten war" in Darfur where tens of thousands of people have been killed and more than 2 million left homeless (Reuters)


Taking responsibility seriously | One year after pledging to protect civilians around the world, the UN must back its strong words with even stronger action in Darfur (Ian Davis, The Guardian, London)


When Iraqi Christians vanish, locals pay the price | Abductions of Iraqi Christians hit close to home (San Diego Union-Tribune)


No one dares to help | The wounded die alone on Baghdad's streets. An offer of aid could be your own death sentence, an Iraqi Christian reporter writes (Los Angeles Times)


A Christian view of war | What would Jesus do in Iraq? He'd offer compassion, he'd feed the hungry, he'd even pray for the enemies. What he'd really do is give American Christians — Republicans and Democrats alike — something to think about. (Oliver "Buzz" Thomas, USA Today)


Uganda extends deadline for rebels | The leaders of the rebel Lord's Resistance Army were still at large despite an agreement with the Ugandan government to assemble at two camps by Tuesday, but the government said they would be given more time (Associated Press)


Ugandan rebel leader arrives in Sudan | Ugandan rebel leader Joseph Kony has turned up at a neutral camp in southern Sudan as part of a truce to end 19 years of conflict in the east African nation, a rebel official said Sunday (Associated Press)


Archbishop hits out over Trident | The leader of the Anglican Church in Wales, Archbishop Barry Morgan, is to hit out at plans to upgrade the UK's Trident nuclear missile system (BBC)


Sen. Warner target of religious campaign | Under fire from conservative Christians who want his help in a drive to loosen restrictions on evangelizing by military chaplains, John Warner sought cover Tuesday night on the Senate floor (Virginian-Pilot)


Proposal on military chaplains and prayer holds up bill | The provision in a bill that sets the Pentagon's spending levels would allow military chaplains to offer sectarian prayers at nondenominational military events (The New York Times)


Warner holds up chaplain freedom | Senate Armed Services Committee Chairman John W. Warner is blocking a House defense bill provision that would give military chaplains more freedom to pray as they see fit, saying he wants to put the matter off until 2007, a stance that angers House Republicans and conservative groups (The Washington Times)


Library's ban on prayer service upheld on appeal | Judges rule 2-1 that distinction between worship, other meetings is constitutional (San Francisco Chronicle)


Also: Court says libraries can bar worship | "Prohibiting Faith Center's religious worship services from the Antioch meeting room is a permissible exclusion of a category of speech," Judge Richard Paez ruled (Associated Press)


Few black churches get funds | Small percentage participate in Bush's faith-based initiative (The Washington Post)


At odds over schools | Race and religion appear to have increased tensions over how to dispense education on Long Island and in New Jersey (The New York Times)


Evolution and Intelligent Design:
Intelligent design okay for science class, DeVos says | Volatile social debate enters governor's race (Detroit Free Press)


Churches object to origin of man exhibit | There has been a huge international media response to the demand by some evangelical Christian churches in Kenya not to show the new National Museum of Kenya exhibition on the origin of man (The Nation, Kenya)


Darwin on the Right | Why Christians and conservatives should accept evolution (Michael Shermer, Scientific American)


Fla. Supreme Court scolds judge for staining judicial system | A judge received a scolding from the Florida Supreme Court for 14 admitted ethics violations, including unconstitutionally ordering a probationer to attend church, but he will be allowed to remain on the bench (Associated Press)


DA's letters to inmate improper, some legal experts say | References to religion in correspondence questioned (Tennessean, Nashville)


Pledge challenger Newdow claims web scribe defamed him | Newdow -- who's both a lawyer and an emergency room physician -- is scheduled to appear in San Francisco's 1st District Court of Appeal to argue that his libel suit against the Rev. Austin Miles should be allowed to proceed (Recorder/Law.com)


Faith and ballots | Voters should be wary of groups that use God as a campaign prop (Editorial, Florida Today, Melbourne)


President Bush's "Third Awakening" and the mixing of church and state | The responses he has provoked from believers, as well as non-believers (Marci Hamilton, FindLaw.com)


Between relativism and fundamentalism | Neither relativism nor fundamentalism offers a basis for reasoned discourse on moral choices. We need a revitalized "protestant" middle way (Peter Berger, The American Interest, sub. req'd.)


Deep and wide: The real American evangelicals | American Evangelicals are far more diverse than media caricatures aver (Nancy Ammerman, The American Interest, sub. req'd.)


Meet the new evangelicals | Is a new generation of 'kinder, gentler' leaders suddenly putting the religious right in political play? (Mark I. Pinsky, Los Angeles Times)


Christian Zionism | Interviews with Gershom Gorenberg, Max Blumenthal, and John Hagee (Fresh Air, NPR)


Kerry speaks about faith, 'godly tasks' | Democratic Sen. John Kerry on Monday urged people of faith to work cooperatively on problems such as poverty, global warming and reducing the number of abortions — "godly tasks" that transcend the nation's culture wars (Associated Press)


Kerry talks of loss, renewal of his Catholic faith | In a speech he said he wishes he had given before the 2004 presidential election, Sen. John F. Kerry (D-Mass.) yesterday described his religious life in greater candor and detail than ever before (The Washington Post)


Kerry talks about faith, abortion | Senator John F. Kerry today called for a new national commitment to reduce the number of abortions, saying that pro-life activists and abortion rights supporters can reach "common ground" on one of the nation's most divisive cultural issues (The Boston Globe)


Group asks: What did Jesus say? | Red Letter Christians network says it wants to change how Christians influence the national public policy debate (Chicago Tribune)


Liberal evangelicals begin campaign | Red Letter Christians, a project of Sojurners/Call to Renewal, announced plans to establish a grass-roots network of 7,000 moderate and progressive clergy members (Associated Press)


A conversation with Senator John Danforth | The former Senator, UN Ambassador and Episcopal priest talks with Walter Russell Mead about religion and politics at home and abroad (The American Interest, sub. req'd.)


Dobson preaches mixed message | Conservative leader criticizes, praises GOP leadership (Pittsburgh Post-Gazette)


Rally here a first, testing Dobson's appeal in region | James Dobson, the evangelical radio psychologist and powerful conservative activist, will be at Mellon Arena Wednesday for the first major Religious Right event ever held in Pittsburgh, and the first Stand for the Family Rally outside the South and the Plains states (Pittsburgh Post-Gazette)


Radio evangelist brings 'Focus' to Pittsburgh | One of the most influential leaders in the nation among Christian conservatives hopes to inspire Western Pennsylvanians to vote based on bedrock moral convictions in the November election (Pittsburgh Tribune-Review)


'Values voters' up for grabs in state's Senate race | As Bob Casey goes to Catholic University, Dobson goes to Mellon Arena (Pittsburgh Post-Gazette)


Spanish set to allow therapeutic cloning | Spain is set to become one of only a handful of countries to approve therapeutic cloning, despite opposition from the Catholic Church (Reuters)


Plan B is almost here. Time for our next move | Now that the FDA has acted on Plan B, what can be done to reduce unwanted pregnancies on a larger scale? (Darshak Sanghavi, The Boston Globe)


Issues of ecology, theology collide | Factions within some churches debate global warming and the moral response (The Kansas City Star)


Evangelical Christian and environmentalist says change has to begin 'in your backyard' | Dr. Matthew Sleeth felt the need to apologize for the red Jeep Liberty he and his wife, Nancy, were driving around Waco on Thursday. They usually drive a Honda hybrid — and that as little as possible (Waco Tribune-Herald, Tex.)


Science and salvation | E.O. Wilson hopes Christians will join in preserving all God's creation (The Washington Post)


A true believer in immigrants | "One day, we will gather for celebration. I believe that this takes time." The Rev. José E. Hoyos (The Washington Post)


It didn't pay to follow immigration rules, couple says | Judy and Rodrigue Sleiman were married in a Hamilton church a year and half ago, but since then have been separated by 6,000 miles. He sought asylum here as a persecuted Maronite Christian, but he was denied (Journal News, Hamilton, Oh.)


Ed Young spreads his Fellowship to Florida | On most Sundays, the Rev. Ed Young takes the stage at Fellowship Church in Grapevine. And at Fellowship churches in Plano, downtown Dallas and Justin. And in South Miami, Fla. (The Dallas Morning News)


N. Texas churches at center of controversy | Two North Texas churches are at the center of a controversy. It involves the right to expose alleged extra-marital affairs. One of the cases heads to the Texas Supreme Court next week and the battle could have national impact (KTVT, Dallas)


Ministers at each others throat | The raging controversial debate over whether Christians, under biblical doctrine, are obliged to honour the giving of a tenth of their earnings to the church as tithe, has taken a new twist (Ghanaian Chronicle)


Church gets city backing for move | Reversal spurred by federal statute (San Diego Union Tribune)


Irish row over cathedral revamp | Under debate is a plan to reconfigure the church's interior (BBC)


Nazarene headquarters campus up for sale | The Church of the Nazarene is seeking a buyer for its international headquarters at the Paseo and 63rd Street, its home for 50 years (The Kansas City Star)


Bells ring out—digitally—at Methodist church | Members of the First United Methodist Church of Miami held a special service to celebrate installation of a digital carillon bell system (The Miami Herald)


Church's new sound is meant to be appealing | In Copley Square, Old South Church's bell gets a makeover (The Boston Globe)


Pope ignores German row on shared communion | The Protestants allow all Christians to take the Eucharist but the Catholics don't and this has become one of Germany's most pressing religious issues with growing impatience with the Vatican for not finding a solution (Reuters)


Church may discipline wedded archbishop | Speaking Sunday night at a conference he organized for married priests, Archbishop Emmanuel Milingo said that the head of the Vatican's Congregation for Bishops has demanded that Milingo send a letter of repentance by Oct. 15 to Pope Benedict XVI or face "canonical suspension." (Associated Press)


To reach out, O'Malley turns to blogging | Cardinal Sean P. O'Malley, who wears a friar's habit designed nearly 500 years ago and who eschews most material possessions, today is taking a giant leap into the 21st century: He is becoming a blogger (The Boston Globe)


Argentina's outlaw 'saint' | Gauchito Gil is no saint recognized by the Roman Catholic Church. An itinerant Argentine cowboy and outlaw born in obscurity in the late 1840s, Gil nevertheless is revered as a kind of South American Robin Hood and is widely credited by Argentina's rural poor to have performed a miracle with his last breath (The Washington Times)


The heart of a saint | St. Jean-Marie Baptiste Vianney's heart leaves France for only the second time (Newsday)


Bible now available on mobile phones | South African Christians seeking a quick spiritual boost will be able to download the entire bible on to their mobile telephones phones from Wednesday as part of a drive to modernize the scriptures (Reuters)


Beliefs: Rowan Williams's "Writing in the Dust" | An archbishop suggests a pause to breathe deeply and to let some of our demons walk away (Peter Steinfels, The New York Times)


Holy fools, detached in spasms of universal ecstasy and despair | Alain Platel's vision in this piece seems to be a commentary on religion today, especially at its despairing, ecstatic extremes (The New York Times)


Daniel in the Lion's Den | Sir Peter Paul Rubens's "Daniel in the Lion's Den" (1614/1616) is a great baroque painting. There aren't many in Washington (The Washington Post)


His heavenly act of faith | A former janitor's room-size 'Throne' is a dazzling piece of religious art (The Wall Street Journal)


Johnny Lang turns to God on new album | Blues guitarist Jonny Lang is moving into the Christian market with his new album, "Turn Around," due in stores Tuesday (Reuters)


Third Day tries to break barriers | Despite not being able to reach out to non-Christians, Powell is comfortable with the audience that has connected to his music (Statesman Journal, Salem, Ore.)


New Fox unit to produce Christian films | The studio plans to produce as many as 12 movies a year aimed at religious audiences (Los Angeles Times)


Also: Fox unveils a division for religious-oriented films | FoxFaith, a new division of 20th Century Fox, will release up to a dozen religious-oriented films each year (The New York Times)


Studios push to clean up their act | Hollywood looks to family-focused Dove Foundation and others for favorable reviews (Los Angeles Times)


Film shows youths training to fight for Jesus | New documentary features controversial Bible camp, evangelical movement (World News Tonight, ABC)


Little terrors on rampage in "Jesus Camp" | Few personality-trait combinations are more obnoxious than narrow-mindedness and condescension -- especially in children (Reuters)


These earnest, cynical young people today:
Conservative Anglican bishops to sign anti-gay pact | Conservative Anglican bishops largely drawn from developing countries are expected to agree on a pact condemning the ordination of gay clergy, Nigeria's archbishop said on Wednesday (Reuters)


Uniting church at gay clergy impasse | The split in the Uniting Church of Australia over gay ministers is set to widen, with talks between conservatives and the church's hierarchy coming to an apparent stalemate (AAP, Australia)


Inmate challenges W.Va. cohabitation law | A former inmate on Monday challenged a West Virginia law that prohibits unmarried couples from living together, alleging his parole was delayed for more than four months because he wanted to live with his fiancée (Associated Press)


3 tied to abuse case detained in Mexico | Immigration authorities on Wednesday briefly detained representatives of a man who says he was sexually abused by a Mexican Roman Catholic priest (Associated Press)


Also: Mexico is haven for U.S. pedophile priests: group | Weak law enforcement and compliant Church authorities make Mexico a haven for U.S. pedophile priests fleeing justice, a victims' group said on Wednesday (Reuters)


Suit says cardinals aided pedophile priest | A fugitive priest charged with molesting eight boys was shuttled by church authorities between Mexico and the United States, allowing him to prey on additional victims, according to a lawsuit filed Tuesday (Los Angeles Times)


Johnston bound over | Trial could begin sometime next spring against a Granby pastor accused of ritually molesting young girls in his congregation (Neosho Daily News, Mo.)


Church minister shot dead at home | A NG Church minister was shot dead in his home in Westdene, Johannesburg, during a failed robbery, Beeld newspaper reported on Saturday (SAPA, South Africa)


Katrina 'twins' scam unveiled | Woman arrested on fraud charges (The Daily Times, Salisbury, Md.)


Facing death, convict testifies, but not of sins | Jessie Campbell steadfastly refused to discuss details of the shootings, saying his devotion to Christianity forbids him from reliving and "glorifying" the events of his past (The Hartford Courant, Ct.)


Churches packed with grieving Montrealers | As students brace to return to Dawson College (Canadian Press)


Also: Churches busy as Dawson students ponder return (CTV, Canada)


Seminary professor, clergyman Kurt Erik Marquart dies at72 | Well known in LCMS circles (The Journal Gazette, Fort Wayne, Ind.)


New law changes charitable contributions | Americans are going to have to keep better records of their charitable contributions if they want to claim them as tax deductions in coming years. Older Americans, meanwhile, will get a break on taxes when they make donations from their Individual Retirement Accounts (Associated Press)


Women flock to rallies to refocus their lives | Millions of women and girls nationwide are attending Christian rallies and gatherings with feminine themes and atmospheres (Ft. Worth Star-Telegram, Tex.)


Religion draws more tourists to Scotland | Religious tourism to Scotland is set to treble in the next decade, according to experts (Sunday Herald, Glasgow)


At a shrine, inspiration and memories | Her husband's most visible legacy grew out of his religious faith and rises more than 30 feet near a stoplight on Route 40 on the edge of Landisville (The New York Times)


Divining the brain | Andrew Newberg discusses what happens in our brains during prayer, meditation and mystical visions. Yet understanding the brain, argues the neuroscientist, does not close the book on the nature of religious experience (Salon.com)


Let there be light | Science and faith can coexist happily as long as neither tries to take on the functions of the other (Editorial, Scientific American)


Disclaimer: When I put the opinion articles under such topics as "Blame the Pope" or "Blame Islam," I'm not suggesting that these articles have no criticisms of "the other side" in the conflict. It's just that, after a quick read, they seemed on balance to be more critical of one side or another. They're certainly not perfect categories, but I had to break up this mammoth list of links somehow.
Related Elsewhere:
Suggest links and stories by sending e-mail to weblog@christianitytoday.com
See our past Weblog updates:
September 15b | 15a | 14
September 6 | 1 | August 29
August 25 | 24 | 23
August 15 | 11 | 10
August 4 | 1
July 28 | 27 | 26
July 21 | 19
July 14 | 13 | 12b | 12a | 10
Weblog
Launched in 1999, Christianity Today's Weblog was not just one of the first religion-oriented weblogs, but one of the first published by a media organization. (Hence its rather bland title.) Mostly compiled by then-online editor Ted Olsen, Weblog rounded up religion news and opinion pieces from publications around the world. As Christianity Today's website grew, it launched other blogs. Olsen took on management responsibilities, and the Weblog feature as such was mothballed. But CT's efforts to round up important news and opinion from around the web continues, especially on our Gleanings feature.
Ted Olsen is Christianity Today's executive editor. He wrote the magazine's Weblog—a collection of news and opinion articles from mainstream news sources around the world—from 1999 to 2006. In 2004, the magazine launched Weblog in Print, which looks for unexpected connections and trends in articles appearing in the mainstream press. The column was later renamed "Tidings" and ran until 2007.
Previous Weblog Columns: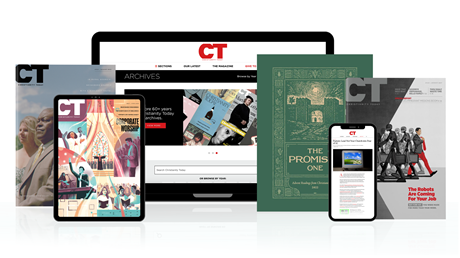 Subscribe to Christianity Today and get access to this article plus 65+ years of archives.
Home delivery of CT magazine
Complete access to articles on ChristianityToday.com
Over 120 years of magazine archives plus full access to all of CT's online archives
Subscribe Now
Super-Mega Weblog: Thousands of Articles, One Story
Super-Mega Weblog: Thousands of Articles, One Story