true
On New Year's Eve, Atlanta's Philips Arena throbbed with the music of Widespread Panic. A few days later, the faint smell of marijuana still lingered as a different crowd gathered for its fourth day of loud, demonstrative worship. At center stage, Matt Redman struck up a new song for the nearly 20,000 college students who packed the arena. At least 3,000 more students in an adjacent venue watched the same image of Redman that Philips Arena projected on 12 screens. But this concert wasn't about Redman. Unlike other concerts, this event also projected lyrics. The words guided an animated throng to behold something bigger than the musicians on stage, something bigger than themselves.
We will shine like stars in the universe,
Holding out your truth in the darkest place.
We'll be living for your glory.
Two banners slowly climbed toward the ceiling, joining memorials for Atlanta Hawks basketball greats. Faint in the banners' background were the names of nearly 1,200 campuses represented in the audience.
We will burn so bright with your praise, O God,
And declare your light to this broken world.
In the banners' foreground were names of the world's great cities—Kuala Lumpur, Mexico City, Sao Paulo, Nairobi, Toronto. Finally, the spotlights dimmed, and black lights revealed S-H-I-N-E written down each banner.
Like the sun so radiantly, sending light for all to see,
Let your holy church arise!
Exploding into life like a supernova's light,
Set your holy church on fire!
Based on the success of songs performed at previous Passion conferences, "Shine" may soon become one of the evangelical church's most beloved songs. And it may be another reason this conference, like those before it going back 10 years, will set churches on fire.
Passion has not just shaped evangelical worship music, but a generation of American evangelicals. In the last few years, Christianity Today has reported on various trends among younger evangelicals—from new monastics to hip emergents to throwback Calvinists. Passion incorporates elements from each. None has yet marked the broader evangelical movement like Passion.
After 10 years of large crowds and larger influence (a few hundred more students attended Passion '07 than InterVarsity Christian Fellowship's famed triennial Urbana conference), the leaders of Passion have decided to suspend the conferences—and take their message on a world tour. CT talked to Passion leaders and followers to discern what makes Passion so influential, and why it is suddenly changing direction.
Industry Standard
More than 10 years of Passion conferences have imprinted Isaiah 26:8 on a generation of young evangelicals: "Yes Lord, walking in the way of your truth, we wait eagerly for you, for your name and your renown are the desire of our souls." Isaiah 26:8 reveals the theology that guides Passion's leaders, worship artists, and teachers. Passion promotes the sovereignty and glory of God. One reason for its success is clear: It has stayed on mission.
Louie Giglio's gift for engaging and challenging college students was evident during the mid-1990s. He led a Bible study attended by 1,400 of Baylor University's 11,000 students, he said. But Giglio grew alarmed by statistics that showed only 20 percent of American college students described themselves as born again. In 1995, he saw a vision of a massive gathering of students worshiping God. Less than two years later, he partnered with like-minded college ministers to host the first Passion conference in Austin, Texas. Passion conferences have reached more than 500,000 students since.
Few could have foreseen 10 years ago that Passion would eventually define a musical genre. What we consider modern worship music has stirred in churches for a few decades. In the early days, congregations requested songs like Keith Green's "Oh Lord, You're Beautiful" or Twila Paris's "He Is Exalted."
Due in part to the success of CD recordings of early Passion conferences, modern worship music boomed between 1999 and 2003. Christian rock artists churned out worship albums. The fad has since simmered. Yet Passion conferences have grown, and their albums continue to top Christian charts.
Recently, four songs written and performed by artists on Passion's Sixsteps record label cracked the list of top ten contemporary worship songs used in American churches, according to Christian Copyright Licensing International. "How Great Is Our God" by Chris Tomlin took the number one slot.
Popular among college students for years, songs from Passion's primary worship artists—Redman, Tomlin, Charlie Hall, and David Crowder Band—have exploded across age groups in the last couple years. "In some ways, Passion has put the words that people are going to say to God into the mouths of an entire generation," said Taylor Dodgen, 21, a sophomore at Baylor University and worship leader for his church's college ministry.
To be sure, modern worship music has its critics. They lament declining use of hymnals and declining musical and theological literacy. Others strain to hear Christian radio play anything other than relentlessly peppy, painfully repetitive praise choruses. But even many critics grant that Passion has set the industry standard for catchy songs that steer clear of cliché.
I caught up with Giglio on tour with Redman and Tomlin after Passion '07. Though weary of the worship wars, Giglio still defends the modern genre. "People have to remember when they're sitting in church holding the hymnal that they're looking at the top 100 hymns of all time," Giglio said. "I think as the church emerges 200 years from now, the best of the best of these new songs will survive."
Giglio, 48, especially resents charges that modern worship music neglects the hard times of life. He points out that Redman, who is British, wrote "Blessed Be Your Name" in response to the September 11 attacks. Redman composed "You Never Let Go" after his wife miscarried and terrorists bombed the London subway. Even his latest hit, "Shine," meets college students in their difficult moments.
"You can only imagine some of the lifestyles and mindsets they're encountering living on a college campus," Redman said. "It's into that environment that they shine with the radiance of Jesus Christ."
For many years, critics have also landed blows against modern worship music for fostering individualism. Giglio hasn't been deaf to such criticism, and he's challenged Passion artists to resist the temptation. As Tomlin composed "How Great Is Our God," Giglio exhorted him to exclude any verses about our relationship with God.
"If we keep saying it's all about God," Giglio said, "then every now and then a song will come along that doesn't have anything about us in it."
And if you keep calling your songs worship music, maybe that's what you'll get.
"You're going to lean away from singing about church," said John Piper, bestselling author and Minnesota pastor. Giglio has invited Piper to speak at every Passion conference. "You're going to sing about God. You'll look for stuff about God that awakens emotions and affections. You can go the intimacy route, which sounds like love songs. Or you can go the magnificence route, for transcendence."
The Price of Popularity
It's no secret which direction Passion has taken. Russ Breimeier, online managing editor of Christian Music Today, leads worship for his Lutheran church in Chicago's western suburbs. The congregation quickly catches on to Redman's and Tomlin's songs, but doesn't consider them to be simplistic. "Writing worship songs isn't an easy thing to do, and it shouldn't be easy," Breimeier said. "It should be the highest calling for songwriting."
Churches and critics alike have rewarded Passion's artists for their songwriting excellence. Last year, the Gospel Music Association named Tomlin its artist of the year and male vocalist of the year, and also awarded him song and worship song of the year. David Crowder Band has attracted thousands of die-hard fans with its experimental sound. Those fans voted the group MSN's 2006 artist of the year, beating out the likes of Prince, Christina Aguilera, and Kenny Chesney. The most recent Passion live recording, Everything Glorious, hit number 69 on the Billboard Top 200 chart.
"There is not a marketing plan or publishing company around that can do what the Holy Spirit does with a song," Tomlin said.
Popularity can corrupt, however. Tomlin told me consumerism is the greatest challenge facing modern worship music: For some fans and artists, the passion to hear fresh music has eclipsed the focus on worship. Tomlin himself has become, in the words of his record label's press agent, a "superstar." Indeed, reaching Tomlin and Giglio for interviews proved nearly as difficult as tracking down Washington's top politicians. Senate leaders don't call me back, because they're so incredibly busy—busier than Giglio and Tomlin, I presumed. "Oh, I don't know about that," the agent said.
Tomlin laughed when asked about how he handles fame.
"I would never consider myself a worship superstar—nor do I know what that is," he said. "I am a worshiper of the Almighty. That's enough to keep anyone humble."
Indeed, Tomlin strikes no one as preoccupied with the trappings of fame. "Chris doesn't come off as someone who's striving to be a star. Neither does Crowder," said John Styll, president of the Gospel Music Association. "And people reward them for that and make them stars."
Giglio has watched for more than a decade as evangelicals have heaped adulation on Passion teachers and musicians who direct them toward God.
"We've just come to peace with the fact that people are going to take pictures, they're going to ask for autographs, they're going to put their faces in magazines," Giglio said. "That's okay with me as long as every ounce, every little photon that hits them is reflected back to the author of it all and the center of it all."
The Look
Audience screams went up in pitch when Beth Moore took the stage on the second day of Passion '07. No one who watches Moore teach ever forgets her. I left the press box and moved down to the floor just to watch her interact with the crowd. Intensity beams from her large, lively eyes. Even with an arena audience, she conveys a sense that she is speaking to each person individually. Memorized Bible verses flow readily off her tongue, building credibility with students. In her unmistakable Texas twang, Moore urged the students to "learn humility early."
Moore settled into her true element during an afternoon breakout session with a couple thousand women. "I am here to mother you," Moore said. "Can you handle it?"
The women wanted nothing more. Moore, bestselling author of Believing God and numerous Bible studies, does not shy away from sharing stories that range from silly embarrassment to serious sin. Her stories highlight insecurity and temptations that prey upon women.
"God is not a big us," she said. "He will never fail us. God has no dark side. You are completely loved by someone you can completely trust, and girlfriend, it doesn't get any better than that."
If Passion's speakers were a family, Moore would be the mother who doubles as your best friend. Giglio would be the fun uncle who offers reliable advice. John Piper, the demanding father, commands your respect.
Piper has never addressed a larger audience than the 40,000 students who turned out for a special Passion OneDay event in 2000. That sermon turned into his book Don't Waste Your Life. Again at Passion '07, Piper delivered invectives against the American dream.
"You don't want to be always sitting high in your SUV dropping nickels into other people's dreams," Piper told the Philips Arena audience.
Giglio doesn't offer his platform—for teaching or singing—to anyone outside the Passion family, to anyone he doesn't know well. Piper has spoken at all 11 Passion conferences; Moore, at all but the first. Giglio considers himself an inspirer, not a teacher, so he leaves that mostly to Piper and Moore.
Giglio gives them a theme passage from Scripture but does not tell Moore or Piper what to teach. Yet they wouldn't be invited if they didn't share Giglio's vision to push the supremacy of God to the forefront. And Giglio does require one intangible from Passion's speakers—"the look."
"College kids have a sixth sense," Giglio said. "They buy stuff based not on what they hear but what they see. They're looking in our eyes long before they're listening to what we have to say. They're looking for some validation in our eyes: 'Are you really locked into what you're saying?'"
Piper and Moore have the look. As a result, they can get away with delivering hard teaching. They don't labor for new ways to reach a postmodern generation. They just deliver sharp challenges drawn from God's Word. Who would think a generation raised on self-esteem would turn out again and again to hear "God is big, and you are not"?
"We're the generation who likes things raw and uncut and really in-your-face," Taylor Dodgen explained to me. "It's almost like reverse psychology. [Piper's] not doing it for shock value, but he almost elicits that same response. He's saying the gospel without any sort of sugar-coating, with very few illustrations, and it's hitting home."
Loud music alone wouldn't hit home. Theology delivered without zeal would miss the mark.
"Too long we have preferred theology to passion or passion to theology," Piper said as we talked after his breakout session. "I like Passion and Louie Giglio and have been here 11 years because I believe in the potential to get it together. Most of these students have never heard anyone plead with them to think hard, go deep, get a theology, and jump up and down with David Crowder."
Passion and Piety
On the lowest level of the massive Georgia World Congress Center, I grabbed a "passport" and walked through the Go Center. Ministries domestic and international posted their needs. Causes asked for help. But this was no conference free-for-all. Organized not by ministry displays but by regions of the world, the Go Center directed students toward opportunities to channel their passion into action. "Guides" matched students with ministries that fit their preferred region, evangelism style, and commitment level. This part of Passion doesn't get much attention, but it may have the most significant impact over time.
Passion permitted between 35 and 40 ministries to join the Go Center. These groups included Campus Crusade for Christ, the Southern Baptist Convention mission boards, Frontiers, and International Teams. Another 50 did not make the cut, according to Mark Szymanski, a Go Center guide who works for United World Mission. Szymanski said Passion invites ministries that coach students, not recruit them.
Tucked in a corner of the Go Center, students viewed Scripture verses posted on walls as they prayed that God would spread his gospel. Toward the back, the Stop the Traffik coalition urged students to sign a petition against human trafficking that they would deliver to the United Nations. Cure International raised money for South and Central American youth whose families can't afford much-needed surgery.
On the conference's first day, Giglio challenged students to contribute $500,000 toward various evangelistic and social justice causes. On the last day, he told the crowd that they had:
• Sponsored 14 students to attend college.
• Packaged 4,000 Bibles bound for China.
• Funded 100 surgeries for children.
• Signed 2,500 petition cards opposing sex trafficking.
• Provided funds for 38 wells in Africa.
• Pledged $65,000 for a new community center in Iraq's Kurdistan region, with 150 students committed to praying about working in the center for one year.
The audience jumped to their feet when Giglio announced that their giving would enable the Seed Company to translate the Bible for an Indonesian language group.
All in all, the students gave or pledged $700,000, even before the conference took its only offering. That additional $256,000 would be earmarked for Passion's worldwide tour.
Giglio gets big results from college students in part because he expects them. These students will "figure out how to see The Fray in a couple weekends. The tickets are $39.95, and they've got a two-hour drive to Cleveland," Giglio said. "I lived on a college campus for 11 years working with students. They may not be the richest people in the world in Western terms, but they are very resourceful."
Passion's link between worship and missions harks back to evangelical movements like the Moravian Pietists, the continental Europeans from the 18th century who so impressed John Wesley with their fervent prayers and singing. They called for spiritual renewal and promoted worldwide evangelism. When I asked what historical movements inspire him, Giglio mentioned the 19th-century students who organized the Haystack Prayer Meeting and spawned global missions in America.
"God may love a well for a village in Africa way more than hearing us sing 'Holy Is the Lord' one more time. That puts meaning behind the $3,000 well," Giglio said. "It's the redeemed making God happy, because we're doing the thing he wants most."
Audacious Vision
Moments before Passion '07 closed, Giglio announced there would be no Passion '08. Passion may someday return to the United States, but not next year. It's not that Passion has peaked. More students showed up in Atlanta than for any other Passion event but OneDay 2000. Passion outgrew the Nashville venue it had used the two previous years. Giglio told the students, most of whom come from the South, that many of their campuses already have the resources to share the gospel with every student. Following a tour of U.S. regions less saturated with the gospel, Giglio will take his show around the world.
For years, Giglio has heard from students in Singapore, Indonesia, Ireland, South Africa, Norway, and everywhere in between who wanted Passion to visit them overseas. And for years, Giglio couldn't find the time to fly back and forth between his Atlanta home and far-flung cities. But then he caught a vision for a world tour. Why fly back and forth when you can just hop from country to country?
Giglio's new plan thrills students like Kristoffer Stokke. He decided the week of Passion '07 to fly from Norway to Atlanta. DVD recordings had introduced him to Passion. A few years ago, Stokke, 21, started a Christian youth event, Get Focused, which draws Norway's small faith community together to reach their nation. A group that started with 200 has grown to 1,500 in difficult spiritual terrain. Stokke traveled to Atlanta to see if Passion's messengers lived out their messages.
"Their credibility has grown even more," he told me after spending time with some Passion leaders. "When you see a message about glorifying God, which is big words, being lived out in practical ways in the way they behave, the way they talk to each other and interact, the way they use their money and time, that makes their credibility grow."
Where exactly will Passion stop on the world tour? Giglio isn't sure. Nor does he know who will join him for the journey. He doesn't regret suspending the U.S. event, because he never planned to run conferences for the rest of his life. He wants Passion to be a catalyst, not an institution.
Who can doubt him? Giglio's audacious vision for a worldwide tour has followed a natural progression: first one campus (Baylor), then the nation's campuses (Passion), now the world. As church history has shown in the Pietist and missions movements, a God as big as the one they worship at Passion can do anything.
Collin Hansen is a CT associate editor.
Related Elsewhere:
The official website of Passion conferences links to the Passion '07 website and the 268 blog. Links to the upcoming Thirsty 07 conference and to organizations who participated in the Go Center are under "latest."
Article continues below
Six Steps Records, a Passion Network channel, sells music by artists who have participated in Passion conferences.
Louie Giglio's video series, "Tattoo," is available on Worship Blog.
Giglio spoke about his ministry and Passion's music in an interview.
Christian Music Today has special sections on Passion artists Chris Tomlin, Matt Redman, Charlie Hall and the David Crowder Band, as well as reviews of Six Steps Records' Passion recordings and an interview with Giglio.
Christianity Today International publication Today's Christian focused on Chris Tomlin, who was named 2006 artist of the year by the Gospel Music Association.
Beth Moore's Living Proof Ministries has a blog, weekly devotionals, and other resources.
You can listen to her "Building New Walls"series from Living Proof.
Moore wrote the "Believing God online Bible study."
Today's Christian Woman and Today's Christian published profiles of Beth Moore.
John Piper's Desiring God Ministries' resources include a blog, broadcasts, sermons, reflections, and Q&A.
His message on "How to Deal with the Guilt of Sexual Failure for the Glory of Christ and His Global Cause" from the Passion 07 conference is available online.
Piper appeared in Christianity Today's "What's Next: Local Church" and "The Top 50 Books That Have Shaped Evangelicals." Christianity Today also reviewed his books, God is the Gospel (an excerpt is available on our site), and Don't Waste Your Life.
Collin Hansen's other recent articles include:
Young, Restless, Reformed | Calvinism is making a comeback—and shaking up the church. (September 22, 2006)
What's Next: Theology | No compromise: What evangelical leaders say are the priorities and challenges for the next 50 years. (October 9, 2006)
Margin of Victory | Races where evangelicals play a decisive role in the November election. (November 7, 2006)
NAE Board Chairman Shocked by Haggard Resignation | Roy Taylor says NAE hopes to name interim president next week. (November 11, 2006)
Life After Haggard | Leaders praise new NAE chief, debate direction.(November 17, 2006)
Bart Campolo's Karamazov God | "If those things are true, then God might as well send me to hell." (November 20, 2007)
Have something to add about this? See something we missed? Share your feedback here.
Our digital archives are a work in progress. Let us know if corrections need to be made.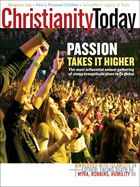 This article is from the April 2007 issue.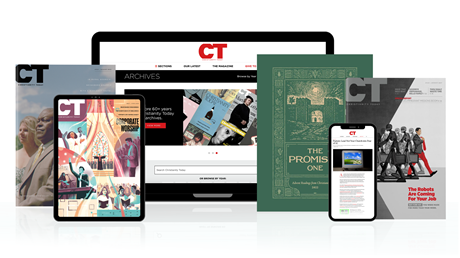 Subscribe to Christianity Today and get access to this article plus 65+ years of archives.
Home delivery of CT magazine
Complete access to articles on ChristianityToday.com
Over 120 years of magazine archives plus full access to all of CT's online archives
Subscribe Now
Passion Takes It Higher
Passion Takes It Higher