true
"We build our ivory towers to protect us from the flood/A fleet of vessels made of wood so they won't rust/But can we see the bottom of the bottle when we start to drink?/There's fire on the mountain fire and it's coming our way/Can we pick the pieces up?/We're mending Babylon/ Tryin' to right the wrong" —from "Fire on the Mountain"
In the spring and summer of 1997, a catchy bubblegum-pop song called "MMMBop" played every hour, all day long on radio stations across the globe. Naturally, it became a worldwide hit, generating album sales of four million copies for the album Middle of Nowhere in the US. The Oklahoma-bred Hanson brothers Isaac, Taylor, and Zac—only 16, 14, and 11 at the time—achieved international fame.
Despite the song's light-hearted sound and Hanson's rambunctious teenybopper image, the Grammy-nominated "MMMBop" actually was about the fleeting nature of relationships. But the subtle maturity of the band's songwriting was drowned out by the playful sound, a powerful marketing machine, and the subsequent backlash in reaction to 24/7 airplay.
Hanson's maturity became more apparent several years ago after clashing with former label Island/Def Jam Records over creative differences. The brothers fought to be released from their contract, and Island/Def Jam eventually relented. Freed from corporate control, Hanson released Underneath in 2004 through its own independent label, 3CG Records, and the album debuted at No. 1 on Billboard's Independent Album Chart.
Guitarist Isaac (now 27), keyboardist Taylor (24), and drummer Zac (22) grew up listening to their father's collection of classic '50s and '60s records. Each Hanson album has reflected these rock, R&B, blues, and gospel influences, including their fourth studio album, The Walk, released in the summer of 2007.
Energetic and soulful, The Walk is a mixture of the socially conscious and the spiritual. While making The Walk, Hanson recorded a children's choir in a Mozambique orphanage, heard singing the phrase "Ngi Ne Themba," which means "I have hope," on the track "Great Divide." It was subsequently released as a charity single, with proceeds benefiting a hospital AIDS ward in South Africa. The spiritual side is also evident on songs like funk-heavy "Blue Sky" and the introspective title track, about making choices, taking risks, going it alone, and not losing oneself to the fear.
The homeschooled Hansons, the three oldest of seven, were raised as evangelical Christians, and their closeness is undeniable. They love discussing their music and charity efforts. (While interviewing them after a concert, I was amused that all three often talked at the same time and finished one another's sentences.) They're especially passionate about their partnership with TOMS Shoes, a company that will donate a pair of shoes to a deserving child in South Africa for every pair that fans buy.
"A pair of shoes might not save the world," Taylor Hanson said. "But we want to take people from knowing about something to … tangible action."
While the brothers' growing sense of social responsibility is a way of sharing their abundance with others, it's also a reflection of their Christian upbringing. But children raised by Christians don't necessarily become Christians. Knowing how reticent the band is to discuss its religious beliefs, I delicately asked youngest member Zac Hanson about his faith.
"I do consider myself a Christian," he said. "As far as all the details of beliefs and faith, I never really talked about that, though people have asked us. I think, unfortunately, it can be a barrier to people."
Singing lead on almost half the album, Zac displays his maturing vocal talents. He also reveals some of the band's spiritual leanings in a song he sings lead for called "Fire on the Mountain," excerpted above. "Mending Babylon" is an obvious reference to the once-great ancient kingdom God destroyed because of its wickedness, but it also symbolizes God's judgment against spiritual apostasy. Babylon's brokenness is our own, and one day the "flood" of judgment will come.
Zac said the band prefers not to make explicit reference to religious beliefs in songs. "Who you are and what you believe clearly speaks through your music, because you say the things that [reflect] who you are, rather than talking outwardly about those things."
Is Hanson concerned about how fans would react to explicit Christian messages? Zac demurred. "If you're true to what you believe in your music, then it's going to come through and you don't have to take some sort of active approach and try to tell everyone everything you think. You can let that be something that is organically a part of what you represent and who you are, and that's all you need to do."
The brothers may never again reach the intoxicating heights of "MMMBop" fame, but they have the freedom to make the kind of music they love as an independent band. In the liner notes for The Walk, Hanson writes: "Most of all we would like to thank our Creator. Thank you for the way You challenge us to walk down roads less traveled, and open our eyes further at every turn. Music is a gift, and we are honored to receive it."
They may not describe themselves as a Christian rock band, but the brothers still live their faith and recognize a blessing when they see one.
Unless specified clearly, we are not implying whether this artist is or is not a Christian. The views expressed are simply the author's. For a more complete description of our Glimpses of God articles, click here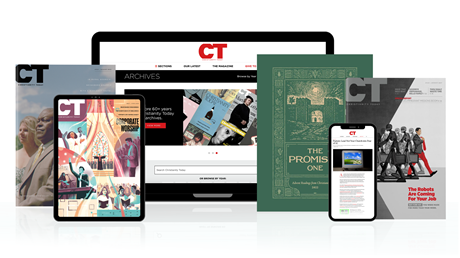 Annual & Monthly subscriptions available.
Print & Digital Issues of CT magazine
Complete access to every article on ChristianityToday.com
Unlimited access to 65+ years of CT's online archives
Member-only special issues
Subscribe
The Walk
The Walk