In the fall of 2003, Cecil "Cec" Murphey, a professional writer who has written or co-authored more than 100 books, got a call from a Texas Baptist minister named Don Piper. Back in the late 1980s, Piper had been in a horrific auto accident—his Ford Escort was literally run over by a semi truck. His left leg had been pulverized, his right leg broken, his pelvis shattered, and his left arm nearly severed. Yet Piper fought back and learned to walk again—an almost miraculous recovery.
The problem was in writing about another part of Piper's story.
When Texas state troopers arrived at the scene of his accident, they found no pulse, so they covered Piper with a tarp and began clearing traffic. When another Baptist pastor, Dick Onerecker, arrived on the scene, he prayed for Piper and sang several hymns. In the middle of "What a Friend We Have in Jesus," Onerecker heard Piper singing along.
During the 90 minutes between the accident and his reawakening, Piper says he went to heaven. He stood before a gate made of pearl and was welcomed by loved ones. Just before passing through the gate, Piper felt snatched back to earth and woke up in his crushed Ford.
Murphey, a former pastor, thought Piper's tale resembled something out of Embraced by the Light and told Piper he couldn't help him write a book about it. But Piper persisted. After praying, Murphey agreed to collaborate on the project. The more he worked on the book, the more he realized its potential.
"I had a gut feeling: It was either going to be a big book or a total flop," Murphey says. He thought a big book was more likely—perhaps even big enough to land Murphey on The New York Times bestseller list for the first time in his long career.
Three years and nearly 1.5 million copies later, Piper and Murphey's collaboration, 90 Minutes in Heaven, is one of the bestselling Christian books in America and a sign of the unpredictable nature of Christian publishing. It is good news in a nervous industry, an unexpected bonus in a time of slipping sales and publisher consolidation, when everyone is waiting for the Next Big Thing.
The Trouble with Blockbusters
Discerning exactly what's happening in publishing is tricky. Unlike the film industry, where finding the latest box-office figures is as easy as typing boxofficemojo.com, the sales figures for books are a mystery.
Publishers release good news: Zondervan, for example, will mention that it's sold 250,000 copies of its audio Bible Experience, 250,000 copies of Rob Bell's Velvet Elvis, and 30 million copies of The Purpose-Driven Life. Thomas Nelson touts its 19 New York Times bestsellers and the fact that 49 of its books sold at least 100,000 copies last year, including Blue Like Jazz, which is now approaching a million sales overall. But neither publisher releases comprehensive sales data.
"There is no objective way to track sales data in the book publishing industry," Lynn Garrett, religion editor of Publishers Weekly, told CT. "The only way you can get sales data is from publishers themselves—so you kind of have to believe what they tell you."
In recent years, Christian publishing has enjoyed a string of Godzilla-sized hits—starting with the Left Behind series (with sales of more than 60 million copies), followed by The Prayer of Jabez (more than 9 million sold), and then The Purpose-Driven Life. While these books have been a boon to publishers and retailers, they skew the market, says Garrett.
"In the Christian market, everybody is looking for the next Purpose-Driven Life," she says. "Sales of Christian books were down slightly last year because there was no huge blockbuster." According to the American Association of Publishers, sales of religious books fell 10.2 percent in 2006.
The blockbuster effect has spread beyond Christian retailers. Chains such as Barnes & Noble, Costco, and Wal-Mart have used Christian blockbusters (along with Harry Potter and The Da Vinci Code) as loss leaders, sold at little or no profit to entice customers into stores.
In a recent editorial called "Devil's Bargain," Sara Nelson, editor in chief of Publisher Weekly, wondered if the strategy has backfired, pointing to recent struggles at B&N, which closed its Memphis distribution center and posted lower-than-expected earnings. Nelson noted that "discounting is a dangerous strategy—when it doesn't work, it really doesn't work."
Scott Bolinder, executive vice president of Zondervan, wonders if Christian publishers have become dependent on blockbusters. "I think we've gotten used to what used to be anomalies being 'regular anomalies,' " Bolinder told CT. "As an industry, we've gotten too reliant on blockbusters—and we don't think that's a good thing."
Zondervan has seen both sides of a blockbuster. "We will have a little bit of a down year—based on recalibrating from The Purpose-Driven Life," Bolinder says. "Take that piece out, and our business is healthy. But the whole publishing industry is in some very tough sledding."
The pressure for blockbusters will likely increase. Christian publishers Multnomah (now part of Random House), Howard (now owned by Simon & Schuster), and Thomas Nelson (a privately held, wholly owned subsidiary of Faith Media, a division of InterMedia Partners) were bought up, while general trade publishers like Penguin Putnam launched Christian imprints.
"When companies get bigger, they want to publish bigger books," says Garrett. "They want to publish fewer books and get more money out of them, so they look for big-name authors. It's quite a bit harder in that type of market for first-time authors or mid-list authors to get their books out."
Sustained Popularity
Despite reports of a downturn in sales, Christian books remain remarkably popular. A bestseller list, compiled by Thomas Nelson president Michael Hyatt and based on data from general market bookstores, Christian retailers, and mass-market outlets, gives an indication of how popular.
On Hyatt's list, 14 of the top 100 books from 2006 were Christian titles. These included Nelson's low-cost paperback of the New King James Version (2), The Purpose-Driven Life (12), Your Best Life Now by Joel Osteen (19), The Chronicles of Narnia by C. S. Lewis (the Zondervan edition was 26, the Harper Collins edition 47), The Five Love Languages by Gary Chapman (27), Captivating by John and Stasi Eldredge (28), Jerusalem Countdown by John Hagee (43), 90 Minutes in Heaven (61), Battlefield of the Mind by Joyce Meyer (83), the Fiesta Bible Book (85), Cure for the Common Life by Max Lucado (90), Mere Christianity by C. S. Lewis (91), and Blue Like Jazz by Donald Miller (98).
Most of these books fall into the "Christian living" subcategory, says PW's Garrett. "Basically, it's Christian self-help," Garrett says, "and self-help is huge in the general market."
Most bestsellers have authors with a "platform"—the publishing industry's term for authors with a built-in audience, usually from a large church or media exposure. But a platform is no guarantee. Missing from that top 100 list, for example, are Living the Extraordinary Life by Charles Stanley and Billy Graham's The Journey. Garrett says both were launched with big expectations, but both stumbled. Hyatt confirms that Graham's book was a disappointment, attributing its struggles to Graham's ill health, the 10-year gap between The Journey and Graham's last book ("That's an ice age in today's world," he says), and the fickle nature of the book market.
"This new generation does not know him," Hyatt says.
Garrett says that religion books mirror the contentious nature of American culture. She expects books on atheism to remain big—with God Is Not Great by Christopher Hitchens released last month (following 2006 bestsellers like The God Delusion by Richard Dawkins)—along with books on religion and politics, Intelligent Design, and creationism.
"Books that seemed to do really well are the ones dealing with controversies," she says. "What you see in religion publishing is a reflection of a deeply divided country with some really sharp disagreements on some hot-button issues."
Books about the Gospel of Judas or other gnostic Gospels will also remain popular, Garrett predicts. "Mary Magdalene is fading from view, but Judas is coming on strong," she says.
Anti-gnostic books have had mixed results. Darrell Bock's Breaking the Da Vinci Code sold more than 500,000 copies, but N. T. Wright's Judas and the Gospel of Jesus "was a blip," says Garrett.
Michael G. Maudlin, editorial director of HarperSanFrancisco, says that despite market pressures, editors and publishers still often go with their gut and choose books they think are important, rather than simply profitable.
HarperSanFrancisco (which was renamed HarperOne) published Not for Sale: The Return of the Global Slave Trade—and How We Can Fight It by David Batstone as a tie-in to Amazing Grace, the William Wilberforce biopic.
"It's really hard to sell a book on human trafficking. People tend not to want to buy books about bad news," Maudlin says.
Maudlin also cites several recent bestsellers that have thrived based on quality writing, rather than a platform, including Blue Like Jazz.
"His success is due to his writing," says Maudlin, "not because he's got a famous church or television program. That's been encouraging."
Bob Smietana is features editor for The Covenant Companion and co-author of G.P. Taylor: Sin, Salvation and Shadowmancer.
Related Elsewhere:
Reviews, excerpts, and other articles on recent books are available in our special section.
'What's Next: Publishing & Broadcasting' tells what evangelical leaders say are the priorities and challenges for the next 50 years.
Christianity Today's coverage of books mentioned in this article includes:
Travel Writing from the Afterlife | If the Bible doesn't quench your curiosity on what it's like in heaven and hell, we have two new firsthand accounts. (May 30, 2006)
Article continues below
Familiar Word | Famous black voices eagerly join audio Bible project. (December 14, 2006)
The Top 50 Books That Have Shaped Evangelicals | Landmark titles that changed the way we think, talk, witness, worship, and live. (October 6, 2006)
Heard Any Good Books Lately? | Audio is the new medium, and Christian publishers are getting the message. (June 1, 2006)
Forget Your Bliss | The success of The Purpose-Driven Life reveals a cultural opportunity. A Christianity Today editorial. (March 1, 2004)
A Better Storyteller | Donald Miller helps culturally conflicted evangelicals make peace with their faith. (June 1, 2007)
What (Not All) Women Want | The finicky femininity of 'Captivating' by John and Stasi Eldredge. (August 1, 2006)
Jesus Out of Focus | The Da Vinci Code is raising issues that go to the heart of the Christian faith—and it's starting to confuse us all. (June 1, 2006)
Have something to add about this? See something we missed? Share your feedback here.
Our digital archives are a work in progress. Let us know if corrections need to be made.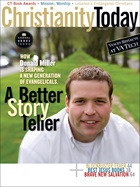 This article is from the June 2007 issue.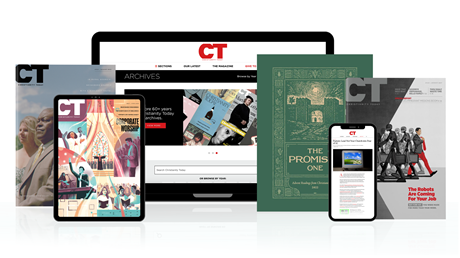 Annual & Monthly subscriptions available.
Print & Digital Issues of CT magazine
Complete access to every article on ChristianityToday.com
Unlimited access to 65+ years of CT's online archives
Member-only special issues
Subscribe
Looking for the Next Big Thing
Looking for the Next Big Thing