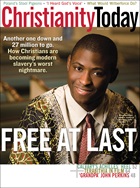 This article is from the March 2007 issue. Subscribers can read all of CT's digital archives.
HE WAS DESPISED and rejected by others; a man of suffering and acquainted with infirmity. … Surely he has borne our infirmities and carried our diseases; yet we accounted him stricken, struck down by God, and afflicted. But he was wounded for our transgressions, crushed for our iniquities; upon him was the punishment that made us whole, and by his bruises we are healed.
Isaiah 53:3-5 (NRSV)
THERE IS GOOD biblical evidence that God not only suffered in Christ, but that God in Christ suffers with his people still. … It is wonderful that we may share in Christ's sufferings; it is more wonderful still that he shares in ours.
John R. W. Stott, The Cross of Christ
HAS NOT GOD in Jesus Christ become radically open to the life of the world and become vulnerable to human sin and suffering? In the light of the gospel story, God is not impassible, but passionate, suffering love. If God is love, then receptivity, vulnerability, and suffering are not strange to God's being. God is free to love and thus free to experience the suffering of the world.
Daniel L. Migliore, The Power of God
UNLESS GOD is on the balance and throws his weight as a counterbalance, we shall sink to the bottom of the scale. If it is not true that God died for us, but only a man died, we are lost. But if God's death and God lie dead in the opposite scale, then his side goes down and we go upward like a light or empty pan. But he could not have sat in the pan unless he became a man like us, so that it could be said: God dead, God's passion, God's blood, God's death.
Martin Luther, quoted in the Formula of Concord
IT IS A GOOD THING to learn early that God and suffering are not opposites but rather one and the same thing and necessarily so; for me, the idea that ...
1
Our digital archives are a work in progress. Let us know if corrections need to be made.
Suffering God