Is it permissible to reopen the question of salvation? If we do, how will Jesus' teachings stand up to our inherited traditions?
These questions came to me acutely not long ago. I was getting ready to preach. As the worship leader was finishing the music set, he offered some unscripted theological reflections. He said something like: "The only thing required of us is to believe that Jesus' blood saves us. Nothing more. It's nothing but the blood of Jesus."
In my Baptist context, we've heard these thoughts a thousand times. The problem was that I had in my pocket a message in which Jesus himself had a very different answer to the question of salvation.
The Big Question
In reading through Luke, I had discovered that twice (10:25, 18:18) Jesus is asked, "What must I do to inherit eternal life?"
In the first passage, Jesus turns the question back on the lawyer who asks it. The lawyer replies with the Old Testament commands to love God with all your heart, soul, strength, and mind, and to love your neighbor as yourself (cf. Mt. 22:34-40). Jesus affirms his answer: "You have answered correctly; do this, and you will live." The lawyer then tries to narrow the meaning of neighbor. So Jesus tells the unforgettable parable of the compassionate Samaritan, who proved to be a neighbor to a bleeding roadside victim.
In Luke 18, Jesus responds to the same question, this time from the man we know as the rich young ruler, by quoting the second table of the Decalogue, forbidding adultery, murder, theft, and false witness, and mandating honor towards parents. His questioner says that he has kept these commandments, and Jesus proceeds to call on him to "sell all … and distribute to the poor." Jesus assures him, "You will have treasure in heaven; and come, follow me." The "extremely rich" ruler won't do this, and Jesus goes on to teach his disciples about how hard it is for the wealthy to enter the kingdom of God.
Trying to be an honest expositor of the texts in front of me, I told the chapel students that morning that on the two occasions in Luke when Jesus was asked about the criteria for admission to eternity, he offered a fourfold answer: love God with all that you are, love your neighbor (like the Samaritan loved his neighbor), do God's will by obeying his moral commands, and be willing, if he asks, to drop everything and leave it behind in order to follow him.
I concluded by suggesting that the contrast between how Jesus answers this question and how we usually do is stark and awfully inconvenient.
Getting Radical
In my Baptist tradition, especially, we direct people to "invite Jesus into your heart as your personal Savior," an act undertaken using a formula called the "sinner's prayer." Or we simply say, "Believe in Jesus, and you will be saved."
But Jesus never taught easy believism. Whether he was telling the rich young ruler to sell all and follow him or telling a miracle-hungry crowd near Capernaum that to do the work of God was, yes, to believe on him (John 6:28-29), he called people to abandon their own agenda and trust him radically. Radical trust calls for both belief and action.
I suggest that we tend to confuse the beginning of the faith journey with its entirety. Yes, believe in Jesus—that's the first step. Yes, invite Jesus into your heart as your personal Savior. Then, empowered by God's grace, embark on the journey of discipleship, in which you seek to love God with every fiber of your being, to love your neighbor as yourself, to live out God's moral will, and to follow Jesus where he leads you, whatever the cost.
If Jesus is to be believed, inheriting eternal life involves a comprehensive divine assessment at every step along our journey, not just at its inception.
Mediocrity and hypocrisy characterize the lives of many avowed Christians, at least in part because of our default answer to the salvation question. Anyone can, and most Americans do, "believe" in Jesus rather than some alternative savior. Anyone can, and many Americans sometimes do, say a prayer asking Jesus to save them. But not many embark on a life fully devoted to the love of God, the love of neighbor, the moral practice of God's will, and radical, costly discipleship.
If it comes down to a choice between our habitual, ingrained ways of talking about salvation and what Jesus himself said when asked the question, I know what I must choose.
Related Elsewhere:
David Gushee's columns are available on our site.
Gushee's webpage has a biography and information on his books and articles.
Other Christianity Today articles on salvation include:
A Call to Evangelical Unity | Introduction and 'The Gospel of Jesus Christ: An Evangelical Celebration' (June 14, 1999). A discussion followed in Books & Culture: 'Why I Didn't Endorse The Gospel of Jesus Christ: An Evangelical Celebration' (January 1, 2001) and Thomas Oden's 'Calm Answer' (March 1, 2001)
The Work of Faith | How the torch of racial reconciliation, once carried by Christian civil-rights workers, is now being held by faith-based organizations. (March 5, 2007)
Reflections: The Way of Salvation | Quotations to stir heart and mind. (November 1, 2004)
Good Question: Prayers for Salvation | God may have lessons for us in the way he answers our askings. (J.I. Packer, April 1, 2003)
What's the Good News? | Nine evangelical leaders define the gospel. (February 7, 2000)
Are We Speaking the Same Language? | What Catholics really believe about justification—and why defining our terms makes all the difference. (November 1, 1999)
Have something to add about this? See something we missed? Share your feedback here.
Do Likewise
David P. Gushee serves as Distinguished University Professor of Christian Ethics and Director of the Center for Theology and Public Life at Mercer University, where he also chairs the Mercer Lyceum initiative on rebuilding democracy. His column ran from 2005 to 2007.
Previous Do Likewise Columns:
Our digital archives are a work in progress. Let us know if corrections need to be made.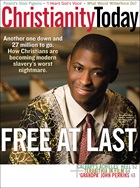 This article is from the March 2007 issue.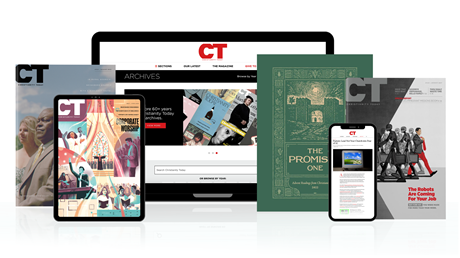 Annual & Monthly subscriptions available.
Print & Digital Issues of CT magazine
Complete access to every article on ChristianityToday.com
Unlimited access to 65+ years of CT's online archives
Member-only special issues
Subscribe
Jesus and the Sinner's Prayer
Jesus and the Sinner's Prayer