1. Accusers lose in sexual misconduct cases against prominent pastors
Several sexual misconduct cases we've been watching ended this week—all in favor of the accused pastors. In a surprising turn, Mona Brewer and her husband dropped their sexual misconduct suit against Atlanta megachurch pastor Earl Paulk. "We were having difficulty even at this point getting witnesses to speak out against the acts of Bishop Paulk and the church," their lawyer told The Atlanta Journal-Constitution. "Sometimes you just have to do this." The trial was to begin April 2.
In another prominent case, Lonnie Latham, who was pastor of South Tulsa Baptist Church and a former member of the Southern Baptist Convention's executive committee before his arrest on a misdemeanor charge of lewdness, was found not guilty. Latham had been accused of inviting an undercover male police officer to engage in oral sex. His lawyer appealed to Lawrence v. Texas, a Supreme Court decision throwing out Texas's anti-sodomy law, saying, "If it's not illegal to engage in that conduct, then it shouldn't be illegal to talk about it." The judge did not rule on the constitutionality of Oklahoma's anti-lewdness law.
And finally, Gerald Griffith is not a name that many evangelicals know, but the pastor and founder of Baltimore's Redemption Christian Fellowship Church apparently has an international following. He has also been charged with sexually abusing three different teenagers during counseling sessions. The first of his trials was declared a mistrial Tuesday when one of the witnesses referred to another of the cases. A deacon at the church was acquitted in November in a separate abuse case.
2. Time's David van Biema: What does Akinola really think about Nigeria's anti-gay bill?
Apparently as part of Time's retooling, David van Biema has been doing a bit more opinion writing lately. This week, he calls Church of Nigeria head Peter Akinola to take a stance on his country's anti-homosexuality bill. Homosexuality is already illegal in Nigeria, but this bill would put a five-year prison term on anyone who:
"goes through the ceremony of marriage with a person of the same sex,"


"performs, witnesses, aids, or abets the ceremony of same-sex marriage" (including clergy)


or "is involved in the registration of gay clubs, societies, and organizations, sustenance, procession or meetings, publicity and public show of same-sex amorous relationship directly or indirectly in public and in private."


"Akinola either needs to publicly renounce, in strong terms, his early support of the bill's punitive clauses and to amplify the rather tepid concern he later expressed about them, or else he needs to explain why he's not doing so to the dozen or so churches in Virginia whose congregants were largely ignorant of the legislation when they voted to join Akinola's archdiocese in December," van Biema writes.
Many commenters on the conservative Anglican blogs accuse van Biema of a kind of neo-colonialism. One writes, "Too bad that these folks who call for this don't really care about Nigeria or they would understand the context of this law, instead of imposing American cultural thinking onto this country. And we wonder why internationals despise Americans so much. We think the entire world revolves around us—and so it does."
3. William and Mary puts the cross back in Wren Chapel
It's under a glass case away from the altar, so it won't hurt anybody. A disclaimer plaque explaining the college's historical Anglican roots (it's now a public university) will help reassure anyone who thinks it might actually mean something to the institution in this day and age.
4. Jars of Clay too chicken to release protest songs
"People want to buy what they want to be told," Jars of Clay lead vocalist Dan Haseltine told the Argus Leader this week. "They want people to lie to them." And so, the Argus Leader reports, Haseltine obliges. "Haseltine says Jars of Clay can't release the war protest songs it has written — its fans probably aren't ready for them," the paper's Robert Morast writes. "It's also why Haseltine rarely shares his political opinions. 'If you rock the boat too much, your records won't appear in certain Christian record stores anymore,' Haseltine says … . 'There are just taboo subjects that make it hard to be a Christian artist.'" Morast ends his column by saying that he "has new respect for Jars of Clay." Why? Because Haseltine won't say or sing what he really believes because he's worried about the effect on sales? What is respectable about that?
5. Religious visa fraud hurting Christian ministers
Last year, the U.S. Department of Homeland Security found that 35 percent of religious worker "green card" visas were based on fraudulent information. A significant percentage of those were from "special risk" countries— Egypt, Algeria, Pakistan, Syria, and Iraq — where 3 of every 4 visa applications were fraudulent. This week, Cox News's Eunice Moscoso says the fallout is bad news for priests, nuns, missionaries, and other religious workers hoping to enter the U.S. Crystal Williams of the American Immigration Lawyers Association says the visas "seem to have come to a grinding halt." Among those hardest hit: the Catholic Church, which wants foreign priests to fill empty pulpits.
Exchange of the day
From today's Focus on the Family broadcast:
James Dobson: [In a private meeting a few weeks ago,] I asked you a pretty bold question. And I appreciate the fact that you didn't seem offended by it. But I asked you if the rumors were true that you were in an affair with a woman obviously who wasn't your wife at the same time that Bill Clinton and Monica Lewinsky were having their escapade.
Newt Gingrich: Well, the fact is that the honest answer is yes. But it was not related to what happened. And this is one of the things the Left tries to do and one of the places where, frankly, I think the way this report of the special counsel was written weakened the case. …
I drew a line in my mind that said, "Even though I run the risk of being deeply embarrassed, and even though at a purely personal level I am not rendering judgment on another human being, as a leader of the government trying to uphold the rule of law, I have no choice except to move forward and say that you cannot accept felonies and you cannot accept perjury in your highest officials."
Dobson: Well, you answered that question with regard to Bill Clinton instead of referring to yourself. May I ask you to address it personally? You know, I believe you to be a professing Christian and you and I have prayed together, but when I heard you talk about this dark side of your life when we were in Washington, you spoke of it with a great deal of pain and anguish, but you didn't mention repentance. Do you understand that word, repentance?
More articles
Crime | Abuse | Violence | Military | Sudan | Iran | China | Nigeria | Homosexuality | HPV | Gingrich on Focus on the Family | Rudy Giuliani | Mike Huckabee | Romney and Mormonism | John Edwards | Obama's pastor | Politics | Environment | Life ethics | Church and state (U.S.) | Church and state (non-U.S.) | Czech cathedral battle | William and Mary cross | Higher Education | Education | Stephen Prothero's Religious Literacy | Evolution | History | "Lost Tomb of Jesus" | Books | Film | Music | Art and media | Money and business | Prayer Palace | New Life Church and Ted Haggard | Church life | Anglicanism | Catholicism | Atheism | Missions and ministry | People | Other stories of interest
Fondling ex-pastor gets conditional sentence | Ogling and fondling the breasts of two young members of a city church earned a former minister an eight-month conditional sentence yesterday (Edmonton Sun)


Church relying on faith after pastor's arrest | Kevin Ogle sits in a Walton County, Ga., jail for allegedly sending pornographic messages and pictures of himself over the Internet to a police officer posing as a teenage girl (The State, Columbia, S.C.)


Violent scripture may increase aggression-study | Violent passages in religious texts can increase aggressive behavior in people, especially if they are true believers and the violence is sanctioned by God, according to a new U.S. and Dutch study (Reuters)


Shutting out terrorism's victims | American law currently bars the entry to the United States of some of terrorism's most abused victims: refugees who have been forced to provide so-called material assistance. (Editorial, The New York Times)


Faith as a peacemaker | Religion and violence are often seen as kindred souls — one always leads to the other. In fact, bloodshed is a sign of religion's failures, not its successes. Faith can be an essential ingredient in ending the violence, inviting the peace (Henry G. Brinton, USA Today)


A soldier's freedom of religion | Whether members of our military die in action or not, they, and all our veterans, deserve the right to have whatever they want put on their grave marker — as an expression of their right to religious freedom (Gary Clark, The Seattle Times)


Why they pray | The trials of war strengthen many soldiers' faith (Andrew Carroll, The Wall Street Journal)


Real threat to Christianity drags on in Iraq | The American mismanagement of Iraq has been particularly unkind to Christians (Brian Katulis and John Podesta, Des Moines Register, Ia.)


Apologizing for Iran | According to the Religious Left, anything the Mullah regime does is justified, given the CIA's role in Iran in 1953 (Mark Tooley, The American Spectator)


In Nigeria, Christians and Muslims in uneasy calm | While it's true that a rough peace seems to be holding today, and that dialogues between Muslims and Christians are growing, many locals say that dialogue may never have begun if Nigerian Christians hadn't learned to stand up for themselves (John Allen Jr, National Catholic Reporter)


Denying rights in Nigeria | Billed as an anti-gay-marriage act, a poisonous piece of legislation making its way through the Nigerian National Assembly is a far-reaching assault on basic human rights (Editorial, The New York Times)


Crunch time on gays for Anglican archbishop | The Anglican Primate of Nigeria, one of the most powerful churchmen in Africa, needs to clarify his stance on a Nigerian anti-homosexuality bill he initially supported, which assigns a five-year prison term not only for practicing gays, but also for those who support them (David Van Biema, Time)


A vital discussion, clouded | Concerns about promiscuity can misinform the debate about a new vaccine for the human papillomavirus (The New York Times)


A Merck-y business | The case against mandatory HPV vaccinations (Michael Fumento, The Weekly Standard)


Gingrich on Focus on the Family:
Baptist: Evangelicals doubt Giuliani | Richard Land says evangelicals believe the former New York City mayor showed a lack of character during his divorce from second wife, television personality Donna Hanover (Associated Press)


Disinvitation by Obama is criticized | Some black leaders are now questioning Senator Barack Obama's decision to distance his campaign from the senior pastor of the popular Trinity United Church of Christ (The New York Times)


Cathedral's interior decoration belongs to church, says archbishop | The interior furnishing of Prague's St Vitus Cathedral, which the Supreme Court recently returned to the state, belongs to the Catholic Church and the church will not give it up, Prague Archbishop Cardinal Miloslav Vlk told public Czech Television (Prague Daily Monitor, Czech Republic)


Cardinal against handing Prague Cathedral over to state | Czech Cardinal Miloslav Vlk does not want to hand over the St Vitus Cathedral back to the state even though the latest court decision cancelled the previous rulings according to which the church owned the cathedral (Prague Daily Monitor, Czech Republic)


Less than half of Czechs for church property return—poll | Compared with 2002, the number of people who want property to be returned to churches has slightly grown, according to the poll that also showed that more than a half of the polled do not consider churches useful institutions (Prague Daily Monitor, Czech Republic)


Stephen Prothero's Religious Literacy:
Eric Gorski named AP religion writer | Gorski, 37, has worked the religion beat for nine years, first at The Gazette of Colorado Springs and then at The Denver Post, where he began work in 2003 (Associated Press)


New Life Church and Ted Haggard:
Housing charities face hometown disaster | Habitat for Humanity International has built homes all over the world. But now it has some work to do in its own backyard: A twister cut a devastating path through the organization's hometown last week (Associated Press)


Faith's battlefield | S.F. event designed to get teens energized about evangelical Christianity divides believers with its combative language and emphasis on culture war (San Francisco Chronicle)


Girl placed with Protestant foster parents sues | A Roman Catholic teenager has brought a landmark legal action against a council for sending her to live with Protestant foster parents (The Times, London)


Rise of the funerals that leave out God | More than 30,000 funerals in Britain last year were nonreligious, as families turn increasingly to "celebration-of-life" ceremonies rather than church services, according to new figures (The Telegraph, London)


Numbers drop for the married with children | Institution becoming the choice of the educated, affluent (The Washington Post)


Muslims are too sensitive, says Pell | The Muslim community is overly sensitive and is the only migrant group to have plotted violence against Australia, Catholic Archbishop Cardinal George Pell has claimed. (The Australian)


Baptists in the Holy Land | As a Baptist journalist in Israel for the past 25 years, I've often been shocked at how little Israelis know about my denomination (David Smith, The Jerusalem Post)


The value of their values | It is much easier for the international community in theory than in practice to admire and empower an unfamiliar society (Rory Stewart, The New York Times)


Scriptural violence can foster aggression (Nature, sub, req'd.)


Related Elsewhere:
Suggest links and stories by sending e-mail to weblog@christianitytoday.com
See our past Weblog updates:
March 2
February 26 | 14 | 2
January 24 | 19 | 17 | 12 | 9
January 5 | 4 | 2
December 29 | 22
Weblog
Launched in 1999, Christianity Today's Weblog was not just one of the first religion-oriented weblogs, but one of the first published by a media organization. (Hence its rather bland title.) Mostly compiled by then-online editor Ted Olsen, Weblog rounded up religion news and opinion pieces from publications around the world. As Christianity Today's website grew, it launched other blogs. Olsen took on management responsibilities, and the Weblog feature as such was mothballed. But CT's efforts to round up important news and opinion from around the web continues, especially on our Gleanings feature.
Ted Olsen is Christianity Today's executive editor. He wrote the magazine's Weblog—a collection of news and opinion articles from mainstream news sources around the world—from 1999 to 2006. In 2004, the magazine launched Weblog in Print, which looks for unexpected connections and trends in articles appearing in the mainstream press. The column was later renamed "Tidings" and ran until 2007.
Previous Weblog Columns: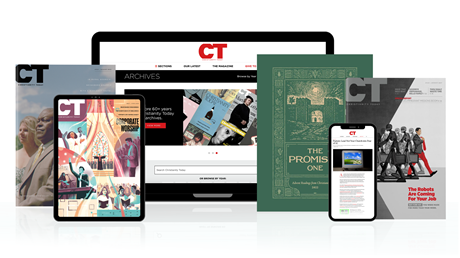 Annual & Monthly subscriptions available.
Print & Digital Issues of CT magazine
Complete access to every article on ChristianityToday.com
Unlimited access to 65+ years of CT's online archives
Member-only special issues
Subscribe
Pastors Off the Hook in Sex Cases
Pastors Off the Hook in Sex Cases