The U.S. Supreme Court heard arguments Monday in the "Bong Hits 4 Jesus" case, a free speech conflict that has caught the attention of religious litigators nationwide.
Morse v. Frederick is the high court's first student speech case in nearly 20 years, and comes at a time when school administrators and students regularly battle over religious activities in public schools.
The case concerns an Alaska high school student who displayed a banner reading "Bong Hits 4 Jesus" as the Olympic torch passed through his town in 2002. After he was suspended, the student, Joseph Frederick, now 23, said his banner was a "free speech experiment" that had no religious or political message.
At Monday's hearing, the Supreme Court justices jousted with the attorneys over how broadly the court should interpret case law.
Kenneth W. Starr, the school's attorney, argued, "To promote drugs is utterly inconsistent with the basic educational mission of the schools." The former independent prosecutor said he was not trying to "cast a pall of orthodoxy" on the schools. "We are light years away from that," he said. The fundamental issue here, he argued, is the promotion of drugs, and administrators must be allowed to suppress pro-drug messages.
Under current law, schools are allowed to squelch speech that causes a significant disruption, is vulgar or offensive, or is perceived to be sponsored by the school, such as a school newspaper.
Justice Antonin Scalia said it is possible that any speech opposing a school's anti-drug message is "disruptive."
"The school is trying to teach one point of view," said Scalia. "It can allow students to come in and undermine what it's trying to teach?"
While a 1969 court ruling said students' rights do not end "at the schoolhouse gates," Chief Justice John Roberts said that doesn't necessarily make the school an "open forum."
"Can't the school decide … to have a viewpoint on drug use? That it's opposed to it and so that it takes a particular view with respect to signs that in their view seem to encourage drug use?"
However, several justices seemed apprehensive of allowing schools to muffle all speech that questions their "educational mission."
"That's a very disturbing argument," said Justice Samuel Alito. "Schools have and they can defined their educational mission so broadly that they can suppress all sorts of political speech."
Justice David Souter said: "If someone holds up a sign that says 'Change the Marijuana Laws,' why is that disruptive? … It's political speech, it seems to me."
Even Starr said allowing schools to ban speech that promotes illegal activity could be problematic, raising "interesting potential hypothetical questions" about the civil disobedience modeled by the Rev. Martin Luther King Jr. and conscientious objectors, for example.
Justice Stephen Breyer said the case poses a legal dilemma. On one side is a principal trying to run a school full of students who test authority. "It's pretty hard to run a school where kids go around at public events publicly making a joke out of drugs," he noted. But a ruling against the student "may really limit people's rights on free speech," he said. "That's what I'm struggling with."
Christian groups 4 'bong hits'?
A number of Christian legal heavy hitters, including Alliance Defense Fund, the Christian Legal Society and the American Center for Law and Justice, supported the student with friend-of-the-court briefs, though lawyers for the groups they disdain the speech in question.
"It's disrespectful to God and disrespectful to believers," said Kevin Theriot, an attorney for Alliance Defense Fund, a conservative Christian legal network based in Arizona.
But the groups take issue with the school's argument that it has a right to squelch speech that promotes illegal behavior and runs afoul of school policy. Given that broad power, schools could engage in "viewpoint censorship" and muffle all contentious speech—from anti-abortion T-shirts to student-run Bible clubs, Christian lawyers said.
"It would give schools the authority to regulate all unpopular, controversial speech," said Jay Sekulow, chief counsel for the American Center for Law and Justice.
Still, a number of conservative Christian groups, fearful of being linked to drug promotion, have kept their distance from the case, said Kelly Shackelford, chief counsel for Plano, Texas-based Liberty Legal Institute.
Providing a hypothetical example, Shackelford said: "Imagine the headlines: `Lutherans Support Student Promoting Drugs.' Most people wouldn't get it; it looks to them like their denomination is supporting drugs."
In a sound bite culture, that's a legitimate concern, said Theriot. Though ADF usually promotes its involvement in free-speech cases, the firm has taken a low-profile approach to Morse v. Frederick.
"It's very difficult to explain our position in a news release," Theriot said.
The potential misunderstanding from supporters is worth it, says Shackelford. "I've been doing religious (legal) work for almost two decades, and in my opinion this is probably one of the most dangerous cases to religious freedom in the last decade," he said, "because you don't think it's about religion."
Related Elsewhere:
The Supreme Court has a full transcript of the oral arguments.
Supreme Court Times offers background and links to briefs filed by the Rutherford Institute, Liberty Counsel, Alliance Defense Fund, Christian Legal Society, American Center for Law and Justice, and others.
The Rutherford Institute, Liberty Legal Institute, Liberty Counsel, Christian Legal Society, and American Center for Law and Justice also have information on the case on their websites.
SCOTUSBlog has two backgrounders and two analysis pieces on of the oral arguments.
Other summaries and analyses of the oral arguments are available from Legal Times, The New York Times, The Washington Post, Slate, Los Angeles Times, Anchorage Daily News, and Juneau Empire.
The New York Times, Los Angeles Times, and Cincinnati Enquirer have editorials supporting the student's speech.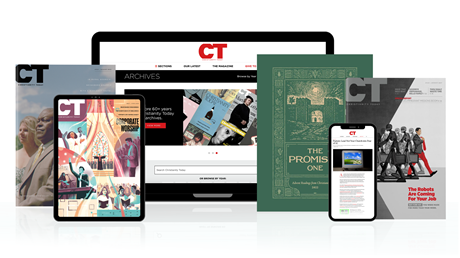 Annual & Monthly subscriptions available.
Print & Digital Issues of CT magazine
Complete access to every article on ChristianityToday.com
Unlimited access to 65+ years of CT's online archives
Member-only special issues
Subscribe
Supreme Court Hears 'Bong Hits 4 Jesus' Case
Supreme Court Hears 'Bong Hits 4 Jesus' Case