For many american evangelicals, "holiness" conjures up musty images of revival meetings, gospel trios, and old-time religion—along with stern prohibitions against drinking, dancing, and playing cards. And many are happy to leave these notions of holiness in the past. Yet even in our era of techno-savvy megachurches and postmodern emerging churches, holiness (when it is discussed at all) is often associated with moral behavior such as sexual purity, financial honesty, and commitment to private prayer.
While we've cast off old, legalistic notions of holiness, we've merely replaced them with private, moralistic notions. We act as if holiness were either outdated or something that characterizes only a small (if important) part of our lives.
This is partly due to our quest for cultural relevance, which is defended in the name of winning others to Christ. If we talk about holiness with unbelievers, won't that present just another hurdle for them to overcome on their way to Christ? For this and other reasons, we are rapidly forsaking our historic commitment to holiness. Recent polls show that many self-described evangelicals march in moral lockstep with mainstream American culture in practices of divorce, spousal abuse, extramarital sex, pornography consumption, materialism, and racism, just to name a few. While we tip our cap to the importance of holiness, many in our culture don't view us as morally different in any meaningful way—except to see us as hypocrites.
I believe one crucial ingredient to healing our moral confusion is the recovery of the biblical idea of holiness, which includes private morality but so much more—the very life of God in us. Holiness is not just for advanced Christians but stands at the beginning and center of God's call on our lives: "Be holy, because I am holy" (Lev. 11:44; 1 Pet. 1:16).
Relationship-driven
To be sure, biblical terms translated "holy" or "holiness" (qadosh, hagios) carry a strong secondary connotation of moral purity. But moral purity is not, first and foremost, what Scripture is talking about. Instead, the most basic meaning of the words is to be "set apart" or "dedicated" to God—to belong to God. "I will be your God, and you will be my people," says Yahweh (Lev. 26:12; Heb. 8:10). Thus, prior to any consideration of morality, biblical holiness describes a unique relationship that God has established and desires with his people. This relationship has moral ramifications, but it precedes moral behavior. Before we are ever called to be good, we are called to be holy. Unless we rightly understand and affirm the primacy of this relationship, we fall into the inevitable trap of reducing holiness to mere morality.
If we read the biblical understanding of holiness through the lens of our relationship to God, Jesus, as the unique revelation of God, becomes preeminent. Too often, our notions of holiness are lifted from the Old Testament without understanding them in light of God's self-revelation in Jesus. And those who have responded in faith to the revelation of God in Jesus Christ have been united with Christ. To be a Christian means far more than merely to believe in God—as if the Christian faith were reducible to a system of beliefs—it means to be united with Jesus in and through the Holy Spirit. "I have been crucified with Christ," says Paul, "and I no longer live, but Christ lives in me" (Gal. 2:20). Elsewhere, Paul tells us that our lives are "hidden with Christ in God" (Col. 3:3) and that we have been "seated with [God] in the heavenly realms in Christ Jesus" (Eph. 2:6). Passages like these convey the mysterious, yet utterly real fact that, by virtue of our union with Jesus, we participate in the life of God: He dwells in us, and we dwell in him. As such, we can say that in Christ, God's holiness is our holiness. In Christ, we are already holy. Any and all subsequent notions of what it means to be holy must be predicated on this truth.
As we seek to understand the implications of God's call to holiness for our lives, we must maintain the priority of our union with Christ. "We love because he first loved us," John tells us (1 John 4:19). The entire biblical narrative of God's covenant-making with his people reveals that it is only in loving response to what God has done that we lead holy lives. Indeed, the very possibility of holiness exists only by virtue of God's gracious, saving initiative in human life and history. Our response to God's initiative is grounded and established in the perfect holiness that is already ours in Jesus Christ. Anything short of this understanding will collapse back into the notion that holiness is our doing, rather than God's. But when this priority is maintained, it provides an unshakeable foundation upon which our faltering attempts to lead holy lives may be rooted and established.
Still, as we maintain the priority of our union with God in Christ, we must also acknowledge that we are not yet holy. For our holy relationship with God in Christ requires of us—or better yet, enables in us—a response. "I urge you," says Paul, "to live a life worthy of the calling you have received" (Eph. 4:1); and, "Therefore, I urge you, brothers, in view of God's mercy, to offer your bodies as living sacrifices, holy and pleasing to God" (Rom. 12:1); and finally, "Continue to work out your salvation in fear and trembling, for it is God who works in you to will and to act according to his good purpose" (Phil. 2:12-13).
Such passages make clear that there is no place for cheap grace in the economy of God. Rather, the purpose of God's saving work in Christ is to free us to live out the holiness we already enjoy in him. The wonder and beauty of the gospel is that God deigns to manifest his love and goodness through creatures created in his image. By virtue of God's gracious initiative and through union with Christ, we participate in God's holiness in a way that transforms our lives and manifests God's grace: "For we are God's workmanship, created in Christ Jesus to do good works" (Eph. 2:10).
Contrary, then, to any notion of mere moral conformity, true holiness is a grateful collaboration with God in seeking to live out the form of human life that he intends.
Staggering implications
With these thoughts in mind, we begin to see how much more God is asking of us than mere morality. As long as our notions of holiness are limited to doing certain things and not doing other things, we can go through our entire lives obeying the rules (or at least maintaining the appearance of doing so) without dealing with far more fundamental questions: Whose are we? To whom do we give our first love and loyalty?
At bottom, God's call to be holy is a radical, all-encompassing claim on our lives, our loves, and our very identities. To be a disciple of Jesus Christ requires nothing less than death to our fallen, egocentric selves in order that we might live in and for him. "For whoever wants to save his life will lose it," says Jesus, "but whoever loses his life for me and for the gospel will save it. What good is it for a man to gain the whole world, yet forfeit his soul?" (Mark 8:35-36).
This question of our ultimate love, loyalty, and identity is what contemporary evangelicals must ask. At its most basic, holiness is the grateful submission to God's claim on our entire lives—to accept that our lives are not our own. More than any other American value, the notion that we are the masters and proprietors of our own lives stands in direct opposition to our call to be set apart to God. To be holy means that all we are and all we have belongs to God, not ourselves, and that every aspect of our lives is to be shaped and directed toward God.
The implications of this teaching are myriad. We need only contemplate it for a moment before they come cascading forth, confronting us at virtually every level of our lives as disciples of Jesus in America. Our money, our possessions, our time, our relationships, our work, our entertainment, our diet, our sexuality—in all of these areas and more, God's call to holiness confronts the abysmal narcissism of mainstream American culture, which considers all of these to belong to the individual self to be used (or abused) at the self's autonomous discretion. So endemic is this narcissism that many American Christians see Jesus as little more than a means of augmenting their sense of self, either as a source of "health and prosperity" or of emotional "well-being." In either case, the self is allowed to continue as its own spiritual center, rather than taking its proper place in orbit around Jesus Christ, its true center.
Antidote to narcissism
But rather than rehearse the litany of sins in which American evangelicals have been implicated through collusion with our "culture of narcissism"—they have been ably chronicled by others—I want to draw attention to what Scripture presents as the antidote to narcissism and the chief training ground for holiness: the church of Jesus Christ. The call of God comes not to isolated individuals, but to a people: the people of Israel in the Old Testament and the people of Jesus, Jew and Gentile, in the New Testament. Those who are united with Christ in the Holy Spirit are also united with one another—whether we wish to be or not—as the body and bride of Christ. Yes, God calls us to be set apart from the fallen, demonic structures of the world, the flesh, and the devil. But he also calls us to be set apart to the new humanity given birth through the incarnate Word and life-giving Spirit.
Our movement has capitalized on the rise of individualism and owes a great deal of its success to our ability to crystallize the gospel in terms that individuals can grasp and appropriate. That being said, we must never forget that the church is a God-created, non-negotiable reality of which all disciples of Jesus are a part and to which we are called to commit and submit. The church is God's crucible and matrix for forming holy lives in many ways, including the following.
First, there is no such thing as love for God that does not include love for God's people (1 John 4:20). But to love God's people also means allowing God's people to love us, and that requires entering into real relationships of loving support and gracious accountability with fellow Christians. As we do so, we come to see more clearly those aspects of our lives where the need for holiness is most pressing. And as we inevitably come into conflict, we grow in our capacity to "bear with each other and forgive … one another," just as the Lord has forgiven us (Col. 3:13).
Second, to be set apart as a member of Christ's bride is to participate in the church's worship: to read the Scriptures and hear them preached, to recite our creeds and confessions of faith, to remember our baptism into Christ's death and resurrection, to confess our sin, to celebrate our union with Christ and one another in the bread and the wine, to observe the Christ-shaped seasons of our church year. As we participate in this collective "service" of God's people to God—week in, week out, year in, year out—its external forms and internal logic shape our thoughts and behavior in increasingly Godward ways. The more we participate in the life of the church's worship, the more we come to know at every level not only that we are a part of the church, but that we are the church—and the church is us. In Christ, we are "being built together to become a dwelling in which God lives by his Spirit" (Eph. 2:22).
Finally, we are set apart as the church for the sake of others. Peter tells us that we are "a chosen people, a royal priesthood, a holy nation, a people belonging to God, that you may declare the praises of him who called you out of darkness into his wonderful light" (1 Pet. 2:9). To be holy, to be set apart to God, is never an end in itself but is always for the sake of the world. From the beginning, God has intended that his covenant people be the means by which all the nations of the world are blessed. Far from leading to self-righteous, world-abnegating sectarianism, true biblical holiness leads us to participate in the ministry of reconciliation that God has given to his people (2 Cor. 5:18-19). Through this ministry, people of every nation, tribe, and tongue will come to know the love of God that is in Christ Jesus.
"Be holy, because I am holy," says our Lord. Holiness is not primarily about moral purity. It's primarily about union with God in Christ and sharing in Christ's holiness. It's secondarily about life in grateful service to God and others. Only a biblical, Christ-centered holiness will safeguard evangelicals from the trap of moralism and help us recover our spiritual footing in today's world.
Joel Scandrett (Ph.D., Drew University) is associate editor of reference and academic books at InterVarsity Press.
Related Elsewhere:
CT editorial "Reviewing the Fundamentals" discussed holiness in light of the Ted Haggard scandal.
Other articles on theology are available on our website
Have something to add about this? See something we missed? Share your feedback here.
Our digital archives are a work in progress. Let us know if corrections need to be made.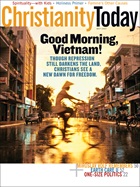 This article is from the May 2007 issue.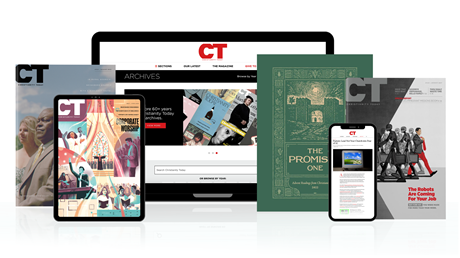 Annual & Monthly subscriptions available.
Print & Digital Issues of CT magazine
Complete access to every article on ChristianityToday.com
Unlimited access to 65+ years of CT's online archives
Member-only special issues
Subscribe
Holy to the Core
Holy to the Core