John E Colwell is director of post-graduate studies and tutor in Christian doctrine and ethics at Spurgeon's College, a Baptist institution in London. He explores what a theology of the worshipping church might look like in his new book, The Rhythm of Doctrine: A Liturgical Sketch of Christian Faith and Faithfulness. The chapter on "The One Who Invites Us Into Communion" is especially appropriate for All Saints' Day—November 1.
Probably the only awareness of All Saints' Day popularly amongst evangelicals is in response to the commercialization and distortion that is Halloween, but an acknowledgement of the Christian festival itself, or indeed of the festivals of any of the "saints," is rare amongst evangelical Protestants.
At a popular level this neglect is probably rooted simply in reaction to what are perceived (by evangelicals) to be the excesses of the cult of some saints amongst Roman Catholics—evangelicals generally are repulsed by morbid relics and instinctively repudiate the notion of praying to anyone other than God.
More fundamentally, however, this neglect probably derives from Reformation disputes concerning the doctrine of purgatory, the authority of the Church (to declare someone a "saint"), the nature of merit, and an expectation for realized practical holiness. As the Reformation proceeded, so a (proper) emphasis on original sin tended to degenerate amongst some Protestants into a thoroughly negative expectation regarding the possibility of spiritual growth or practical holiness.
It is not, however, that evangelical Protestantism lacks its heroes of faith: from Foxe's Book of Martyrs—devoured with almost equal zeal to Scripture in early Protestant England—through to popular accounts of the lives of Martin Luther and John Calvin, of John Wesley and George Whitefield, of William Wilberforce, of J. Hudson Taylor and C. T. Studd, of C. H. Spurgeon, evangelicalism thrives on popular biography (some of it of a quite uncritical nature).
Whatever may or may not be an expectation for growth in grace, the motivation for this reverential interest is the desire for worthy example. We need our spiritual heroes; we need our spiritual examples; we need those who encourage us in the hope that a consistent discipleship is possible; we need those whose own spiritual consistency is commended to us by the testimony of history.
So when the writer comes, at the beginning of the next chapter, to speak of these "faithful ones" as a "great cloud of witnesses" surrounding us (Hebrews 12:1), he could simply be emphasizing that we have this host of examples to emulate.
But the author might be intending an additional idea: It is at least possible to interpret the term "witnesses" here, not as signifying witnesses of faithfulness to God, but as witnesses of our present faithfulness. The picture then becomes one of an arena in which we are running "the race marked out for us," with this multitude of faithful ones who have run before us, now urging us on. Such a depiction prompts the notion of a continuing conscious presence of those who have gone before: they are observers of us as much as examples to us; in some sense, albeit remotely, they remain involved with us, and may even remain dependent upon us since "only together with us would they be made perfect" (Hebrews 11:40).
A similar possibility is evoked by the imagery of the Book of Revelation in which, at several points, the boundary between the earth and the heavens is rendered blurred: "the souls of those who had been slain because of the Word of God and the testimony they had maintained" cry to the Lord "how long" in response to the destruction being brought upon the earth (Revelation 6:9-11); the "prayers of all the saints" rise up with incense before God (Revelation 8:3-5); those redeemed from the earth as its first-fruits join in the praises of heaven with a new song (Revelation 14:1-5). Albeit figuratively, the "saints" on earth are bound together with the saints in the heavens as one people, a single congregation, a continuous communion. And though all this is admittedly highly figurative, it surely is significant of something, of a division apparent to us that is less apparent to God.
One does not have to transgress the boundaries of Puritanism to find intimations of a conscious mediated communion:
He wants not friends that hath Thy love,
And may converse and walk with Thee,
And with Thy saints here and above,
With whom for ever we must be.
In the communion of Thy saints
Is wisdom, safety, and delight;
And when my heart declines and faints,
'Tis raised by their heat and light.
Before Thy throne we daily meet
As joint petitioners to Thee;
In spirit we each other greet,
And shall again each other see.
The heavenly hosts, world without end,
Shall be my company above;
And Thou, my best and surest friend,
Who shall divide me from Thy love?

(Richard Baxter, quoted from The Baptist Hymn Book)
If the Spirit mediates genuine communion between the saints it is quite unthinkable that either one should be careless of the other.
Only by virtue of such mediated unity, surely, can the church truly be deemed the church at all. The church is the communion of the saints, the community of those, then and now, who participate in the Son by the Spirit. Here and now we are invited to participate, through the mediating presence of the Spirit and alongside those who have gone before us, in the triune communion and conversation of heaven.
Excerpted from The Rhythm of Doctrine. Copyright © 2007 by Authenticmedia.co.uk, all rights reserved.
Content, graphics, and HTML code may not be copied, reprinted, published, translated, hosted, or otherwise distributed by any means without explicit permission.
Related Elsewhere:
CT editor in chief David Neff blogged about John Colwell's The Rhythm of Doctrine at the Ancient Evangelical Future blog, here and here.
The Rhythm of Doctrine is listed at Amazon.com. It is currently available from Paternoster Press (U.K.).
Other articles on theology and All Saints' Day are available on our site.
Richard Baxter is one of Christian History & Biography's 131 Christians Everyone Should Know. Their winter 2006 issue was about Richard Baxter and the English Puritans.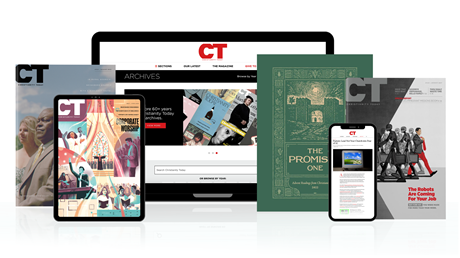 Annual & Monthly subscriptions available.
Print & Digital Issues of CT magazine
Complete access to every article on ChristianityToday.com
Unlimited access to 65+ years of CT's online archives
Member-only special issues
Subscribe
The Communion of the Saints
The Communion of the Saints