Maureen Girkins isn't just the newest face in Christian book publishing—her appointment as president and CEO of Zondervan also exemplifies the new face of Christian publishing. As the industry looks to emerging media and nontraditional markets, Girkins comes not from inside Christian publishing but from the communications technology world. Meanwhile, the former Dell, Motorola, and Bell Laboratories executive has been demonstrating a commitment to Christian intellectual life at Trinity Evangelical Divinity School, where she is enrolled in the M.Div. program. Classmate Collin Hansen, a Christianity Today editor at large, asked Girkins about what lies ahead for Christian publishing.
How did you end up with me in Greek exegesis class at Trinity?
Throughout my career, I have felt a tug to serve the kingdom more directly. But each time I stepped out, it became clear that I was designed to be working in the corporate world.
When Hurricane Katrina hit, I volunteered to lead a group from 16 churches in Chicago's western suburbs to go to New Orleans. That got me a lot more involved with the entire Christian community, and it also made clear to me how active God really is. I always believed he was active, but I would see multiple miracles a day in Mississippi. It was the first time in my life when I knew God was so clearly directing me and the people I was with. We'd start out building a church and the resources would show up. If we headed down a path and nothing showed up, then we said, "Okay, this wasn't meant to be."
When that effort started to slow down, I realized how much more there was to learn about the Bible and churches, so I entered the M.Div. program. I really like to learn intensively with brilliant people. I have three degrees from Northwestern University. I knew if I just kept going to Bible studies, it would take me years. So I am going to continue my M.Div. until I complete it. Even then, I wonder if I'll just keep going to school because it is such a helpful process.
You had a devoted faith as a Roman Catholic. What did your transition to evangelical Protestantism look like?
It happened gradually. I was such a strong and convinced Catholic that I raised a family who now thinks I'm crazy. I was brought to that change primarily through my husband. I started to read the Bible really for the first time, because when a difference would come up between Catholicism and Protestantism, he'd say, "Where is that in the Bible?" I started realizing I couldn't substantiate a lot of my faith. But I really wanted to hold on to things like praying to the Blessed Mother.
What stands out from your management experience in high-tech companies?
I spent 19 years with AT&T, mostly with Bell Laboratories, probably the most professional organization that existed on earth at the time. They put a lot of money into and emphasis on leadership training, particularly with appreciation for diversity. Managers were required 100 hours of interpersonal training per year.
In all those roles, as a woman in an all-men's engineering world, I think God was preparing me for how to become a leader in an industry that was not used to women leaders. I spent a lot of time in Japan, China, and India, where I was clearly the first female executive they had negotiated a deal with. I think that's good preparation for the role I'm in now.
Your background is in technology. What new insights do you bring from that field to Christian publishing?
When I joined that industry, our phones were analog. Right now the majority of our phones, whether wireless or wired, are digital. Publishing will change in different ways, but there are many similarities to how the change occurs, from the speed of the change, to the type of the change, to the amazing opportunities digital creates for people. You have to manage your way through all those possibilities strategically and figure out which ones are really going to happen and which ones are merely great ideas.
Can you tease out an example of how publishing will change?
Wireless phones, which didn't exist 20 years ago, have changed not only the way people communicate but also the way they live. People are going to read, and they're going to read paper for the rest of our lifetimes. But I'm convinced that different distribution for content will change the way we live. We have entered the digital world. It's not like we're just stepping our toe into it. The Bible Experience audio Bible was the best-selling Bible of 2007.
I think we can make some predictions today for how further distribution changes will alter the way we live our Christian life. The spiritual journey many of us have will be changed by the Internet and digital technology. But I'd like a little more time in this discovery process before I can vocalize how.
What are the most pressing issues facing Christian publishing?
I think one of the key issues is finding the people God has gifted to communicate to our 20- and 30-year-olds and upcoming youth. It's important to find the new voices that are going to reach the younger generation. People like Rob Bell are hitting the mark. They are very different from traditional Christian authors.
Sometimes new voices can create generational tension.
Rob Bell is reaching all sorts of age groups, but your statement is valid. In church history, there has always been a tug of war between conservative and liberal. That tug of war is healthy to a certain extent; I think it will continue. It may not be young vs. old or liberal vs. conservative. There are many ways to interpret the Bible. But how we interpret and communicate those interpretations will always generate controversy.
Does anything in your seminary training exemplify that tension?
I did an internship with the Center for Bioethics & Human Dignity and created a series for small groups and churches on the theology of human dignity. I am very concerned about technology and its impact on human dignity. Most of us aren't aware of the changes going on. It's more than embryonic stem cells. There are so many issues, like genetic pre-selection, where technology is enabling us to mess with human life, and it's very scary.
What is your growth strategy for Zondervan?
I wish I had the answer to that question. I would expect that any significant growth is going to come from nontraditional approaches like [youth-ministry resource] Youth Specialties, which we recently acquired. We're going to grow the book business as well. But for the sake of spreading the gospel, my goal is to grow faster than we've been growing. Books are going to be our primary way of doing that for a long time. Regarding new media, News Corp just purchased [multifaith website] Beliefnet. We hope to learn a lot from them and to collaborate with them.
Speaking of News Corp, how does ownership by Rupert Murdoch affect a Christian publisher?
I think it's a wonderful situation for Zondervan. I don't think we've taken as much advantage of the opportunity as we should, but I see signs that we're making progress in that arena. News Corp is a wonderful media giant. If we can't figure out how to get the Christian message more into the media as part of a company that does that well, shame on us.
Related Elsewhere:
The 2008 books issue of Christianity Today also included the annual book awards, "How to Save the Christian Bookstore," "Locking the Doors for the Last Time," and "Bringing the Bookstore to Church"
Have something to add about this? See something we missed? Share your feedback here.
Our digital archives are a work in progress. Let us know if corrections need to be made.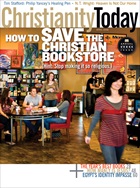 This article is from the April 2008 issue.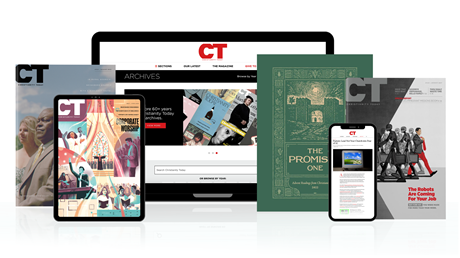 Annual & Monthly subscriptions available.
Print & Digital Issues of CT magazine
Complete access to every article on ChristianityToday.com
Unlimited access to 65+ years of CT's online archives
Member-only special issues
Subscribe
The CEO Who Takes Greek Exegesis
The CEO Who Takes Greek Exegesis