true
"A slave to my cravings is what I used to be/Played with fire, didn't mean a thing to me/Then I discovered my soul is not my own/Glory be the day when I come home/Cause I am not alone/But I will rise above, cause I'm not of this world" —from "I'm Not Of This World"
When Rissi Palmer was 12, she wrote a Grammy acceptance speech, sealed it in an envelope, and put it in her Bible, vowing not to open it until she was on stage accepting an award.
Given her strong debut album (released October 2007) and high-profile press, a child's hopeful dream could become a reality for the clear-voiced country music artist with a from-the-soul singing style. The 26-year-old Palmer has been featured in such publications as the Wall Street Journal, Newsweek, Ebony, and Rolling Stone, and also appeared on CNN's Young People Who Rock.
Country music is not a genre typically associated with black people. After Palmer's first appearance at the Grand Ole Opry last summer, however, it was obvious she was the real deal. Her self-titled album's first single, "Country Girl," charted at #58 on Billboard's Hot Country Music Songs. Starbucks offered the single to customers as part of a free music download program.
Palmer's album, on which she co-wrote nine of the 12 songs, is a twangy blend of contemporary and traditional country, with a bit of gospel, blues, and soul added to the mix. She's an artist who happens to be a Christian, not an artist who makes Christian music. But unlike some believers in secular music, Palmer isn't struggling with her faith or hiding her light under a bushel. The video for "Country Girl" features Palmer singing with a gospel choir in a field. Not shy about professing Christ, she thanks her "Lord and savior" in the CD's liner notes.
"I wouldn't be here in the position I'm in right now if it weren't for God," Palmer said in a telephone interview. "So I have no issue with telling people that's what I believe or with thanking him."
Palmer's beliefs are quite explicit on the CD's bonus track, "I'm Not Of This World" (also referenced above), in which she sings: "When it's my time for leavin', how sweet it's gonna be/You can come along if you believe, oh, if you believe." On an album with romantic soulmate-searching ballads like "Anybody Out There" and catchy, upbeat country fare like "Mr. Ooh La La," why did Palmer decide to add a song with such an overt reference to her faith? "I felt like once we got done with the album, I wanted to write about something different," she said. "I wanted to talk about God, because it's something I hadn't done."
One day while driving to a co-songwriter's house, Palmer said she kept thinking about 2 Chronicles 7:14:
[I]f my people, who are called by my name, will humble themselves and pray and seek my face and turn from their wicked ways, then will I hear from heaven and will forgive their sin and will heal their land.
"It just kept popping into my head … wicked ways, wicked ways … and I started thinking about how we're supposed to be in the world but not of the world. So that's what the song ended up being."
When asked how her faith influenced the album overall, Palmer said, "Everything that I do is inspired by God and wanting to glorify God in some way with [my] gifts and talents. I wanted to make an album that could be played in front of anybody … everybody could find something they liked and could relate to that wasn't offensive."
In an industry known for remaking people to fit a certain image, Palmer is well-practiced in resisting such changes and staying true to what she believes. At 19, she turned down a deal offered by R&B producers Terry Lewis and Jimmy Jam—the team that guided Janet Jackson's career—because they wanted to tone down her twang and play up the pop/soul.
"At the time, it didn't feel like it was that big a deal," Palmer laughed. "I wasn't thinking, Wow, I'm really brave for doing this. I was thinking this could be the dumbest thing I've ever done before in my life, but I just don't feel right about it."
Walking by faith, staying obedient to God, and resisting temptation in the secular music industry can't be easy, but Palmer stays focused. "Every night I pray for discernment, more than anything else, more than having a hit record or anything. I just pray that God will give me the power of discernment. I think that's where people go right and go wrong is in their decisions in this industry."
Whether or not Palmer gets the chance to read that Grammy acceptance speech on stage, she credits her own praying and her family's prayers for what she's achieved. She knows who's guiding her career, and she gives him the glory. "That's the only reason why I'm here, definitely not because of anything I've done."
Unless specified clearly, we are not implying whether this artist is or is not a Christian. The views expressed are simply the author's. For a more complete description of our Glimpses of God articles, click here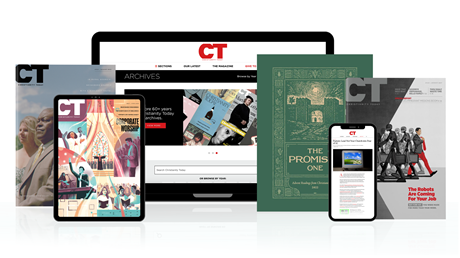 Annual & Monthly subscriptions available.
Print & Digital Issues of CT magazine
Complete access to every article on ChristianityToday.com
Unlimited access to 65+ years of CT's online archives
Member-only special issues
Subscribe
Rissi Palmer
Rissi Palmer