Days before race weekend, the turf around Atlanta Motor Speedway has sprouted FEMA-like villages of RVs with fans who have paid big bucks for a choice location. By Sunday's NASCAR Sprint Cup Series event, the track's population will surpass Topeka's.
Flapping high above tents and trailers, flags sport racecar numbers and signature booze brands (Jim Beam, Jack Daniel's, and Budweiser). Liquor and raw language flow as fans hoot for their heroes and jeer those whom they've labeled the bad guys. The crowd response to Juan Pablo Montoya, a top driver from Colombia, leaves little doubt that folks here can't stand the guy who is perceived as "driving dirty" and not being a team player.
At times, racing fans are out for blood. After legendary racer Dale "the Intimidator" Earnhardt crashed and died in the 2001 Daytona 500, the driver whom fans blamed for the accident received death threats. But when 43 cars spin around an oval at nearly 200 miles per hour, common sense tells you that sooner or later, something bad will happen (see "Cheating Death," page 28).
Champions don't win races by riding their brakes. Sooner or later, somebody else will die. "If you give 43 guys, mostly between the ages of 20 and 35, cars this powerful," a racing official said in the best-selling book The Physics of NASCAR, "there's only so safe you can make it."
Since 1971, at least 26 NASCAR drivers have been killed at racetracks. When a driver crashes, people in the grandstands cheer. "They don't know if he's dead or alive," comments superstar Tony Stewart in his 2003 documentary film, Smoke. "I don't think they care."
Tony's mom says, "I pray a lot."
Walking the Line
Fueled by testosterone, horsepower, and Fortune 500 mega-funding, the National Association for Stock Car Auto Racing is America's biggest spectator sport, measured by per-event attendance. Last year the average Sprint Cup gate exceeded 120,000. Today, 75 million Americans are fans of this Southern quirk gone global.
Two decades ago, evangelicals took a tentative step forward in NASCAR-focused outreach. The year was 1988, and racing fan Max Helton was on staff at a church in Glendora, California, where he met Darrell Waltrip. Helton told the NASCAR legend, who has earned nearly $16 million in his career, of his own dream of full-time ministry on the racing circuit.
That conversation spurred Helton to create Motor Racing Outreach, a nationwide ministry that brings Christian witness and discipleship to drivers, their families, and fans. Waltrip serves as MRO's board chair.
Waltrip is among a handful of NASCAR's elite who are open about their faith, including team owner Joe Gibbs and drivers Kyle Petty, Michael Waltrip, and Mark Martin. At tracks in Atlanta and Fort Worth, I found the faithful at the track, the pit, the infield, and everywhere in between—in the quiet presence of born-again drivers and crew, in well-attended chapel services, and in Bible studies that introduce the curious to Christianity and instruct believers in Christian living.
At the campgrounds, local churches and raceway ministries offer worship services. Raceway "ambassadors" hang out with fans, ready to talk about Christian hope. MRO stages concerts where top drivers share their faith journeys. Focus on the Family, K-LOVE, and Radio Bible Class have partnered with MRO to produce gospel tracts, special New Testaments, and driver testimony cards. Some local racetracks feature church nights and "faster pastor" clergy racing.
Like every other major professional sport, NASCAR has at times been the context for allegations of drug and alcohol addiction, public bullying, and discrimination. (In June, a former NASCAR inspector sued the association for $225 million. She charged on-the-job racial and sexual prejudice.)
The emphasis on wins, winnings, and corporate sponsorship, some say, has sucked the sport out of motorsports. "This sport will steal your soul and break your heart," says Tim Griffin, MRO chaplain at Sprint Cup races. The good news: "I'm seeing greater interest in spiritual things," he says. "I've never been more encouraged." For Griffin and others, NASCAR itself has become an effective vehicle for spreading the gospel. During hours of one-on-one conversation with CT, NASCAR's Christian insiders said they walk a fine line, being a wholesome presence and also motivating change within NASCAR when possible. (Waltrip was among many who, for example, publicly advocated for head and neck restraints for drivers after Earnhardt's death. NASCAR now requires them, and no one has died in a NASCAR crash since.)
On a cold, cloudless Sunday before race time in Atlanta, Sprint Cup drivers and crews mill about the line of 43 cars along pit road. Chaplain Lonnie Clouse mingles with them. Clouse, 38, was MRO's youth leader before adding the Nationwide Series chaplaincy to his duties. He bumps fists and pats backs, visiting each car to offer a prayer and encouraging words.
Clouse pauses by 1999 champion Dale Jarrett, leaning against his #44 UPS car. It's Jarrett's penultimate race before retiring to the broadcast booth. Jarrett's children grew up in Clouse's group. At this race, before a fan-filled grandstand, Clouse and Jarrett linger in a handshake as they bow their heads. Then Clouse walks to the next car and prays with the driver.
MRO has become a well-established presence. It deploys to most of the 36 races during the February-November season. Such was Helton's mark on the sport that when he died of cancer on March 30, 2008, NASCAR had every car in the Fort Worth races the following weekend wear a memorial sticker. The track's Jumbotron broadcasted a tribute to him before the Sunday race.
It was one more sign that any antagonism between the pulpit and the speedway had been consigned to the history books. Part of the reason for that has been the deliberate mainstreaming by NASCAR officials to make the sport appealing beyond its traditional Southern fan base. Its marketers have also been toning down NASCAR's long-standing booze-guzzling bad-boy image, and what better way to do that than to give Christianity greater visibility? But it's also due to Christians' increasing tendency to see the NASCAR world as an evangelistic mission field. In 2004, the chairman of Interstate Batteries temporarily replaced his corporate logo with a logo from The Passion of the Christ on Bobby Labonte's #18 Chevrolet.
Faith to Change
NASCAR The faith of NASCAR drivers comes in all horsepowers. Yet few competitors can match the level of public Christian commitment geared toward a love for motorsports shown by redheaded sparkplug Morgan Shepherd. He has started more than 500 Sprint Cup events, and has at times even changed his own tires and filled his own gas tank to stay in the race. He unashamedly called his truck team "Victory in Jesus Racing."
The cops never caught up with Shepherd, son of a successful moonshiner, while he was growing up in 1940s-era North Carolina. By 1970, Shepherd had swapped the family still for racing. But the alcohol that launched his NASCAR career was killing his liver and his marriage. He came home from the 1975 Daytona 500 to find that his fed-up wife had stomped out. After a drunken, live-it-up bender with a girlfriend, Shepherd took an honest look at himself. He prayed for God to turn his life around. Over time, he determined that NASCAR would become both his mission field and a platform for ministry to the church.
In 1980, Shepherd won what today is the Nationwide championship (the sport's second-tier series). In NASCAR's top Sprint Cup Series (formerly Winston Cup), Shepherd won four races. Up until the mid-1990s, he perennially landed in the top-10 end-of-year standings. At age 51, he became the second-oldest winner of a Sprint Cup race.
Then, in 1998, hard times set in. A sponsorship deal went south, which, alongside other financial difficulties, wiped out Shepherd's fortune. He wondered: Without that weekly appointment on tracks across the country, who would listen to his testimony? Shepherd persevered, and today on the lower profile Nationwide circuit, he drives NASCAR's ultimate branded vehicle: the candy-apple green Racing with Jesus #89 Dodge.
Back in 2002, NASCAR was not as friendly to such religious endorsements. That year, Shepherd showed up at a truck race with a brightly colored Jesus logo on his hood. NASCAR officials got complaints and ordered him to remove it—which put many fans, religious or otherwise, in an uproar. A few races later, officials told Shepherd he could put it back.
Some criticize NASCAR management for allowing chaplains to pray over loudspeakers in the name of Jesus at official races, which critics contend will make Jews and Muslims feel unwelcome. And many Christians themselves are ill at ease with NASCAR's family-and-faith marketing campaigns when the goal seems to be big profits, and when many NASCAR advertisers come from the alcoholic beverage industry.
"[NASCAR] is just like America: open for business. You can't put them down for that," Shepherd tells me in the lounge of his car hauler. Even so, Shepherd observes, "There are things in it I don't like—the alcohol and such."
Shepherd decided long ago to refuse sponsorships from producers of harmful products. Shepherd, at 66 by far the oldest driver, found that getting angry or refusing sponsorships was not accomplishing enough.
Since 2001, Shepherd has created the racing teams Victory in Jesus Racing and Victory Motorsports, and today co-owns Faith Motorsports. Shepherd has had a handful of investors support these teams. He believes Christians in business have real power to change NASCAR by sponsoring cars. "We don't have enough people to stand up and put our cars on [NASCAR] locations," says Shepherd.
Funding a champion team takes millions. In the last decade, Shepherd's funding has come primarily through small sponsorships, fan donations, and prize money. For years, the necessary $10,000 for tires to finish a race fell well outside his budget. Shepherd did well just showing up on race day.
But in April in Talladega at a Nationwide event, the first race he completed since 2004, he led one lap and finished 13th. After the race, Shepherd congratulated Talladega winner Tony Stewart, who later featured Shepherd on a radio broadcast. "You had an awesome run this weekend," Stewart said to Shepherd, who replied, "I know—you looked in the mirror and saw [my] big ole yellow Jesus logo and said, 'Jesus is after me!'"
On NASCAR.com, Stewart said fans should appreciate Shepherd. "They don't understand that years ago he used to be one of the top guys in the Cup Series."
Earlier this year, driver Kevin Harvick, who won the 2007 Daytona 500, built Shepherd a car and gave it to him. The Hot Lap fan website started a "chip in" fund for Shepherd's tires. Stewart is also supplying tires.
The enthusiasm Shepherd generates is having an influence up and down the NASCAR food chain. They have made Shepherd a true competitor again—and Shepherd is grateful. "I get to have fun serving the Lord with what I love to do," he says. "I really love racing. But I love the Lord, and that's the reason his name is on the car."
Six Flags for the Gospel
Several weeks after the Atlanta race, I drove over to Fort Worth's Texas Motor Speedway for a Nationwide Series competition. The racecar garage there reminded me of acrid smells inside Managua's main bus station, but the 750-horsepower engines ripping at the same time testifies that this is not public transportation.
Every driver with a car parked here is a hero from another track. Drivers kill time until their turn for practice. But Brett Rowe, who won the 2005 Auto Racing Club of America truck title, is busy scraping off the Coors Pole decal that NASCAR wants on every car. To him that logo represents the alcoholism that's endangering the sport he loves deeply. Rowe says that Christ freed his family from alcoholism, which he considers a "generational curse." He flings the gummy wad in the trash.
Rowe, 41, has raced just about anything motorized, starting as a gradeschooler. The truth about his own drinking hit him in his early 20s, at which point he gave it up. Then he added a John 3:16 decal amid sponsors' ads on his dirt track stock cars, race trucks, and Legends cars. Today he's also a youth director at a church in West Virginia. He races in the Nationwide Series in a car owned by a team that builds its own engines. Top engine shops charge $75,000, well outside the team's price range. Circling the track at 179 mph is slow when the guy with the boffo engine does 185. Rowe's #05 car and its 10-year-old chassis lack the technology that fully funded teams can access. Rowe is convinced that once his car finds sponsors who can fund better equipment, he'll once again factor in finishes as he did when he dominated truck races.
But come what may, people usually pay attention to NASCAR drivers. That gives Rowe a platform for working with youth. He uses a homegrown yet apparently effective teaching tool: motorsport racing flags.
The gospel begins with green: "When you accept Christ in your life, you've started a new race," he says. But yellow means caution. "You're getting way out in front of the Lord and you're liable to have a wreck." Red means stop. "Every now and then the Lord says, 'Stand still.' We need to stop and pray about it, study 'til we get the answer." A black flag signals danger. "You need to get something fixed before they'll let you pull out again." White: "The race is almost done. Just hang in there." And finally, the checkered flag is 2 Timothy 4:7: "I have fought the good fight, I have finished the race, I have kept the faith."
"By doing this I can be a witness to teenagers, not only in my youth group, but also to others across the country," Rowe says.
The Ultimate Crash: Racing and Religion?
Raised in rural Hickory, North Carolina, Chad Hall drove by Morgan Shepherd's race shop almost daily, and he knew enough NASCAR drivers to know where they went out for breakfast. In his community, it was not unheard of for devoted NASCAR Christians to skip church for months in order to migrate from race to race. These fans formed a community they called "Redneckville," living in RVs traveling from race to race.
Hall, a former pastor and now an executive and ministry coach in Raleigh, says that over the decades Southerners have become dismayed that NASCAR has become such a big business, outgrowing its Southern, small-town, common-man character.
"People everywhere love the sport. NASCAR was pretty smart in taking just enough of the redneck element out of the sport to make it have a mass appeal, but not try to sanitize it to the point where it lost its appeal," Hall told CT. "The marketing genius of NASCAR is why I am a bit suspicious of the Christian part."
Hall affirms a legitimate role for Christians within NASCAR, citing Motor Racing Outreach as a credible example of providing Christian community. But Hall's greatest concern is when conflict might occur between, for example, NASCAR consumerism and Christian living.
He said it's nearly impossible for chaplains and other Christians not to "fall off" when walking that fine line between the church and the speedway. "When they fall off, in my opinion, is [when] they make their faith individualized, very personal, not systemic.
"The sport itself doesn't favor institutional Christianity. The whole sport exists to advertise unlike any other sport I know of. Maybe I am just cynical. They like having the Christians around because it's one more demographic, one more audience."
For Hall, the underlying issue is how Christians in NASCAR can be an effective witness for Christ and practice a bigger gospel beyond NASCAR identity. He believes the personal witnessing and tools such as the racing flags message are fine. But, he asks, "Are you also challenging the aspects that should be challenged?"
When Everyone Wins
Most race weekends, Motor Racing Outreach parks its caravan in the infield lot. It acts as a community center and provides a semblance of normalcy to drivers and crew chiefs and their families. There are 1,400 or more people who are part of the race community on any given weekend. The Sunday morning worship service may attract dozens at smaller races to hundreds at major competitions.
Melanie Self holds Bible studies for racing wives and girlfriends. Typical attendance is under 40. She also cares for their kids in the MRO Children's Bible Club. "Do you want to start with 'John 3:16' or 'Gimme a J'?" she asks them. The RV floor shakes as Self, a former first-grade teacher, and half a dozen kindergarteners jump and sing and do the Christian Hokey Pokey ("You give your heart to Jesus and you turn your life around"). Self has given each family this song on cd. It often gets played on the private planes that fly these families home. Each week the drill repeats at a different track.
Time for today's lesson. "Who remembers the Creation story?" Self asks. "The snake was the Devil!" one boy says.
Self praises the correct answer. "If we have accepted Jesus as our Lord and Savior, [the Devil] has no power over us," she tells him. She recounts how that snake tripped Adam and Eve. "The Fall means people have to work. That's why your daddy has to get into a racecar every Sunday."
Self holds a stuffed lamb while telling of Christ's payment on the cross for sin. "I have great news," she says. "You don't have to kill a lamb." She gets out racing flags, but her version is geared for unbelievers: the black flag represents a heart dark with sin that red will wash away. She takes the checkered flag as their fathers' cars thunder around the track a few hundred feet away.
"In the race today, there's only going to be one winner. In the race we're in, when we're on the 'J' team, every person wins." At the end she gives the invitation. Deann Alford, a CT senior writer, lives in Austin, Texas.
Related Elsewhere:
This month's Inside CT looks at trackside chaplaincy.
Have something to add about this? See something we missed? Share your feedback here.
Our digital archives are a work in progress. Let us know if corrections need to be made.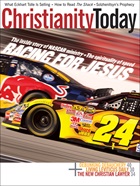 This article is from the August 2008 issue.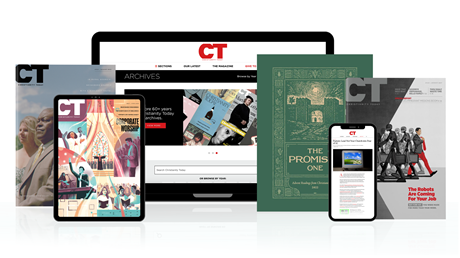 Subscribe to Christianity Today and get access to this article plus 65+ years of archives.
Home delivery of CT magazine
Complete access to articles on ChristianityToday.com
Over 120 years of magazine archives plus full access to all of CT's online archives
Subscribe Now
Racing for Jesus
Racing for Jesus