Reviews

|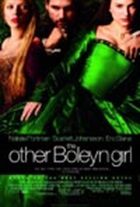 At what price power? At what cost family loyalty? And how strong the bonds of sisterly love? These are the questions at the heart of the 16th century soap opera The Other Boleyn Girl, heavily based on the bestselling novel by Philippa Gregory and loosely based on the historical antics of Henry VIII and the Boleyn sisters.
"To get ahead in this world, you need more than fair looks and a kind heart," Sir Thomas Boleyn (Mark Rylance) tells his wife, Lady Elizabeth Boleyn (Kristin Scott Thomas), in an opening-scene walk through an idyllic English countryside. Sir Thomas—who "possesses" both these qualities in his fair-looking daughter Anne (Natalie Portman) and his kind-hearted daughter Mary (Scarlett Johansson)—is concerned with such matters as he's a man of humble means. He is not, however, a man of humble ambition.
Which makes him ripe for the schemes of his brother-in-law, the Duke of Norfolk (David Morrissey). The Duke, a confidante of King Henry VIII (Eric Bana), has shrewdly noticed that the King will likely soon be looking for a mistress. His wife, Katherine, has been unable to produce him a male heir, a fact that's brought him great distress and put strain on the royal marriage. The power-hungry Duke realizes that whoever provides for the King's "needs" will be in a unique position of favor. So the Duke eyes his nieces Anne and Mary as so much currency and leverage.
Instead of being repulsed by the idea of pimping out his daughters, Sir Thomas sees this as the chance he's been waiting for. He's just married off the quieter, younger Mary to a respectable local man, choosing to save her better-looking older sister for a more ambitious and lucrative match. And even though the role is that of mistress instead ...
1