true
In Spain, an American news team covers a public rally where President Ashton (William Hurt) is expected to announce his new counterterrorism plan to the world. As his motorcade pulls in to the plaza, protesters voice their disapproval outside, suggesting that Ashton is about as popular overseas as President George W. Bush. After a short introduction by the city's mayor, the TV cameras zoom in expectantly as he takes the podium.
Suddenly, before he can speak, shots ring out. The President is down, and the crowd is thrown into a panic. News producer Rex Brooks (Sigourney Weaver) quickly barks orders to her camera crew and reporters to sort out the action. Two small explosions echo in the distance, adding to the confusion. Minutes later, a bomb goes off near the stage, killing and injuring several more people.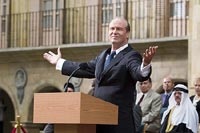 That's the first 10 minutes of Vantage Point, and pretty much the next 10 after that, and the next 10, and the next …
The film is a high-tech whodunit of a thriller that plays like an episode of television's 24 crossed with Rashomon. We view the same sequence of events over and over from eight different perspectives, each adding a new piece to the puzzle in a race against time to find out who's responsible, and what's really going on. Digital recording adds to the intrigue as characters gain insights reviewing footage from just moments ago. Gimmicky, yes, but Vantage Point is quite involving and engrossing, if not somewhat repetitive.
After the film's opening segment, we follow secret service agent Thomas Barnes (Dennis Quaid), an aging veteran who took a bullet in the line of duty six months ago. He's newly back on detail, thanks to his friend and fellow agent Kent Taylor (Matthew Fox). We experience the events from their perspective onstage guarding the President. Their actions soon introduce us to Howard (Forest Whitaker), an American tourist who may have caught the shooter on his video camera, and Enrique (Eduardo Noriega), a cop who may or may not be involved in the assassination.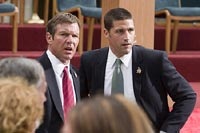 I wouldn't dare reveal more than that, but it goes without saying that nothing is as it seems. Characters are introduced early, their importance revealed later like a live-action game of Clue. Conversations from a distance take on new meaning up close later. A fluttering curtain in a window from one vantage point proves more significant in another.
Thus the film is nearly impossible to solve. It steers you the whole way, allowing you to see only what it wants you to see. But at least it never changes its facts with the different perspectives, like other similar Rashomon styled movies. The later scenes simply provide details and context to things that we could only glimpse in earlier scenes.
Perhaps that's ultimately for the best to create a more compelling storytelling experience. Vantage Point isn't really about the audience solving the mystery first as much as watching the mystery unfold and discovering the puzzle pieces alongside the characters, video cameras and cell phones being their primary crime-solving tools. Sure, you can make guesses along the way based on some minor clues, but you'd mostly be shooting in the dark. However, people that enjoy being surprised should know not to watch the trailer too closely, since it reveals two plot points that are key (though not entirely crucial).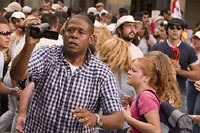 The camerawork in Vantage Point is often frenetic, relying on handheld visuals that dip and sway through crowds, or chase down streets and hallways. There's not quite as much need for Dramamine as there was for Cloverfield, but the overall feel is very similar to 24 and the Bourne movies, particularly a spectacular car chase toward the film's finale.
All of which is rather impressive for a relative newcomer like director Pete Travis, who does a terrific job of keeping everything stylish and fast-paced. Not surprising since the script by first-time screenwriter Barry Levy leaves no room for slow spots. At 90 minutes, Vantage Point is tightly wound, driven by skillful filmmaking and strong performances from the cast all around—that goes for everyone from the big names down to the extras that believably recreate the terror of ground zero.
If only things didn't tie together so neatly by the end—too neatly. Characters show up at precisely the right moment amid all the chaos. Some of them even luck into achieving their objectives. It's not possible to be more specific than that, so let's just say it's unfortunate that Levy's finale isn't as smart as everything preceding it, built more on contrivance than craft.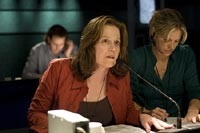 There's also something to be said for the complexity of the assassination plot once the details are revealed. If Vantage Point is to be believed, the iPhone is truly the ultimate remote control, capable of broad elaborate functions and multi-tasking from wherever you are. It can save the world or destroy it—and play MP3s too!
The toughest sell will actually be the gimmick itself. When Groundhog Day originally released, some viewers grew impatient seeing the same scenes play out over and over ("If I have to listen to 'I Got You Babe' one more time … "). In the same way, the crowd I saw Vantage Point with grew increasingly weary of the rewind effect, becoming more vocal every time they saw the clock turn back 25 minutes. And yet, my friend and I understood that to be the device that helped make this movie so unique and compelling.
Vantage Point is a genuine crowd-pleaser overall, brisk and suspenseful—more or less everything it promises to be. But it's apparent that not all crowds will be pleased, with responses to the storytelling style ranging from clever to repetitious. Further proof that we all view things from our own unique perspective.
Talk About It
Discussion starters
What's your opinion of America's role in the world? Are we too involved in policing the nations? Or does the U.S. have responsibility as the world's leading power, combating evil wherever it rears its head? At what point does the war on terror overstep its bounds?
It has been said that the camera never lies. Does that still hold true today? Is there a way of knowing for sure that the video recordings we see are completely reliable?
At one point, the President says that true strength comes from knowing when to act and, more importantly, when not to act. Given that moment's context in the film, how does it coincide with what we're taught in the Bible about making a stand? (See Ecclesiastes 3:1-8 and Matthew 5:38-40)
The Family Corner
For parents to consider
Vantage Point is rated PG-13 for sequences of intense violence and action, some disturbing images and brief strong language. The action is pretty fast and furious like the Bourne movies or an episode of 24. People are shot, but it's not overly bloody. The disturbing images refer to dead and injured bodies strewn about after the bombing; it's rather dark and evocative of other recent terrorist attacks. The film solidifies its PG-13 rating with a single use of the f-bomb—the "brief strong language"—though there are some other uses of profanity in the film, including misuse of God's name.
Copyright © 2008 Christianity Today. Click for reprint information.
What other Christian critics are saying: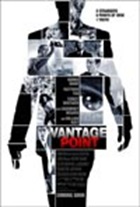 Browse All Movie Reviews By: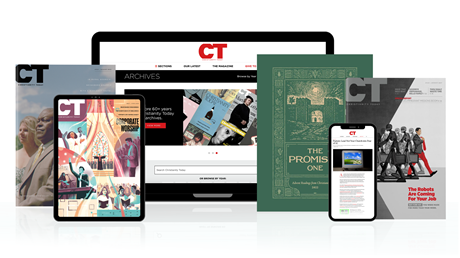 Subscribe to Christianity Today and get access to this article plus 65+ years of archives.
Home delivery of CT magazine
Complete access to articles on ChristianityToday.com
Over 120 years of magazine archives plus full access to all of CT's online archives
Subscribe Now
Vantage Point
Vantage Point