Call it a divine appointment, fate, or poor city planning, but without it, Necati Aydin and Semse Kilciksiz never would have crossed paths.
Wearing the heavy beard that marked him as a devout Muslim, Necati (pronounced ne-JAH-tee) would never have taken a seat on the bus next to a Christian woman. But he was tired, and the public transportation system in Izmir, the city known in the New Testament as Smyrna, was overcrowded that day in 1994. He would never have spoken to Semse (SHEM-sa). But he was curious about the book she was reading.
Semse should never have told him about the Bible. In Turkey, Christians suspected of attempting to proselytize Muslims can find themselves under arrest. Necati accused her of being a foreign missionary. Semse considered herself a loyal Turk, and she boldly responded, "We should all be missionaries of our faith. Aren't you a missionary?"
Her response caught him off guard, and he inquired again with sincerity. And so began a friendship between Necati and Semse centered on Jesus. Each day they talked on the bus. As she went to her job as a secretary, he went to classes with a radical Islamic teacher. Within a year, Necati quit school and accepted the claims of Christ. He was disowned by his family—who threatened to kill Semse—and lost his job in the process.
The two had also become engaged to marry. In a culture where family is everything, the couple was cut off and alone. "We were so scared, but in love," Semse told Christianity Today during an interview in Turkey.
A Last Goodbye
Necati soon grew as committed to outreach as his wife. In 2000, he served a month in prison on trumped-up charges when police caught him distributing Christian literature. The couple attended Karatas Christian Fellowship in Izmir, where pastor Zekai Tanyar officiated at their wedding. Tanyar describes Necati as "forthright, honest, and uncompromising."
In 2004, the couple relocated to Malatya, a remote eastern Turkey community known for its conservative Islamic and ultranationalist sympathies. Necati directed the local Zirve Publishing House and pastored a fledgling church.
Last April 18, Necati Aydin kissed his wife goodbye and left for the office. Two hours later, he and two other Christians, Tilmann Geske and Ugur Yuksel, were dead.
Necati's first appointment of the day was a Bible study with several Turkish youth who were exploring the claims of Christianity. Instead, these false seekers turned on the three men in the office. They tied the three up, then beat and stabbed them repeatedly.
As police arrived, the killers cut the Christians' throats. All five suspects reportedly carried identical notes in their pockets declaring, "We did this for our country. They are attacking our religion."
Geske, 46, a German citizen, left behind his wife, Susanne, and three young children who continue to live in Malatya. Susanne made a strong impression on the Turkish public by forgiving her husband's attackers as she spoke on national television. The third martyr, Yuksel, 32, had recently become engaged. His fiancée now lives with her Muslim family, isolated from other Christians. Necati is survived by Semse, 38; a son, Elisa, 7; and a daughter, Ester, 6.
Semse has also publicly forgiven the men who killed her husband. But when she looks into the eyes of their children, she hopes she can maintain a forgiving spirit. "I have not been able to do this," says Semse. "It's been Christ, a miracle from God."
The kids both have mops of thick, dark hair. Ester is outgoing and opinionated. She loves Barbie and ponies and the color pink. Elisa plays with his food and wants to be a pilot. He chatters excitedly, listing the treasures in life: Spider-Man and airplanes. Then he remembers one more and becomes somber. "My daddy died. Did you know my daddy?"
Ester pipes in quietly, "My daddy died in his office."
The family lives for now with relatives in western Turkey. Cramming two households into one apartment is a squeeze until Semse can work out a plan for their future.
"Both Necati and Semse have had a genuine desire to serve the Lord, knowing it could be costly," says Pastor Tanyar.
Semse has no regrets about their ministry in Malatya. She talks about a harvest of souls there. They saw 15 people come to faith in three years, which is impressive in Turkey's hard soil. "I see my family as victorious," she says.
In the meantime, the extended family copes day by day. Her brother-in-law, also a pastor, has received threats on his life. Their landlord asked them all to move, citing concerns about the neighbors' safety. They hope to find two apartments close to each other.
The Aydin family will receive financial support through most of 2008. Semse is quickly finding the venues and the confidence to tell her story publicly. In early November, she traveled to the United States and spoke publicly in Holland, Michigan, at an event for the International Day of Prayer for the Persecuted Church. "Though Semse has only a minimum of education, she is an excellent speaker, extremely articulate and expressive," says Tanyar.
"Christ said the road is narrow and difficult," says Semse. "If you choose this road, it won't be easy. If you get too comfortable, it can take your faith. The hard times can also crush your faith. I want to be on the narrow road."
Denise McGill is assistant professor of visual journalism at Palm Beach Atlantic University in Florida.
Related Elsewhere:
How you can help:
Open Doors USA has a campaign to send letters of encouragement to the martyrs' families.
Funds for the families are being collected by the Alliance of Protestant Churches of Turkey. (Please be warned that there are scams being circulated by other entities.) Inquiries can be sent to silastr@gmail.com or jarvie@post.com, or to Turkish World Outreach, 508 Fruitvale Court, Grand Junction, CO 81504, United States. Donors should designate "Survivors Fund" on their checks.
Articles on the Malatya killings last April include:
Milking Martyrdom | Turkish Mission accused of sending false report. (September 14, 2007)
Faith Perfected | Recent martyrdoms sadden us but cannot make us despair. A Christianity Today editorial (July 12, 2007)
Young Muslims in Turkey Murder Three Christians | Deaths mark first known martyrdom of Turkish converts since founding of republic. (April 20, 2007)
From CT Liveblog: On Trial in Turkey | Malatya murder trial defense finds footing by playing to anti-missionary sentiments. Also: the roots of anti-Christian violence in Turkey. (November 30, 2007)
Our January 2008 articles on Turkey also include a slideshow and:
Justice Delayed | Security worries stall recognition of Armenian Genocide. (January 4, 2008)
Inside CT: Greatness Is in Heaven (January 4, 2008)
Jesus in Turkey | After 550 years of decline, a bloodied church is being reborn. (January 3, 2008)
Accidental Outreach | Christian leaders avoid targeting Kurds, but reach them anyway. (January 3, 2008)
The BBC and the New York Times have sections with recent news and information about Turkey.
Have something to add about this? See something we missed? Share your feedback here.
Our digital archives are a work in progress. Let us know if corrections need to be made.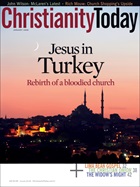 This article is from the January 2008 issue.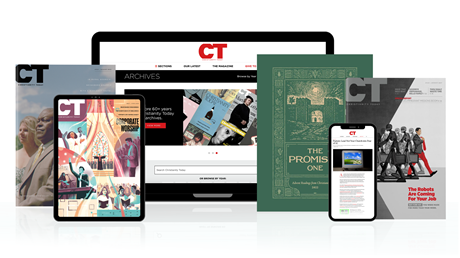 Subscribe to Christianity Today and get access to this article plus 65+ years of archives.
Home delivery of CT magazine
Complete access to articles on ChristianityToday.com
Over 120 years of magazine archives plus full access to all of CT's online archives
Subscribe Now
A Victorious Family
A Victorious Family