One of the hazards of living 24/7 surrounded by biblical history, as I do in Nazareth, is its unexpected impact on spirituality — the reverse of the famed "Jerusalem effect," in which fervent Christian pilgrims are overwhelmed by the city's intense spiritual atmosphere.
In Nazareth, my office at the Baptist school is 200 yards away from "Mary's well." According to tradition, the Virgin Mary, together with her fellow women of first-century Nazareth, would go there daily to fetch water for the family and touch base on the latest news of the day. My office is also half a mile away from the sites, recognized by ancient tradition, of the holy family's Nazareth home and Joseph's carpentry/masonry shop. My favorite restaurant is in between them.
Most of the world's two billion Christians would count it a once-in-a-lifetime blessing to visit these holy sites. But for those of us who live and have lived for generations in this part of the world, these places become very familiar — perhaps even too familiar — which can work against healthy Christian spirituality. In our daily lives as Christian inhabitants of Nazareth, living close to the sites that witnessed so many meaningful events goes unnoticed. They become ancient, taken-for-granted monuments.
But there is another complicating factor here. Starting around November and lasting through Easter and Holy Week in the spring, Christian pilgrims by the multitudes are escorted through the top sites from the life of Christ and the early church.
These pilgrims have nary a personal encounter with the contemporary church of living stones — everyday saints who maintain the Christian witness in Nazareth, Jerusalem, Bethlehem, and other communities. This further feeds the perception, rightly or wrongly, among the Mideast's Christians (especially Christian youth) that Christianity is mostly about the past and has little to do with their hopes, dreams, and aspirations for bettering their lives.
Even in this great and festive season of Christmas (Dec. 25 in the West), Orthodox Christmas (Jan. 7), and Epiphany (Jan. 6 this year), we Christians must not avoid looking at the realities of the Middle East in 2008. If we understand Israel, Palestine, and the entire Middle East only through the lens of historic Christianity or the passionate rhetoric of end-times prophesies, we will lose out.
Examining the plight of Christians in Bethlehem, Jerusalem, Nazareth, Gaza, and elsewhere means evaluating their conditions and challenges. And we must do that assessment in light of the divine events that the Gospels chronicle so faithfully. This benefits the global church as well as the Middle Eastern church.
I have the privilege to write freely from my location in Nazareth, a thing most fellow Christians cannot do. My conviction is that the global Christian community is not sufficiently aware of the pressures and difficulties that everyday life holds for Middle Eastern Christians. David Aikman's recent article in Christianity Today, "Suffocating the Faithful," did an excellent job of reminding American Christians of the dwindling community of Christians in the Middle East.
Our reality is the hardest thing to admit — the Holy Land has become a curse for many of its inhabitants, especially but not only for Christians. We need to convince these people that there is a life worth living before death.
One way forward is a fresh understanding of the incarnation of Jesus as one continuous story leading from Christmas, through Epiphany, eventually to Easter. The celebrations of these events often seem to compete with each other. Easter in the Middle Eastern tradition is called "The Big Feast." This necessarily means that the other feast (Christmas) is of lesser importance.
As redemption of the human race through the sacrifice of the Son of God on the cross is at the heart of Christian theology, this ranking seems to be accurate.
Christian believers will deal with both feasts differently. For them, Easter and what it symbolizes is the core of our belief, and they even describe Christmas in terms of Easter terminology, so that Christmas is seen as a first step on earth towards the cross or the execution of God's plan for salvation.
Nevertheless, I suggest we not see Christmas as merely a pre-Easter event. We should set the Incarnation as our model and example: God coming to dwell among men as compassionate yet suffering.
Jesus lined up with the human race in a physical infant body when he was born in Bethlehem. He also stood in the queue with sinners to be baptized in the Jordan River on the first Epiphany (which is observed as a commemoration of his baptism, as well as the visitation of the Magi). On Easter, he died for us and then was raised up from death victoriously. He lived among us and sensed our challenges and sufferings and reached out to comfort and support us in our daily challenges.
Do we have the same mindset of Incarnation as reflected in Christmas, Epiphany, and Easter? Do we line up with the oppressed?
In the Middle East, the ongoing conflict causes the weaker minority in a minority, the Christian community, to suffer. Living surrounded by a security wall in something like a ghetto when the world has become a small village due to the Internet and satellite TV seems unbearable. This environment deprives people of their dignity.
If Joseph and Mary were to travel to Bethlehem today, they would be stopped at a checkpoint, and only a miracle would have gotten them through to Bethlehem. Fleeing from Bethlehem to Egypt from the ruthless, violent Herod would have taken another miracle.
It is easy to be a hero and advocate for staying in the land, but when suffering and economic and political hardships are on the rise, then the easier route is that of looking for a better place to live. I have more relatives who live around the globe than those who remain in Israel, and we are no exception among Arab Christians.
As followers of Jesus, we have a calling to stick despite hardships to preserve the Christian witness in this place. We try to teach our people to acknowledge this calling in their lives. The King of Glory became flesh and lived in our land. Sites that point back to specific events in his life here are attractive to pilgrims.
His message started here, and from Jerusalem this message spread to the whole world. Today, Christ has bright witnesses for his name all around the world.
But the witness for him in the places where it all began is getting dimmer generation by generation.
When we meditate on the Incarnation celebrated on Christmas and Epiphany, let's pray for a truly incarnational perspective that also takes forward-moving, operational steps to help the faithful in the land where faith was born.
Botrus Mansour is the general director of Nazareth Baptist School.
Related Elsewhere:
Botrus Mansour previously wrote "Prince of Peace's Hometown Bombarded" for Christianity Today.
Christianity Today's coverage of Israel and the Middle East's traditional Christian communities includes:
Suffocating the Faithful | Will the last Mideast church leader be sure to turn off the lights? (December 17, 2007)
What Iraq's Christians Need | Two strategies to build up the church in the war-weary nation. A Christianity Today editorial. (January 22, 2007)
Fleeing Nineveh | Threatened by persistent violence, Assyrian Christians in Iraq want to govern themselves. (December, 18, 2006)
Daring to Dream Again | Chaldean Christians connect with other believers. (August 1, 2003)
Article continues below
Reflections from a Messianic Jew in Israel | When questions are too hard to answer, we must still be about our Father's business. (August 31, 2006)
The Christian Message in Lebanon | Journalist Rami Khouri on how the church can foster peace in a troubled region. (August 24, 2007)
A Precarious Calm | A year after the July 2006 war, Lebanon's Christians face a murky future. (June 25, 2007)
The Colors of Lebanon | What would real peace mean? (February 7, 2007)
The 'Jesus Manifesto' for Lebanon | Rebuilding the soul of a shattered nation on the brink of civil war. (February 7, 2007)
Orthodox Unity … | Autonomous Orthodoxy isn't an oxymoron. It's the fulfillment of a different kind of American dream. (July 1, 2004)
Q&A: Karekin II | The leader of the Armenian Apostolic Church, Karekin II visited the U.S. in October to support a resolution condemning Turkey's 1915-1917 Armenian genocide. (November 26, 2007)
Death Watch | One of the world's earliest Christian cultures totters on the edge of extinction. (January 1, 2003)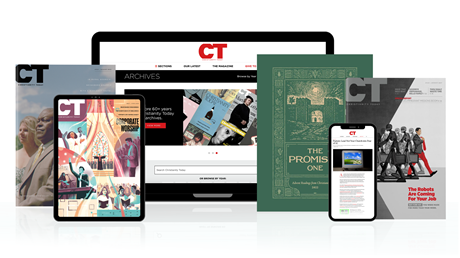 Annual & Monthly subscriptions available.
Print & Digital Issues of CT magazine
Complete access to every article on ChristianityToday.com
Unlimited access to 65+ years of CT's online archives
Member-only special issues
Subscribe
Is Life Worth Living Before Death?
Is Life Worth Living Before Death?