true
Drum roll, please! As 2007 comes to a quick close and 2008 rushes in, we invite you to take a sneak peek at the top Christian children's musical offerings of the past year. Our fourth annual edition of the round-up again focuses on entries that are geared for kids ranging from the tiniest tots through the early elementary years, though there are also a couple choices good for those terrific 'tweens (the 8-12 set) and up. All were chosen for their sing-along-ability (is that a word?) and family fun factor.
If this year's list looks familiar, it's because those who do children's music best have repeated the formula—with continues success each year. And while most of the selections focus strictly on music, there are a few videos and games involved too. Because, hey, bonus features are always a plus when it comes to kids' entertainment, right?
These titles are available at your favorite Christian store, not to mention Christianbook.com, and in some instances, directly downloadable from the Internet. So without further ado (another drum roll, please), we offer up to you the best in children's tunes for 2007:

Integrity Kids
Integrity Music

Kids' Praise! Company
Maranatha! Music
A tie between two mega-sized children's albums packed with classic favorites and modern worship music. Produced by the worship leader Don Moen, 51 Must-Have Kids Worship Songs offers a jazzy version of "Deep and Wide," the pretty piano-backed ballad "I Exalt Thee," and the Sunday school favorite "I've Got the Joy," as well as worship standards like "Let Everything That Has Breath" and "Blessed Be the Name of the Lord." The collection has some more traditional accompaniments that can sound a bit dated, but at less than $15 for 51 songs, it's a bargain for hours of fun. The Top 25 Kids Praise & Worship Songs 2008 CD is a "best of" collection that also compiles worship classics ranging from "He Has Made Me Glad" and "Seek Ye First" to "Lord, I Lift Your Name on High" and "How Great Is Our God." The double-disc collection offers arrangements that sound more like the familiar radio versions of the popular hits, and is performed by both adult and children's voices.

VeggieTales
Big Idea
Movie soundtracks are sometimes difficult to sing along with, but not so when it comes to VeggieTales. Their latest film, The Pirates Who Don't So Anything, contains something for everyone, from the operatic opener "Spanish Gold" to the Veggies' version of the B-52's "Rock Lobster" called "Rock Monster." RelientK is back with their version of the title song, and the CD also includes "Yo Ho Hero" by newsboys, "What We Gonna Do?" by tobyMac, and "The Right Thing" by American Idol finalist Mandisa. It also includes a bonus video of silly songs such as "Do the Moo Shoo," a Pirates poster, and stickers, giving plenty of extra bang for the buck.

Various Artists
Digital Praise, Inc

Various Artists
Cloud 9 Games
Dance Praise, the best-selling interactive dance game with Christian music, makes an appearance on our chart for the third year in a row. Digital Praise has cranked it up a notch with the Remix version, allowing players to connect up to four pads, with each player dancing at their own skill level—plus, there's a new interactive game. Music includes popular songs from Superchic[k], Pillar, Building 429, Third Day, Casting Crowns, tobyMac, and Jeremy Camp, to name a few. The similar Heavenly Harmony Karaoke offers a twist on the traditional musical fare, with a microphone and karaoke software that offer hours of American Idol-style fun through a personal computer. With songs drawn from Christian hits and classic hymns, players can accessorize their character, sing in eight different "venues," and play games. It even offers pitch recognition technology that displays pitch accuracy in real-time, helping singers stay on key and in rhythm. Both games aren't focuses exclusively on kids' tunes, but they offer great entertainment value and pure fun for the whole family.

ThingamaKid
ThingamaKid
Here's a great combo: take a cartoon-packed DVD and combine it in one case with an audio CD for hours of good times for preschoolers. That's exactly what the Thingamakid series does, and it's a hit with the 2-to-5-year-old set. In the Sunday Bible Toons edition, animated cartoons bring classic Bible songs like "He's Got the Whole World in His Hands" and "My God Is So Big" to life. The DVD features ten animated sing-a-longs (perfect for the car or at home), plus bonus features that include karaoke versions of all 10 songs and 3 original animated Bible short stories based on Psalms and prayer. The soundtrack CD offers all the songs from the DVD plus 5 bonus songs and interactive online content—all for under $10. Good stuff!

VeggieTales
Big Idea
It wouldn't be a favorite kids' list without a generous serving of animated vegetables, and they do so again with a collection of radio hits past and present, all performed by Bob, Larry, Junior and some of their human friends. Check out "Big House" featuring Audio Adrenaline, "Baby Baby" with Amy Grant, "Dive" featuring Steven Curtis Chapman, and "Shine" with newsboys. You'll also find the vegetables' hilarious takes on Relient K's "Sadie Hawkins Dance," dc Talk's "In the Light," Switchfoot's "Meant to Live," Jars of Clay's "Flood," and covers of Avalon, Chris Rice, and MercyMe. There's something strangely worshipful about the childlike voice of Junior Asparagus singing "I Can Only Imagine."

Boz
Exclaim Entertainment
Boz the Green Bear Next Door burst onto the kids' video market two years ago, and the DVDs of this colorful bear have stayed on the Christian children's best-sellers charts since then. In 2007, Boz added his first audio title to the growing brand, and it's a hit with preschoolers too. What makes Boz successful is that the series contains educational components (teaching shapes, colors, and numbers) with life lessons and values teaching (similar to what you get on mainstream shows like Arthur and Dora the Explorer). What Boz does even better is add a spiritual component, with prayer in each episode. On this CD, tots can sing 22 tunes that teach and reinforce values, such as "God Sees You and He Likes What He Sees" and "Look in a Book" (a song about going to the library). Kudos to Exclaim Entertainment for giving moms, dads, and kids alike a CD of catchy original songs that teach important life lessons, and aren't too cheesy to listen to the four thousand times little fans will want to hear them.

Various Artists
Fervent Records
The Absolute series stays in our No. 6 spot for the second consecutive year, this time with their third installment. Once again, this series stands out for going beyond the same old, same old top hits and worship songs that appear on many children's series. And it does so with performances by kids, for kids. Many series use adult voices, with kids taking some solos and providing background vocals. Absolute Modern Worship for Kids 3 is all kids, and the tunes rock. Volume 3 includes kids' versions of top radio hits by the likes of Aaron Shust ("My Savior My God"), Chris Tomlin ("Made To Worship"), Casting Crowns ("Praise You In This Storm"), Delirious ("Rain Down"), and David Crowder Band ("Undignified"). Put this one in the player and get your praise on.

Big House Kids
Provident Music
Praise Baby is back on our list with a new collection for little ones. The Praise Baby Collection: My Father's World comes in audio and video versions with soothing arrangements of worship favorites like "Better Is One Day," "He Is Exalted," "You Are My King (Amazing Love)," and "How Great Is Our God." The CD features soothing adult voices and children's background vocals with simple orchestrations that can be played at playtime or naptime. The DVD offers simple images of toys, nature, and babies similar to the Baby Einstein series, but set to spiritual music familiar to modern worshipers.

Phil Joel
Indelible
Phil Joel has long been known as the New Zealander with the long blond tresses who rocked with newsboys as their bass player since 1994. Now a husband and father of two young daughters, Joel stepped away from the band to launch his Deliberate People ministry in an effort to help deepen people's relationship with God. Out of that came the DeliberateKids project, a collection of catchy, original songs that don't "sing down" to kids, but instead reach them and teach them at their level. Take a listen to "Good Morning" ("You're a good, good, good, good, good God"), the rockin' "A Plan," and "Know You Better." Great guitar work make this a rock 'n' roll project for kids that adults can truly enjoy as well.

Integrity Kids
Integrity Music

Integrity Kids
Integrity Music
Integrity Kids offered two albums this year designed to get elementary-agers and 'tweens worshipping God with their own versions of popular hits. Totally Kids Worship: Everyday takes popular modern worship songs and sets them to musical styles that sound like mainstream radio, skewing this project a little older. It is supposed to be for 6-to-12-year-olds, and it does sound the most "hip" of the children's albums reviewed this year. Check out the techno version of "Open the Eyes of My Heart" or the R&B-styled "I Could Sing of Your Love Forever" reminiscent of Beyoncé. Others in this 12-song collection include "My Best Friend," "I Am Free," "Let the Praises Ring," and "Undignified." iWorship Kids 3 also mixes modern and classic worship songs with upbeat arrangements—from "I Am Free" and "I'm Not Ashamed" to "Blessed Be Your Name" and "Everyday." An updated version of the hymn "O for a Thousand Tongues" is here, and the inclusion of Rock 'n' Roll Worship Circus' "Blood of Jesus" alone makes this one worth the price.

Go Fish
GFK Records
They're baaaack! It just wouldn't be a best-of children's list without the gloriously goofy guys of Go Fish. They are always original, lots of fun, and offer heavenly harmonies that are tough to beat. Take "Stories," for example, which includes the Sunday school classic "Zacchaeus" like you've never heard it before. Think The Wiggles crossed with a boy band and a hint of Bobby McFerrin (he of "Don't Worry; Be Happy" fame). Go Fish turns into a barbershop quartet on the "Bible Book Bop" while teaching the books of the Bible, and also offers kids' favorites like the "Itsy Bitsy Spider," which isn't spiritual at all, but it sure is fun the way they do it. The biggest plus for the parents might just be "The Mom Song," which offers lyrics like, "If you have a lot of fun, and your work is never done, you're a mom." Ain't that the truth?

Integrity Kids
Integrity Music

Hillsong Kids
Integrity Music
Integrity Music continues to deliver some of the best worship music in the world, with five titles in our kids' list this year, including the pair of projects that tie for our top spot: Shout Praises Kids: I Am Free and Hillsong Kids' Supernatural. This year's Shout Praises Kids: I Am Free offers hands-down the most up-to-date worship songs and arrangements that flat-out rock, like "I Am Free," "Majestic," "Everlasting God," "How Great Is Our God" and the awesome inclusion "Mighty to Save." With Supernatural, kids can worship to a live project that was recorded at Hillsong in Australia in front of 3,000 children. It rocks out with 14 praise choruses from Hillsong that go way beyond the familiar, including the title track, "You're All I Need," "Not Forgotten," and the original song that Hillsong sent 'round the world, "Shout to the Lord." Look for the DVD of this project, too, for a double dose of praise.
To see our lists of best children's albums from previous years, click here to visit our best-of archives.
Natalie Nichols Gillespie is a mom and stepmom of seven and author of seven books, including her most recent Successful Adoption: A Guide for Christian Families and the upcoming kids' book Believing in Narnia: Unlocking the Secret Symbols of Faith in the Chronicles due out in April, 2008. Visit www.successfuladoption.com.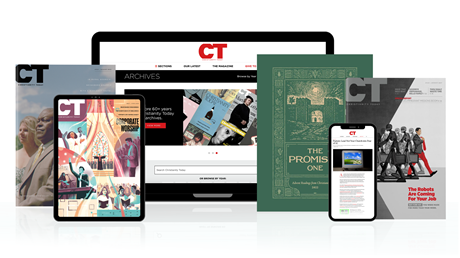 Annual & Monthly subscriptions available.
Print & Digital Issues of CT magazine
Complete access to every article on ChristianityToday.com
Unlimited access to 65+ years of CT's online archives
Member-only special issues
Subscribe
The Best Christian Children's Albums of 2007
The Best Christian Children's Albums of 2007