In early may, Israelis celebrated their nation's 60th anniversary during a time of rapid change. Israel is a prosperous work in progress. Despite its huge defense costs, Israel has achieved a high standard of living. Foreign tourists are flocking back to its holy sites despite the near-daily rocket attacks from across its southern Gaza border.
Israel's high-tech sector is the envy of the region. Recently, Nir Barkat, a technology entrepreneur and now a Jerusalem city councilman, told Christianity Today that he has "outside-the-box" dreams for Israel's largest city: a seven-fold increase in tourism in 10 years, meaning 10 million visitors per year and 100,000 new jobs. Sustainable economic growth in Israel and Palestine, he believes, is the crucial foundation for sustainable peace. "It's a can-be-done task. In spite of all the wars, Israel is a miracle. We know how to overcome," he said.
May the same kind of can-do attitude also spread to the negotiations for lasting peace between Israelis and Palestinians. Recently, Christian leaders issued the Joint Declaration on Israel's 60th Anniversary. The declaration calls for Christians to hold "in balanced tension" the responses of Israelis and Palestinians to memories of 1948. It urges "all those who work for peace and justice in Israel-Palestine to consider that any lasting solution must be built on the foundation of justice, which is rooted in the very character of God." A just peace among peoples cannot exist in a vacuum. Among other things, it needs the oxygen of religious liberty.
Faith-based Extremism
Granted, Israel scores very high for protecting basic freedom of religious belief and worship. As a Jewish and democratic state, the government officially acknowledges Judaism, Christianity, Druze, Islam, and Baha'i. Ten branches of Christianity are recognized, although official relations with the Vatican are moving forward slowly.
But robust religious equality at the grassroots level is significantly at risk due to discrimination and the rise of faith-based extremism. In 2005, the annual U.S. International Religious Freedom Report said, "The government [of Israel] discriminates against non-Jewish citizens and residents, the vast majority of whom are Arab Muslims and Christians, in the areas of employment, education, and housing."
In certain parts of Israel and areas under Palestinian control, a handful of extremist ultra-Orthodox Jews and radical Islamists have for years acted out against Christians and Messianic Jews who proclaim the gospel. This anti-missionary extremism has included death threats, beatings, vandalism, arson, extensive surveillance, stalking, disrupting baptisms and worship services, and neighborhood poster campaigns to stigmatize individual worshipers. Police have brought charges in very few cases. (These incidents have occurred at a time when anti-Semitic vandalism has continued elsewhere in the world.)
No one was fully prepared for how far faith-based extremism in Israel could go. During the celebration in late March of Purim, which marks the Jewish deliverance from Haman's plot as chronicled in the Book of Esther, someone left a brightly packaged "Happy Purim" gift (mishlo'ach manot) at the front door of David Ortiz, a well-known Messianic pastor in Ariel, a major West Bank settlement city in historic Samaria.
The pastor's 15-year-old son, Ami, unknowingly took the gift into the family kitchen. He opened it, setting off a bomb explosion that severely injured his eyes, neck, and lungs. A neighbor with military medical training ran into the devastated dwelling and saved Ami's life with an emergency tracheotomy. Pastor Ortiz, speaking from his home, told CT that Ami is healing, but will have enormous difficulty making a full recovery.
The bombing triggered a flood of media attention. Initially, Messianic Judaism was branded as a cult. But Ron Nachman, the mayor of Ariel, publicly set the record straight that the Ortiz family were a positive influence in Ariel. Five of the six Ortiz children have served in the army, and later, one of them publicly forgave the bomber in a national media interview.
About four weeks later, Messianic Jews achieved a stunning legal victory. Overturning previous decisions, the Supreme Court of Israel ruled that the state could not discriminate against Messianic Jews and deny them citizenship based on their religious beliefs, provided they are descended from Jews on their father's side (and thus not Jewish according to Jewish ritual law). James Sibley, a former missionary to Israel and now a college professor in Texas, told Baptist Press that he "can't help but believe" the high-court ruling was influenced by the terror bombing.
David Ortiz said Israelis have responded differently to the family's offer of forgiveness for the bombing. "For some, it's illogical. They were shocked. This never has been heard of before," he told CT. "Others see the face of Jesus."
He said the rarely discussed context for this attack is the persistent growth of new believers among Israeli Jews. "There is a wave not of American or European Jews, but of homegrown Israeli Jews turning to Yeshua." These individuals do not suddenly become Baptists, Methodists, or Presbyterians. Most of them intensify their Jewish identity and commitment to Israel.
As Israel moves past its 60th birthday, both evangelical Christianity and Messianic Judaism inside Israel are growing with unexpected strength. If religious liberty and equality are also allowed to grow, the odds for meaningful reconciliation and justice improve dramatically—for everyone. As a result, Israel will further live out God's covenant to be a light to the nations, a maker of just peace, and a blessing to all.
Have something to add about this? See something we missed? Share your feedback here.
Our digital archives are a work in progress. Let us know if corrections need to be made.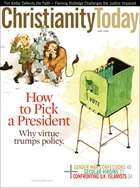 This article is from the June 2008 issue.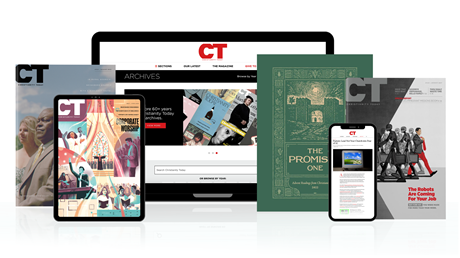 Subscribe to Christianity Today and get access to this article plus 65+ years of archives.
Home delivery of CT magazine
Complete access to articles on ChristianityToday.com
Over 120 years of magazine archives plus full access to all of CT's online archives
Subscribe Now
Israel Reconciled to All
Israel Reconciled to All