true
"Jesus, I've got Jesus/He's my everything/He lifts me up, He gives me wings/He gives me hope and He gives me strength/And that's all I'll ever need/As long as He keeps lifting me up/He is my life, He is my God/He is my wings, He is my flight/Lift me, I've got Jesus, I've got Jesus and that's all I need" —from "Jesus and Gravity"
Dolly Parton's latest country music album, Backwoods Barbie, may well be her tackiest cover art to date. I spent a while wondering whether it was ironic or not: the Barbie dolls in Dolly clothes? The mudflap girl with Dolly's, ahem, proportions on a yellow Ford pickup? This country superstar has always poked fun at her image, but she's also maintained it at great effort and expense. Trying to figure out whether Dolly Parton is ironic is like looking for the end of a mobius strip.
In Backwoods Barbie, Parton once again offers what has made her famous since 1963: songs that any country girl can belt out in the car with utter conviction. And true to her country roots, two or three of the songs are about cheatin', five more are about being cheated on or abandoned, and one is about emancipation from a no-good arrogant man. And then there are the personal songs that only Parton can carry off: a couple of inspirational autobiographical songs, as well as one about Jesus.
Her songs put forward Christian spiritual elements, like faith and prayer, but Parton has never been one to get specific with theology. She told Larry King in a 2003 interview that, while she is very spiritual, "I wouldn't say that I'm religious. I grew up in a very religious background. … I trust God, I love God, and I love the thoughts of it. Even if there was no God, I'd prefer to believe it, because I prefer to believe in something greater than we are. It takes all of the pressure off of you. You don't have a bunch of ego problems."
It's hard to see how all of these themes can work together on the same album without knowing that Parton pitches herself as the product of "backwoods sensibilities." This is her explanation for her sense of beauty, her sense of morality, and her religion. "The way I look is just a country girl's idea of glam," she sings in the title track. "Too much makeup, too much hair/Don't be fooled by thinking that the goods are not all there … I've always been misunderstood because of how I look/Don't judge me by the cover, cause I'm a real good book."
Those who only know Parton as the godmother of Miley Cyrus or her guest stint on American Idol might think she is the concoction of marketing experts. But Dolly Rebecca Parton grew up part of a poor, Pentecostal family of 14 in a small town in Tennessee's Smoky Mountains. She has shown remarkable consistency in her persona over the last 45 years: self-deprecating, bawdy, kind, vulnerable, flamboyant, all-American, smart, and ambitious. And those traits, carried throughout her songs and her career, make Dolly both loveable and formidable.
In a way, Backwoods Barbie is a re-introduction of that same Dolly Parton that Johnny Carson fans got to know. She is trying to resist moving into that stage where every album is a slightly modified retrospective (from 1970's The Best of Dolly Parton to 2007's The Very Best of Dolly Parton), contributing her Christian –themed "Travelin' Thru" to the controversial transgender film Transamericaand writing the music and lyrics for with 9 to 5: The Musical.
It's still been six years since Parton has recorded an album of original material, though some of that has to do with an industry that's more focused on the next new thing than national treasures. As such, the 62-year-old artist says she decided to go independent since most record labels reject senior citizens as has-beens. "I put it on my own label because many of the majors really didn't want me, as I mentioned, because of age thinking I was over. But I felt different about that. I figured the major labels are pretty much a thing of the past anyway, kind of like they thought I was. The way music is being played today, why not make all the money, if there's any money to be made. I'd rather have all of something than some of nothing."
Parton's voice and musical choices are as expressive and fantastic as ever on Backwoods Barbie. While she's always been regarded for her songwriting, there are few singers who can sing "Woohoo, I'm pretty sad" and actually make listeners care or believe it. That said, the backup vocals can seem intrusive at times, especially on tracks like "The Lonesomes" and "Jesus and Gravity."
In "Better Get to Livin'," which she co-wrote with Kent Wells, Parton dishes out good advice ("quit whining") and flimsy theology ("Share your dreams and share your laughter/Make some points for the great hereafter") to someone in need of a serious life change: "Your life's a wreck, your house is a mess, and your wardrobe is way outdated/All your plans keep fallin' through/Overweight and underpaid, underappreciated."
Though it might be hard to imagine Dolly can really sympathize with everywoman, the advice to stop complaining, forgive, and think of others comes from a singer who has had certifiably difficult times. She recently received death threats for singing on the Transamericasoundtrack, as well as a benefit album in support of homosexual rights.
Parton has always been comfortable writing and singing about Jesus, including this album's "Jesus and Gravity" (excerpted above). The spirituality in Parton's songs is not that of a tormented seeker or a curious outsider. It's a matter-of-fact acknowledgment of the role of prayer and Jesus in one's life. It preaches optimism, which is not unique to any system of belief, but also forgiveness, which is profoundly Christian. Parton is quick to express her love of God and the power of prayer, noting that songwriting is "my favorite thing to do. It is my private time with God. That's when I feel closest to God even when the songs I'm writing are just God-awful." Dolly's songs are as frank about trusting Jesus as they are about extramarital affairs—and that takes some guts, when you're trying to make a comeback in country music.
Unless specified clearly, we are not implying whether this artist is or is not a Christian. The views expressed are simply the author's. For a more complete description of our Glimpses of God articles, click here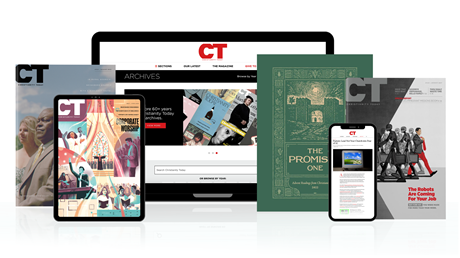 Annual & Monthly subscriptions available.
Print & Digital Issues of CT magazine
Complete access to every article on ChristianityToday.com
Unlimited access to 65+ years of CT's online archives
Member-only special issues
Subscribe
Backwoods Barbie
Backwoods Barbie