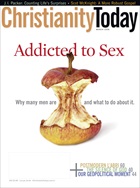 This article is from the March 2008 issue. Subscribers can read all of CT's digital archives.
"I'd probably ideally like to keep it all out of the classroom. If it's going to create this much controversy, how important is it?"
Peggy O'Shea, member of Pinellas County (Fla.) School Board, on evolution and intelligent design.
(Source: St. Petersburg Times)
"In a sense it's related to the old ecclesiastical behavior toward child abuse [when priests looked the other way]. Bad behavior must be confronted."
Katharine Jefferts Schori, presiding bishop of the Episcopal Church, on why the church is suing congregations that leave the national denomination.
(Source: Religion News Service)
"Secular morality always runs the risk of wearing itself out or changing into fanaticism when it isn't backed up by hope that aspires to the infinite."
Nicolas Sarkozy, president of France, challenging his country's views on secularism and church-state relations.
(Source: Brussels Journal)
"They that believe shall mount up with wings as eagles."
A class motto deleted from graduation announcements at McKenzie High School (mascot: The Eagles) in Blue River, Oregon, because it was too close to Isaiah 40:31. The motto, drawn from a classmate's funeral, was replaced with "Nothing we do changes the past; everything we do changes the future."
(Source: The Register-Guard)
Related Elsewhere:
Earlier Quotation Marks columns are available from the February 2008, January 2008, December 2007, November 2007, October 2007, September 2007, August 2007, July 2007, June 2007, May 2007, April 2007, March 2007, February 2007, and earlier issues of Christianity Today.
1
Quotation Marks