About a week and a half into my trip to China, I was feeling pretty good about my ability to get around. I had learned how to communicate with taxi drivers, find my way by bus, and more importantly, navigate a Mandarin menu.
But pride comes before a fall. Early one evening, while hunting for a Three-Self church, I dropped straight into an open, unguarded manhole. It was in the midst of a crowded pedestrian walkway in a busy shopping district of Taiyuan in Shanxi Province. The Chinese know to look for such hazards, but I didn't even consider the possibility.
I caught myself before going all the way down—12 feet to jagged concrete and mud—but I emerged quite shaken, bloody, and embarrassed. Soon, a young woman and her parents offered to help, and a group of well-meaning people surrounded me in a tight circle. I did my best to explain what happened, and was soon escorted to a waiting squad car with a policeman holding the door—offering to drive me to the church.
This experience gave me a new glimpse into the world of the Chinese and the rapidly emerging Christian presence in China. I went there with my camera to gain a better understanding of its church. I came back with a sense that the Spirit of God is moving in a special way. It seemed that nearly every Christian I met had become a believer in the last six years. I visited state-registered churches (Three-Self) as well as unregistered house churches. It's tempting to think of the registered church in a Socialist country as being compromised and neutered, but the churches I visited were vibrant and alive. Unregistered congregations are typically labeled "underground churches," but to me this term no longer fits very well. Younger believers increasingly move easily between the two.
The Only Constant Is Change
With China's changing economy, its society is also changing. China's young, middle-class population is seeking new meaning, and the older population, having given up Marxism, wants to fill the void.
My first stop was at a house fellowship in a large city in central China. This church began 15 years ago in the living room of a woman I'll call Yen. She had early childhood memories of her grandparents' connection with British missionaries. In the 1980s, she became intensely curious about the Bible. Yen and her family started a worship group on Sundays in their small apartment, and soon others joined them.
Today Yen is a pastor's wife, and the couple's church has 800 people. On Sunday mornings, they meet in the brightly lit lobby of a large public building. The meetings open with song. They pray for the government, asking God to bless its leaders and give them wisdom to lead the nation. The Sunday I attended, outsiders wandered onto the mezzanine to watch and listen; at the end, nine people made new commitments to Christ.
After the service, church members spent hours visiting mentally and physically challenged young people, orphans, and a home for elderly people suffering from dementia. Some members are adopting disabled children—a challenging commitment that's rare in Chinese culture.
Later, while traveling through the outskirts of Beijing, I visited a school for children of migrant workers, and then an orphanage. (There are 5 million migrants in Beijing alone.) House-church believers founded and staff both facilities, which are extremely modest by Western standards. The children seemed happy, well educated, and focused. My camera was hardly a distraction.
In Beijing, I met a young intellectual whose first step of faith was reading the Danish philosopher Soren Kierkegaard. He is now preparing books that explore the Christian faith for the academic market. Another Christian, a human-rights activist on his way to Beijing, told me about a case he is preparing to establish equal legal treatment of disabled Chinese persons. In still another conversation, an influential economist described his conviction that Christian faith fuels innovation and provides a framework for the just use of money.
On the afternoon of my last Sunday, I was invited to the 28th floor of a high rise in the heart of Beijing. Here, in the offices of an advertising agency, young professionals, all Christians, meet for worship every week. I watched the changes on a young woman's face (a visitor) as the Holy Spirit touched her for perhaps the first time.
Going Forward
To be sure, challenges exist in the Chinese church. There are too few seasoned teachers. Cults draw many away from the truth. There are tensions among Christian leaders. Unregistered churches are still at risk.
So how can Christians in the West help? In Shanxi Province, I discovered the work of Shanxi Evergreen Service. During World War II, Norwegian missionary Peter Torjesen, whom the Chinese named "Leaf Evergreen," was killed in a Japanese attack. Local officials honor him as a martyr. In 1990, officials invited the Torjesen family to visit Shanxi to commemorate the 50th anniversary of Peter's death. Afterward, Finn Torjesen asked officials if his family could carry on his grandfather's mission. The officials agreed. Since 1993, Evergreen Service has accomplished the near impossible: They are an official Chinese entity; and in the U.S., Evergreen is a fully incorporated charitable (and evangelical) organization.
Evergreen comes alongside the church. In addition to teaching rural families farming techniques, it provides resources for community development, education, and family counseling. Committed to the idea that Christians can best serve China by being open about faith, it is making significant inroads. Evergreen sums up its mission in four simple words: "Serving Shanxi, Reflecting Christ." Evergreen is but one of many promising examples.
Related elsewhere:
Our recent China coverage also includes:
Audio Slideshow: Changing China | The Chinese church is growing in size and influence (May 19, 2008)
Great Leap Forward | China is changing and so is its church. How new urban believers are shaping society in untold ways. (May 9, 2008)
Hungry for Jesus | A Chinese pastor on how he was 'called out of Egypt' to a thriving urban ministry. (May 9, 2008)
Inside CT: The China Paradox | 'Embattled and thriving' Christianity in China. (May 9, 2008)
From Mao to Moses | Artist He Qi, born again in China's Cultural Revolution, is painting a new peaceful identity for the Chinese church. (April 25, 2008)
The Dragon in the Belly: Patriarchs, Judges, and Kings | The Old Testament meets Beijing Opera in He Qi's art. (April 25, 2008)
Have something to add about this? See something we missed? Share your feedback here.
Our digital archives are a work in progress. Let us know if corrections need to be made.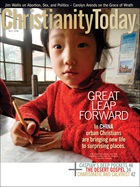 This article is from the May 2008 issue.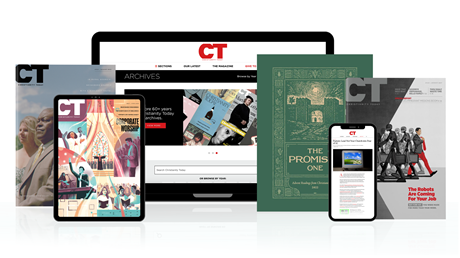 Subscribe to Christianity Today and get access to this article plus 65+ years of archives.
Home delivery of CT magazine
Complete access to articles on ChristianityToday.com
Over 120 years of magazine archives plus full access to all of CT's online archives
Subscribe Now
Watching the Spirit Move in China
Watching the Spirit Move in China