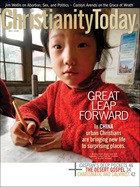 This article is from the May 2008 issue. Subscribers can read all of CT's digital archives.
"Why didn't any changes occur or any love or help come when I accepted you as Lord and saviour?"
Matthew Murray, in a letter addressed to God found in his car after his December shootings at a Youth with a Mission Center and New Life Church in Colorado.
(Source: KMGH)
"There still isn't any Katrina fatigue. I keep hearing that those who come down go back and bring back more people."
Kimberly Durow, director of the Greater New Orleans Disaster Recovery Partnership, on the thousands of volunteers still pouring into the city, especially during school break periods.
(Source: Times-Picayune)
"Heaven has secure borders, too."
Mark Powell, a Disciples of Christ minister warning Indiana lawmakers that supporting a bill that would punish businesses for hiring illegal immigrants would endanger their salvation.
(Source: The Indianapolis Star)
"This is not an Initiative about money. This is an Initiative about problem-solving. Problems don't get solved by spending more money."
Jay Hein, director of the White House Office of Faith-Based Initiatives, responding to criticism that because of reduced social spending, religious organizations have competed for "a larger slice of a smaller pie."
(Source: The Roundtable on Religion and Social Welfare Policy)
"In Italy, he spoke in emotional terms, rather than in terms of faith. He is still on his way to Christianity. If he arrives, we will welcome him."
A spokesman for Alexey II, Patriarch of the Russian Orthodox Church, after Mikhail Gorbachev knelt at Francis of Assisi's tomb, saying, "through St Francis I arrived at the church." Gorbachev later said he was still an atheist.
(Source: The Guardian)
Related Elsewhere:
Earlier Quotation Marks columns are available from the April 2008, March 2008, February ...
1
Our digital archives are a work in progress. Let us know if corrections need to be made.
Quotation Marks