Last week, Christian publisher Zondervan announced its purchase of BibleGateway.com, an online reference of searchable Bible translations and one of the most popular Christian websites. The site's previous owner, Gospel Communications International (previously Gospel Films), shuttered its Internet division and website-hosting ministry in October after back-to-back years of significant financial losses. Zondervan also acquired Gospel.com, which has offered website hosting to more than 250 ministries (including several Christian publishers).
Zondervan CEO Moe Girkins discussed how the online acquisitions fit the company's vision for digital growth that she shared with CT in April.
Why has Zondervan acquired BibleGateway and Gospel.com?
We have a vision that if we create a lot of synergy across all Christian content providers, we can have more impact on the Internet. As part of this vision, we felt we had to have the best Bible reference in the world. BibleGateway has a very publisher-independent solution and is the most widely-used Bible reference site in the world, so we thought it would be a great starting point to build something even more spectacular for online access to Christian biblical content.
We have the same vision as Gospel Communications, who incubated this, to take Bible reference to the next level, and we have more resources to take it to the next level with more content and an improved user interface. Zondervan has always been a leader in Bible content, and working with BibleGateway, we both felt Zondervan was probably the best steward to take this forward. It's part of our mission — it's just a digital part.
What changes does Zondervan plan for BibleGateway?
Right now BibleGateway has limited content besides actual verses, so we are committed to putting more free content on this website. Currently the only digital offerings industry-wide range from free tools to expensive tools. There's really nothing in between. We would like to bridge this digital gap online and help publishers allow those seeking to go deeper than just a Bible verse to do that in an inexpensive way. Pastors and academics need full-blown commentaries, but the small-group leader or average seeker is usually intent on a particular topic or verse, and can't spend a couple thousand dollars.
We're already working with other Bible publishers. Everyone has to win online. Zondervan is not going to give their Bibles an advantage in this thing. [Note: Zondervan is the publisher of the New International Version translation, which has been the default translation of BibleGateway.] We really want to find a way for all Bible translators to be able to use this site. We're very excited to team with everybody in the industry to take BibleGateway to the next level. We're open to ideas and talking to a lot of people.
Our vision at Zondervan is not to get a bigger piece of the industry. Our vision is to create a much bigger Christian industry by working with other content providers. We really truly are approaching this from an industry perspective: How can the industry benefit if we take BibleGateway to the next level?
What changes does Zondervan plan for Gospel.com?
Gospel Communications has discontinued hosting those ministry websites, but we have purchased the site and we will maintain the URL because of the high exposure and web traffic those ministry sites receive from linking from that URL. Rather than have Gospel.com discontinue [when Gospel Communications shuttered the division], we said we can continue it. We do have a vision a year or two down the road of how we can help the ministries of Gospel.com get more connected to the people who want to get involved in those ministries.
Gospel Communications sold its online assets in part because the free services were not free to host. How will Zondervan pay for the cost of running BibleGateway?
We do need to monetize our purchase, and our vision for that will get rolled out. But we're concerned over the impact any announcement might have on retailers. We will come up with a way that everybody wins, but it will take us a little longer to make those announcements. We're working with other publishers on this, but I believe there's room for something between zero and $1,000. I'm expecting a 99-cent pay-per-view type of offering.
Will expanded digital offerings run the risk of cannibalizing your existing print audience?
Google and MySpace are big senders to the site. Our belief is that if somebody gets interested in the Bible digitally, they will go and want their own copy. So we do think it will trigger additional Bible sales. What we've found with Christian books in general is that the highest purchasers of digital content are your highest purchasers of print.
Will BibleGateway get involved in social networking?
Interestingly, after BibleGateway's own widgets, the No. 2 site sending people to BibleGateway is Google, and the No. 3 referral is MySpace. And we see a lot of early believers or seekers using this site as well. We believe a successful Christian social network will begin with people already in community and in churches. As far as social networking, we actually are getting pretty excited about the possibilities, but that will be the next press release.
Related Elsewhere:
See our earlier interview with Girkins, "The CEO Who Takes Greek Exegesis."
Zondervan's Rich Tatum announced the news of the acquisition on his personal blog.
The Grand Rapids Press also covered the acquisition.
Bible Gateway has a blog, which mainly announces new translations available on the site.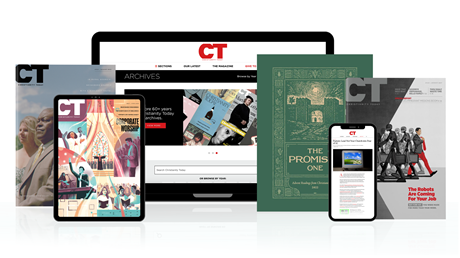 Annual & Monthly subscriptions available.
Print & Digital Issues of CT magazine
Complete access to every article on ChristianityToday.com
Unlimited access to 65+ years of CT's online archives
Member-only special issues
Subscribe
Why Zondervan Bought BibleGateway.com
Why Zondervan Bought BibleGateway.com