true
One of the running gags in An American Carol, a political satire produced in part by right-leaning Hollywood movie stars—and yes, such people do exist—is that a fat, boorish, left-wing filmmaker has won an Oscar for his documentaries but really, really wants to direct a feature film, with a budget and a screenplay and some actors and so on. Whenever Michael Malone (Kevin Farley) tells someone that he once won an Oscar, the other person inevitably replies, "For a documentary," and we can tell, from Malone's facial expression, that he, too, believes deep down that the trophy on his mantle doesn't really give him all that many bragging rights.
The irony is that, in this day and age, with late-night talk-show hosts regularly mining the news for funny, revealing clips, some of the most effective political satires have, in fact, been documentaries. Sure, the films of Michael Moore and others have dropped any pretense of objectivity, and have sometimes played pretty loose with the facts. But if it's politically pointed satire you want, what would you rather watch? Fahrenheit 9/11, with its footage of actual American politicians saying and doing actual silly things? Or Canadian Bacon, with its actors playing politicians and reciting the so-so dialogue that Moore has written for them?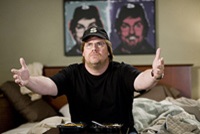 Likewise, An American Carol may be mildly amusing in places if you share the film's political sensibility, but there is nothing quite as interesting here as watching, say, a YouTube clip of politicians contradicting themselves on some policy or other. It doesn't help that the film, co-written and directed by David Zucker (who, together with his brother Jerry and Jim Abrahams, gave the world Airplane! and the Naked Gun movies), is not particularly funnier than Zucker's other, more recent efforts, such as the Scary Movie sequels. Nor does it help that the film, for all its political posturing, feels strangely detached from the current political scene.
Put simply, the film feels like it should have been made six or seven years ago. For one thing, it makes few, if any, direct references to the Bush administration or Iraq; instead, the terrorists we meet in the film's opening reel come from Afghanistan. Zucker and company are at pains to say that the current terrorist threat needs to be met with force, but they pretty much sidestep the question of how that force has been applied in recent years.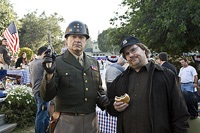 So, to the story. The terrorists are alarmed by the rise of democracy in Afghanistan, and they are determined to snuff it out while they can. But because it is getting increasingly difficult to recruit and train their suicide bombers—"All the really good ones are gone," as one of them puts it—they decide to pour some of their opium profits into hiring a major Hollywood filmmaker to produce some films for them. They insist, however, on one thing: that he really, really "hate America."
Enter Malone, who is planning a massive demonstration to abolish the Fourth of July. Just as, in A Christmas Carol, Ebenezer Scrooge hated Christmas and refused to celebrate it with his nephew, so too Michael Malone hates his nation's most patriotic holiday and refuses to celebrate it with his own nephew, who serves in the Navy and is about to ship out to the Persian Gulf. And so three spirits—four, if you count John F. Kennedy (Chriss Anglin), who emerges from Malone's TV screen the same way Jacob Marley appeared in Scrooge's door knocker—come to Malone and take him on a tour of the past, present and future, to show him the error of his ways.
What follows is an odd mix of mildly crude humor, civil-religious piety and occasionally contradictory messages. Zucker may have become a conservative, at least on some issues, after the 9/11 attacks, but he still gets a kick out of four-letter words—especially when they are spoken by children—and the occasional bawdy gag. When the spirit of General George S. Patton (Kelsey Grammer) takes Malone into the past, to an anti-war rally staged in 1940, he tells Malone that no one can see them—so Malone immediately reaches for a woman's breasts, and is promptly slapped by her. Later, when Malone is taken to the future, he discovers that he has died in a terrorist attack, and that all that is left of him is a baseball cap and his big, naked butt, which the forensic scientists immediately begin to play with.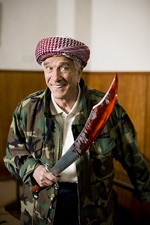 Politically, the gags are all over the place. The film's parody of Michael Moore's Sicko asks the necessary question: how can Fidel Castro's Cuba be such a paradise if so many people are willing to risk life and limb to get out of there? But another scene, in which Patton shoots two suspicious-looking guys in the back, causing their hidden weapons to explode, is more alarming, as he barks, with relish, "Enjoy your privacy rights—in Hell!" And then there are the gags that don't make any obvious point, they're just kind of silly and absurd, such as the scene in which, we are told, Mexican immigrants are coming to Afghanistan to do the jobs the Taliban won't.
Sometimes the humor transcends partisan divisions. For example, you don't have to be a Republican or Democrat to appreciate a sequence in which passengers at an airport are subjected to strip searches and body-cavity searches, all because there have been recent attacks by "underwear bombers" and "suppository bombers."
This sequence, however, is part of a film-within-the-film created by a left-wing celebrity named Rosie O'Connell (Vicki Browne), who argues that "radical Christians" pose as great a threat to American society as "radical Muslims" do. (The "suppository bomber," it turns out, was an Episcopalian.) So Zucker is basically siding with conservative Christians by mocking the anti-Christian prejudice that he perceives out there—but in mocking this prejudice, he uses a coarse kind of humor that might rub many social conservatives the wrong way. At times like this, it is not quite clear just what sort of audience this film is trying to reach.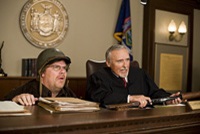 More significantly, from a Christian perspective, Zucker shamelessly uses religious sentiments to make his political point. Near the end of the film, Malone finds Patton in a church, seemingly praying to some unseen "father." Malone teases Patton for bringing God into the picture, at which point Patton grumbles, "Not that father." And then George Washington (Jon Voight) appears out of thin air (so Patton was apparently praying, if that's the word, to one of his country's Founding Fathers), to declare that Malone's political beliefs will not pass muster on "Judgment Day."
Full disclosure: I am Canadian, not American, so I am not inclined to see my own country's founding fathers in a particularly mythic light, much less any other nation's founding fathers. (Canadian author Pierre Berton once quipped that Americans tell stories about how George Washington could not tell a lie when he chopped down the cherry tree, but most Canadians know that our first prime minister, Sir John A. MacDonald, was an alcoholic, and nobody particularly cares.)
But it seems to me that, no matter what your nationality, and no matter what end of the political spectrum you incline toward, there is something a wee bit wrong, perhaps even idolatrous, about saying that God is on one side of the political divide, and one side only. There are plenty of pressing issues in the world today, and many ways of trying to deal with them; satire itself is, indeed, one valid way of addressing them. But sanctimony of this sort tends to confuse, rather than clarify, things. It's not attractive no matter where it comes from. And it definitely isn't funny.
Talk About It
Discussion starters
Do you think you have to agree with this film's point of view in order to find its jokes funny? Are any of them funny no matter what your political point of view is? Is it possible to appreciate why a joke might be funny from someone else's point of view, even if you disagree with it? Why or why not?
What do you make of the film's treatment of religion? Should a secular hero like George Washington be given the honor due to God, or even to a saint? How can you balance love for your country with your love for God?
The film takes aim at perceived anti-Christian prejudice. Do you think this prejudice really exists? If so, how would you respond to it? Is satire of this sort an appropriate response? What purpose does it serve? How does it fit, or clash, with other types of responses?
The Family Corner
For parents to consider
An American Carol is rated PG-13 for rude and irreverent content (including bawdy humor such as references to promiscuity, an invisible man trying to grope women, etc.; but also satirical digs at political issues such as terrorism, airport security, immigration, church-state separation, stem-cell research, and so on), and for language (about half-a-dozen bad words, half of them spoken by children, and one Muslim terrorist's use of "Jesus!" as an exclamation) and brief drug material.
Copyright © 2008 Christianity Today. Click for reprint information.
What other Christian critics are saying: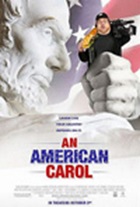 Browse All Movie Reviews By: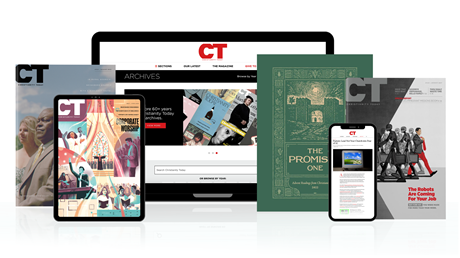 Annual & Monthly subscriptions available.
Print & Digital Issues of CT magazine
Complete access to every article on ChristianityToday.com
Unlimited access to 65+ years of CT's online archives
Member-only special issues
Subscribe
Read These Next
Trending

American Christians Should Stand with Israel under Attack

While we pray for peace, we need moral clarity about this war.

From the Magazine

God's Promises Are Clearest When We Turn Out the Lights

Christians have every reason to reduce light pollution.

Editor's Pick

Don't Miss These African Christmas Hits

Jam out this season to highlife, Afrobeats, jazz, a cappella, R & B, rap, dance, and hip-hop artists from Nigeria, South Africa, and more.
An American Carol
An American Carol