In his latest book, Walking with God (2 stars), John Eldredge invites readers into a fresh intimacy with God marked by interactive prayer. By constantly surrendering ourselves to the will of God and inviting his guidance, we can "talk to him. Hear from him. Really."
In the form of a yearlong journal, readers accompany Eldredge through four seasons of praying for, seeking, and finding God's guidance. We hear his self-doubts, his surrender of pride, his joy riding horseback through mountains in autumn's glow, his battle with alcohol and sleeplessness, and his cycles of prayer and God's response. It is winsome reading: terse, likeable, and with enough vulnerability for us to see ourselves in this everyday Christian, but without the garish revelations likely to trigger supermarket sales.
Eldredge's core spiritual values mirror many others' in the charismatic/Pietist/ Pentecostal family of Christians: "that the heart is central to the Christian life, that we are invited into a conversational intimacy with God, and that spiritual warfare is real." So for those of us who live in another branch of the Christian family, he brings balance and sometimes provokes a bit of envy.
Eldredge alerts us to a constant awareness of God's presence and his unrelenting participation in our lives. "Life will present us with hundreds of opportunities in a single week to take a look at our internal world, to walk with God there, to become more fully his. Don't let your internal life go unshepherded." Throughout Walking with God, Eldredge offers guidance on praying and sample prayers—all of them emphasizing the constancy of asking God's guidance, hearing God's voice, and surrendering to God. Did his failure to ask God which direction to take on a morning horseback ride trigger his unexpected fall and injury? Possibly. Or, when entering a week of overlapping responsibilities, "I prayed, Lord, what do I need to be prepared for next week? He told me to take Monday and Tuesday off. What gracious counsel."
Like his liturgically minded kin, Eldredge often begins and ends his days with set prayers extending several pages each. These are self-composed and cover adoration, worship, praise, thanksgiving, self-examination, renunciation of evil, intercession, and personal commitment. But throughout the day his informal prayers might go something like this:
Jesus, is this a good day for fishing, or should I just lay low, hang out here? I pause and listen. I'm really okay with either answer. What do you think, Lord? I listen open to anything else he might want to say … Today I am ready to surrender. Even fishing, which for a fishing addict is a pretty good sign that God is at work. I sit quietly and repeat the question. Jesus, shall we fish? What do you have for today? I hear, Fish.
What devout Christian would not want this kind of intimate walk with God, constantly in tune with his voice, even going fishing under divine direction and with divine accompaniment? It's enough to make a Calvinist's heart burn with envy. Or caution.
First, a mild disclaimer: Eldredge is best known for his male-affirming Wild at Heart and related writings. So I picked up his current writing in the area of spiritual formation with a certain amount of caution. Though this book does not emphasize gender matters, even here real men love hiking and camping and breaking the tape at the end of a race, while real women love the latest fashions, teaching cooking classes, and are likely to drown their sorrows in soap operas. I must say that such stereotypical characterizations didn't exactly strike a chord with this woman reviewer who loves to hike and camp, hasn't watched a soap in decades, and almost never picks up a fashion magazine.
This book's greatest flaw is its failure to recognize the guarding aspect of God's guidance. In even the smallest matter, Eldredge would say, "I'm praying about it, trying to get some guidance." While not wholly undesirable, this approach seems to miss the point of a benevolent God who genuinely cares for and protects his children—the comforting message of Psalm 23. There we don't see a shepherd hiding behind rocks playing peekaboo with his sheep, but one who proactively walks ahead of them, who comforts, provides food, protects, and restores so that they need "fear no evil." The Puritans had a way of assuming God's guarding guidance by saying, "I will do thus unless providentially hindered." In this view of divine guidance, God lays out before his people a veritable smorgasbord of opportunities, saying, "See what a wonderful table I have placed before you. Choose; enjoy. I am with you."
To trust God's guarding guidance is wonderfully freeing when it comes to geographic moves, marriage proposals, vocational choices, or even routes for horseback riding. Depending on the weight of the matter, we draw on common sense; the teachings of Scripture; the advice of wise, godly friends; the guidance of the church; and our own interests, abilities, and inclinations. We pray throughout this process—and then we choose. If that door is closed from the other side we can smile with relief, even if disappointed, because God our guarding guide has protected us. And so we move on under his continued care, continuing to graze on his smorgasbord of opportunities.
A second concern regarding Eldredge's book is that this kind of moment-by-moment seeking of God's will is not for the marginally sane—which includes many of us at various stages of our lives. Seeking God's guidance for each momentary choice can become so paralyzing that a praying Chris-tian fears to take even one step out of his or her current circle because it might go in some wrong, un-God-guided direction. Alternatively, a person accustomed to constantly listening for an inner voice from God may begin to mistake all sorts of inner urges and motives for God's voice and thus lose the basic spiritual skill of self-examination. And, sadly, some Christians really do hear voices and see visions brought on by schizophrenia. Schizophrenics fairly often mistake the hallucinatory voices of their illness for the voice of God.
Finally, the book gives the Devil perhaps more than his due. Yes, spiritual warfare is real—as Eldredge says in his statement of core values. But to remain on constant alert for dark forces entering the home through, for example, some unidentified etchings on the handle of a dagger seems to me unnerving and draining of time and energy that might better be put to considering how we might use (and not use) that dagger. Such mundane musings must seem shallow to those who feel divinely driven into spiritual warfare. I freely and gratefully admit my inexperience in such matters.
I have and do practice some of John Eldredge's patterns for seeking God's guidance. At least once recently, during prayer, I have heard God's "no, not this way." But mostly I trust God's guarding guidance by other, more visible means.
Carolyn Nystrom, coauthor with J. I. Packer of Praying: Finding our Way Through Duty to Delight (InterVarsity, 2006) and Guide Us, Guard Us: Divine Leading in Life's Decisions (Baker, 2008).
Related Elsewhere:
Walking with God is available from ChristianBook.com and other retailers.
More reviews are in our books section.
Have something to add about this? See something we missed? Share your feedback here.
Our digital archives are a work in progress. Let us know if corrections need to be made.
This article is from the September 2008 issue.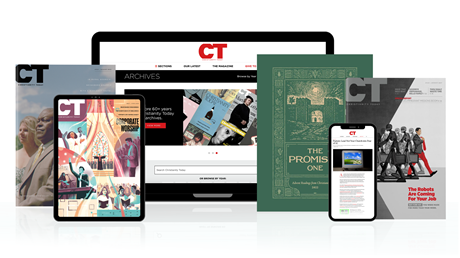 Subscribe to Christianity Today and get access to this article plus 65+ years of archives.
Home delivery of CT magazine
Complete access to articles on ChristianityToday.com
Over 120 years of magazine archives plus full access to all of CT's online archives
Subscribe Now
Should I Fish or Lay Low?
Should I Fish or Lay Low?