Back in the early sixties, a book was published with the title, The Suburban Captivity of the Churches. I never read it, but it strikes me as an apt description of American Christianity, and a mirror image of the unnerving God of the church.
The suburbs are not the incarnation of social evil, as some critics would have us believe. But they do tend to shape us (as does the city, as does rural life!). And some of that shaping has not been for the church's best.
Let's take one famous quality of suburban life: safety. I live in a suburb in the Midwest where the biggest news items in the police blotter in our local paper usually have to do with shoplifting or DUIs or the occasional bicycle theft. Murders, rapes, armed robberies and the like—few and very, very far between. It's a safe place to live. Safe is good.
Safety, though not a particularly Christian value, has become a characteristic of so much contemporary Christianity, especially as suburban life has become characteristic of American life. This suburban value has apparently captured the imagination of many. And often innocently enough. 
It begins when we just get plain tired of dealing with the world on the world's terms. I heard a number of Christian romance novelists say they began writing safer romances because, when they and their daughters sat down to read the stuff being offered up at Barnes and Noble, they were morally appalled. Or take those who get weary of the tired themes of pop music—from silly to raunchy, but seemingly always about romantic love or just sex—and so turn the radio dial to a safe Christian station. Or those who are just beaten down with the moral pressures they face at work or the untold misery of family dysfunction, and who just ...
1
SoulWork
In "SoulWork," Mark Galli brings news, Christian theology, and spiritual direction together to explore what it means to be formed spiritually in the image of Jesus Christ.
Mark Galli is former editor in chief of Christianity Today and author, most recently, of Karl Barth: An Introductory Biography for Evangelicals.
Previous SoulWork Columns: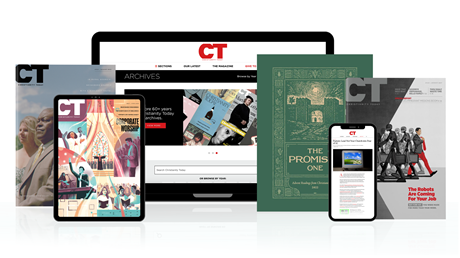 Subscribe to Christianity Today and get access to this article plus 65+ years of archives.
Home delivery of CT magazine
Complete access to articles on ChristianityToday.com
Over 120 years of magazine archives plus full access to all of CT's online archives
Subscribe Now
Danger: God
Danger: God