Political unrest in Honduras is disrupting the peak of one of the world's busiest seasons and settings for short-term mission trips.
Many North American mission groups have delayed or canceled their July trips to the impoverished Central American nation following a June 28 government-sanctioned military coup, leaving some Honduran Christian organizations in the lurch.
Orphan Outreach, a Christian relief organization in the capital city of Tegucigalpa, has sent four mission groups home early and canceled two groups slated to come in July. Another group decided to go to Peru instead. Other organizations, such as the Mennonite-backed Mujeres Amigas Millas Apartes (Women Friends Miles Apart) in the industrial center of San Pedro Sula, counseled groups to delay trips in order to avoid potential social unrest during the heated standoff between supporters of Honduran president Manuel Zelaya and the interim government that ousted him.
Safety of visiting missionaries is an important concern, yet Honduran ministries admit that these cancellations have a profound effect on the local organizations that rely on mission trips to meet operational costs.
"These groups bring supplies, clothes and operational money," said Jeony Ordoñez, director of the Amor, Fe y Esperanza (Love, Faith and Hope) school for children who live and work at the municipal dump in Tegucigalpa. "If they don't come, we don't get it. [Cancellations] are affecting us significantly."
Honduras is the fourth most-popular international destination for North American mission groups, according to Robert J. Priest of Trinity Evangelical Divinity School in Deerfield, Illinois. The bulk of these groups come in June and July.
The events that sparked the cancellations—a proposed popular referendum by Zelaya to change the constitution and his subsequent early-morning ouster by the military—were the by-product of tensions brewing for years in a country long-plagued by poverty, a troubled judicial system, and a powerful elite group of rich families. Yet the coup was dramatic enough to bring to the forefront longstanding divisions in the Honduran evangelical church and motivated church leaders to take their previously private political stances public.
Church and politics: Evangelicals as agents of political change
Most evangelical pastors in Honduras acknowledge the need to speak out against the injustices plaguing their country, but they differ on the appropriate method.
Some, such as Evelio Reyes, pastor of Vida Abundante (Abundant Life) megachurch in Tegucigalpa, have taken to the streets in support of acting president Roberto Micheletti. Others, such as Mario Cantor, pastor of a small church in a marginalized neighborhood of Tegucigalpa, attend pro-Zelaya rallies. Rene Peñalba, pastor of 5,000-member Tegucigalpa megachurch Centro Cristiano Internacional (International Christian Center), says that "neither marches nor sit-ins will solve this crisis."
The ongoing political crisis has exposed divisions within the Honduran evangelical church that have been festering for years. This polarization, according to Cantor, runs deeper than pro-Zelaya or pro-Micheletti leanings to differences as fundamental as rich and poor, urban and rural, "leftist" and "right-wing."
Oswaldo Canales, president of the Confraternidad Evangélica de Honduras, an umbrella group for Honduran evangelicals, says these divisions are overblown. He believes marginalized churches suffer from problems of "low self esteem."
"The churches that are in marginalized areas believe that there is another group of churches in other zones that are elite churches," said Canales, who pastors at Iglesia Evangelica Cuadrangular (Foursquare Evangelical Church) in Tegucigalpa. "But really, it is because Hondurans have damaged self-esteem. They value you for what you have, and not for what you are in God's eyes. They don't value you as a person as much as where you live."
Most evangelical pastors agree that the church's eternal mission should not be affected by political crises.
"I particularly am of the point of view that we cannot pollute our missions as a church by temporary societal causes," said Peñalba. "We have to learn to live in the new reality being salt and light."
Belzasar Nuñez, a pastor from the Holiness Evangelical Church, says the Honduran church needs to play the part of the Old Testament prophet.
"This has all taken place because we have corrupted justice," Nuñez wrote. "We have become immune to the pain of others, and we continue thinking that everything is fine because in this 'democracy,' everyone has the same opportunities. This is the message that Amos, Isaiah and Joel would proclaim in the present uncertainty in Honduras: 'The fasting you have chosen: Is it not better to break the chains of injustice and loosen the straps of the yoke? Were you not told to share bread with the hungry?'"
Short-term missions: Curing the headache but not its cause
While most organizations lament the losses incurred as a result of the mission trip cancellations, other Honduran evangelicals hope that the temporary hiatus will allow North American and Honduran churches to reflect on how they can make such mission trips more than just blankets and block-laying.
Carlos Hernandez, president of the Asociacion para una Sociedad mas Justa (Association for a More Just Society) in Tegucigalpa, says much of the Honduran evangelical church is the product of North American missionaries who arrived in droves during the last century.
According to the 2008 International Religious Freedom Report by the U.S. State Department, these missionaries brought remarkable changes to Honduran society, which is now 36 percent evangelical. In addition to messages of salvation, North American missionaries brought orphanages, rural medical clinics, and Christian schools.
These contributions should be valued, says Hernandez, but they are not enough because existing mission partnerships "cure the headache, but not what causes the headache."
Short-term mission groups often provide services that the government should provide: education, healthcare, and water systems. This has largely been the strategy of Honduran churches such as Canales' Foursquare church, which preaches and distributes food in poor neighborhoods—a "holistic ministry" that offers bread for both the spirit and the soul.
According to Hernandez, such ministry is not holistic enough. He and other evangelical leaders say that what the Honduran church needs is companionship and prayer while it tends to the wounds left behind by the country's political divisions, which have bled over into the church.
"We see very few resources to promote justice and human rights," said Hernandez. "I believe we need societal cooperation in which we respect each other, where we walk together in a society where we think about the poorest, where we think about the future and the system in general. Not just in latrines and medical attention. Something broader."
Related Elsewhere:
Christianity Today also posted to the Liveblog about the political unrest in Honduras. Previous articles related to Honduras include:
Study Questions Whether Short-Term Missions Make a Difference | Missionaries don't keep giving after they return; hosts prefer money to guests, Calvin sociologist finds. (June 20, 2005)
How to Rebuild a Country | Chet Thomas says it happens one village at a time. (February 1, 2003)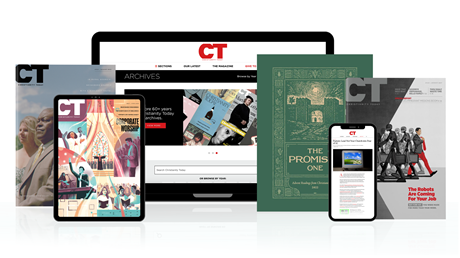 Annual & Monthly subscriptions available.
Print & Digital Issues of CT magazine
Complete access to every article on ChristianityToday.com
Unlimited access to 65+ years of CT's online archives
Member-only special issues
Subscribe
Honduran Hiatus
Honduran Hiatus