true
I like to call you the "Jay-Z of gospel"—you announced you'd retire from music, yet you have kept as busy as ever. What's the deal?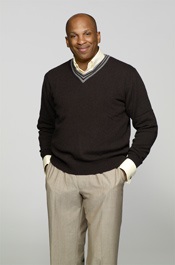 Donnie McClurkin: Well, I had planned to leave all of this music behind in 2008. Thework of pastoring our ministry in Perfecting Faith Church in New York is a full-time responsibility with over 2,800 members in our brief eight years. I tried my best to retire from the music, but I had a contract that I had to fulfill with Verity Records and I couldn't just walk away. So God gave me songs for this last CD, We All Are One (Live in Detroit). But it's still in my plans (laughs).
You've always kept your music varied, yet We All Are One is one of your most eclectic discs yet. Why do you keep diversifying?
McClurkin: With this last CD, God had to minister to me and reveal many things to me that would affect my songwriting. The title We All Are One is really the theme of my ministry. It's just stating that we've been too divided in Christianity. Christ prayed that we would be one as he and the Father are one. God began to give me so many songs that were not exactly the norm for me, yet they minister to me more than any of my prior recordings. It wasn't my contrived plan of action to be diverse—it's just the way the Holy Spirit wrote the songs and gave them.
Your sister Olivia lost her battle to cancer while you were doing prep work for the new album. How did her passing affect the creative process?
McClurkin: Thank you so much for asking about her. The first thing that I want to clarify is that Olivia didn't lose her battle with cancer; shewent to heaven victoriously—touchingdoctors, nurses, and others with (her struggle) and showing us how to live by faith and trust God.She taught us all faith. Even on her bed for days before she passed, she prayed for all that came in. She would have us constantly sing "The Blood Will Never Lose Its Power" by Andrae Crouch.
She came to the studio while we were working on some of the songs and sat and prayed with her oxygen tank. She's been on just about everything that we've done, musically. Our family is extremely close, so her leaving hurt badly. But God does all things well. Not a day goes by nor a memorable moment that my family and I don't think of her and say, "Oh man, Liv should be here for this."
Humanly speaking, how hard did her death hit you? What have you discovered about your own faith journey in the process?
McClurkin: The death of a close family member is inexplicable. We are all stairstep babies. We cry—I cried last night while talking about her. We laugh over things she did and said. It's not been a year yet.It's all so fresh and the void is so gaping. Butshe left us a great legacy of faith.I found that she had the kind of faith that was so extreme that it kept her alive for nine years after she was told that she had six months to a year to live back in 1999. Shekeptthat faith and increased all of ours.
You also got really sick leading up to your current project. Tell me about that.
McClurkin: Man, doeseveryone know about that? (laughs) I've been diagnosed with diabetes for the last 3½ years, and just before the project I had a horrible bout with some of the side effects that come along with this disease.I've had to change my diet and medications from pills to insulin injections twice daily, andchange my life dramatically.I'm feeling and doing wonderfully now.I have a few more medical procedures to undergo, but for the most part, I'm doing great. No tears, people!
Mainstream media and gay groups got you into a bit of hot water as you campaigned for Obama in 2007. How did you end up reconciling your past struggles with homosexuality and the president's liberal stance on the issue?
McClurkin: You know, thisis a story that everyone has heard now and I've moved on to much more. President Obama and I have no outstanding grievances and I was and still am proud of my involvement in his historic campaign and election. But much more than any partisanship, I am in love with Christ and holy living. Political liberalism orconservatismall takes a back seat to holiness.I've sung for President George H.W. Bush, President Clinton, several times for President George W. Bush, and twice for President Obama. Not as a Republican or as a Democrat, but as a Christian singing about the Kingdom of God.
Do you know if the president is still a fan?
McClurkin:He, his wife, and mother-in-law love our music and gospel music on the whole.He's a great man. Let's all continue to pray for him and his family.
What song off We All Are One is your current favorite and why?
McClurkin:The song "We All Are One" gives me the opportunity to use my music to bring out the truth—simplythat we were never intended to be classified by denominations.That was the greatest accomplishment of Satan: divide the body of Christ.Jesus stated that a "house divided against itself cannot stand." Paul asked the question in 1 Corinthians 2: "IsChrist divided?" He said some were saying that they were of Paul and others were saying they were of Apollos, someof Cephas, others of Christ. We're much worse today.
Baptist, Methodist, Episcopalian, Presbyterian, Lutheran, Anglican, Catholic, Roman Catholic, Assemblies of God, Church of God, Church of God in Christ, Wesleyan—and the list is hardly over with these. It's chaotic.But this song allows me to reiterate what Jesus declared and wants even in today's church: unity. The song ends with adult voices transforming into the voices of children—driving home the point that unless we become as innocent as children in our worship and beliefs, we won't see heaven or God.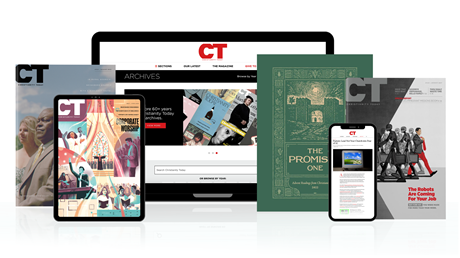 Subscribe to Christianity Today and get access to this article plus 65+ years of archives.
Home delivery of CT magazine
Complete access to articles on ChristianityToday.com
Over 120 years of magazine archives plus full access to all of CT's online archives
Subscribe Now
The Jay-Z of Gospel
The Jay-Z of Gospel