Scot McKnight advocates a kind of fasting. I am to give up the lifetime habit of studying Jesus historically. Okay, it's Lent, but this is going to be harder than doing without Merlot. Or even Macallan.
But is this necessary? Or even coherent? Three comments, then three conclusions.
There's History and then there's History
First, the words history and historical can refer to two different things: (a) past events, or (b) what people write about past events. Most people assume the former—"the historical American Civil War" means the Civil War that actually happened, not historians' reconstructions of the Civil War. Scot, however, suggests that "the historical Jesus" must only mean (b). I doubt that this will catch on. Yes, that's how many scholars use it, but not all. English usage allows, nay, encourages, sense (a). Even Scot uses it like that in his penultimate paragraph.
Second, Scot makes no distinction between different types of historical Jesus studies. Following Ben F. Meyer (The Aims of Jesus, 1978; new edition, 2002), I have demonstrated a massive gulf between the kind of historiography Scot describes and the kind I christened the "third quest." I reject the double dissimilarity criterion and have proposed the balancing "double similarity": Jesus must have been recognizably (if crucifiably) Jewish, and recognizably (if uniquely) the starting point for what we now call "the church."
Not all historical Jesus scholarship is skeptical in intent or effect. Genuine historical study is necessary—not to construct a "fifth gospel," but rather to understand the four we already have. History confounds not only the skeptic who says "Jesus never existed" or "Jesus couldn't have thought or said this or that," but also the shallow would-be "orthodox" Christian who, misreading the texts, marginalizes Jesus' first-century Jewish humanity. Puzzle: I think Scot believes this too.
History cannot compel faith. But it is very good at clearing away the smoke screens behind which unfaith often hides.
Third, when German scholars gave up historical Jesus research in the 1920s, they left a vacuum into which the "German Christians" inserted their non-Jewish Jesus, with appalling results. That was why New Testament scholar Ernst KŠsemann insisted that, despite difficulties, we had to study Jesus historically. How will we ward off the next generation's dangerous follies (not just Dan Brown, though he matters too) if we don't do history?
Clearing Away Smoke Screens
Now three conclusions.
First, this isn't about an "uninterpreted" Jesus. Jesus' contemporaries perceived him within a network of narrative, symbol, and hope, and their stories about him reflect that. To say that "we can't go behind that faith perspective" so that "the past is hard to recover" capitulates to a reductive modernist epistemology.
Second, of course history isn't enough by itself. Back to Reformation theologian Philip Melanchthon: It isn't enough to know that Jesus is the Savior; I must know that he is the Savior for me. History cannot tell me that. But it can reconstruct the framework within which it makes sense—the biblical framework that Jesus and his followers took for granted. If Jesus didn't really exist, or was really a revolutionary Zealot, or a proto-Buddhist mystic, or an Egyptian freemason, the "for me" floats like a detached helium balloon on the thin, vulnerable air of subjectivism. It is when we put Jesus in his proper historical context that the Resurrection proposes that he was the Messiah, that the Messiah is Lord of the world, and that he died and was raised for me. History is challenging, but also reassuring.
Third, history cannot compel faith. But it is very good at clearing away the smoke screens behind which unfaith often hides. History and faith are, respectively, the left and right feet of Christianity. Modernism hops, now on this foot (skeptical "historiography"), now on that (unhistorical "faith"). It's tiring, dangerous, and unnecessary. Puzzle: I think Scot believes this too.
N. T. Wright is Bishop of Durham in the Church of England. He is the author of many books, including The Resurrection of the Son of God and Jesus and the Victory of God (Augsburg Fortress).
Related Elsewhere:
This article is a response to Scot McKnight's cover story on "The Jesus We'll Never Know."
Other responses include Craig Keener: Jesus Studies Matter and Darrell Bock: We Need Context.
Previous Christianity Today articles on Jesus include:
King Jesus the Disguised | There's a reason it's not easy to spot him. (December 22, 2006)
The Jesus I'd Prefer to Know | Searching for the historical Jesus and finding oneself instead. (December 7, 2008)
The Jesus We Never Got | Elijah stands for what I want in a God: someone to offer an escape route around life's messiest problems. By Philip Yancey (December 8, 1997)
Previous CT articles by or about N. T. Wright include:
Heaven Is Not Our Home | The bodily resurrection is the good news of the gospel—and thus our social and political mandate. (March 24, 2008)
Mere Mission | N.T. Wright talks about how to present the gospel in a postmodern world. (January 5, 2007)
What Is This Word? | The incomprehensible, intimate Christmas story. (December 21, 2006)
Have something to add about this? See something we missed? Share your feedback here.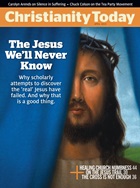 This article is from the April 2010 issue.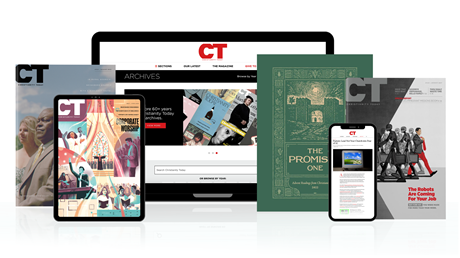 Annual & Monthly subscriptions available.
Print & Digital Issues of CT magazine
Complete access to every article on ChristianityToday.com
Unlimited access to 65+ years of CT's online archives
Member-only special issues
Subscribe
Abandon Studying the Historical Jesus? No, We Need History
Abandon Studying the Historical Jesus? No, We Need History