After seeing an advertisement for the 8th Annual Garden State Film Festival on Twitter, I requested a press pass, thinking I might screen an inspiring film or two that I could recommend to Her.meneutics readers. The festival director suggested Newt Gingrich's Rediscovering God in America, which I saw and appreciated, but not nearly as much as two other films. Both reminded me that seeing the world through another person's eyes is often the route to both empathy and greater self-awareness.
Shooting Beauty introduces viewers to a community of people with cerebral palsy, first through the eyes of an aspiring fashion photographer whose career is diverted as she teaches them how to take pictures, and then through their own and each other's eyes. The second, Dark Light: The Art of Blind Photographers, defies logic as it highlights the stunning art and unique vision of some of the world's leading blind photographers. Yes, that's right, blind photographers. And no, I didn't believe it either until I saw their work and their processes for myself. Both films tell their stories without either pity or sanctimony. This is a significant accomplishment for filmmakers who don't travel through life in the dark or by wheelchair.
Shooting Beauty opens with the first person story of Courtney Bent. She initially visits a cerebral palsy day program to photograph its severely disabled clients, but soon discovers that her own limited perspective distorts the images she creates.
She decides to equip the clients with cameras of their own. In this way, they can communicate to others what the world looks like from their vantage point—one that often shows up in their photographs as a witty, tender, waist-high one. This is no easy feat for Bent, as nearly every camera must be uniquely modified. One man, for example, can use only his mouth, so she mounts a camera onto his wheelchair within reach of his tongue, which he then stretches, twists, and bends to make his pictures.
Bent's project spans a decade, and thus takes her and viewers out of the realm of charity and into authentic friendship. There are love affairs, successes, heartbreaks, marriages, a divorce, and a death. Both the filmmaker and one of her subjects long to love and be loved. Both find what they're looking for. One loses it. Their journeys, and ours, intertwine.
These artists are mostly amateur photographers, while the artists featured in Dark Light are gifted professionals. The film opens with the skepticism of lauded photographers who can't imagine how the visually impaired could possibly produce good work. With them, viewers' questions are answered, and our cynicism is silenced.
Two of the featured artists, Pete Eckert and Bruce Hall, experienced gradual vision loss, whereas Henry Butler has been blind from birth. His work alone hints at the kind of randomness and dependency on sighted aides that one might expect from blind photography. But his process also reveals a unique ability to draw his subjects out and into his field of vision.
Hall is noted for his underwater photography, and some of his work has graced the pages of National Geographic. His website says he fell in love with all sorts of lenses after seeing the night sky for the first time through a telescope when he was 10 years old. Ever since, he has depended on cameras to amplify his own and others' limited vision. Hall is the father of profoundly autistic twin boys and has taken up a long-term project of photographing them.
Eckert, whose work is an ethereal masterpiece of precision and planning, doesn't want to chronicle the sighted world or depend on sighted people to make his photographs. On his website, he writes: "It is important to me that the sighted think about blindness …. Talking with people in galleries builds a bridge between my mind's eye and their vision of my work. Occasionally people refuse to believe I am blind. I am a visual person. I just can't see."
What one discovers anew through these films and the artists they highlight is that the world is a magnificently broken and beautiful place. It is full of pain that can at once overwhelm and inspire. The brokenness of others reflects back to us our own brokenness and need for grace, if we have eyes to see. All too often, however, we refuse to believe we are blind. Sometimes it takes an artist to remind us that we too are visual people who just can't see.
In his Sermon on the Mount, Jesus said, "Look at the lilies of the field and how they grow. They don't work or make their clothing, yet Solomon in all his glory was not dressed as beautifully as they are" (Matt. 6:28-29), This reference to paradoxical beauty comes in the middle of an exhortation not to worry. The Lord concludes it with this word of comfort (v. 30): "And if God cares so wonderfully for wildflowers that are here today and thrown into the fire tomorrow, he will certainly care for you. Why do you have so little faith?" Why indeed?
The above photos were posted with the artists' permission. The final photo is © Stations by Pete Eckert.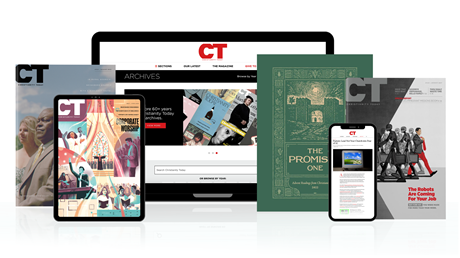 Annual & Monthly subscriptions available.
Print & Digital Issues of CT magazine
Complete access to every article on ChristianityToday.com
Unlimited access to 65+ years of CT's online archives
Member-only special issues
Subscribe
Art That Reveals Our Need for Grace
Art That Reveals Our Need for Grace