Out of habit, I still watch Tina Fey in 30 Rock and Steve Carell in The Office every week, even though I do not particularly like the shows anymore. Both started out as a fresh, humorous takes on usual suspects, corporations and the average American work place. Regrettably, each has turned predictable, which also ends up describing Fey and Carell's latest comedic attempt.
In Date Night, the TV stars play Claire and Phil Foster, a "boring couple from New Jersey" whose life turns exciting for one night during a disastrous date. The film might initially interest CT readers because of its family-friendly comedy and strong marriage themes. It opened last weekend to mixed reviews but still raked in $25.2 million at the box office. Perhaps my expectations were too high because of Fey and Carell's mere presence in the film, a likely draw for others as well. I was also eager to see a film that depicted a strong marriage, instead of the predictable "chick flick" as seen in films based on Nicholas Sparks novels. This isn't the usual love story challenged by cancer, but the themes seem conventional nonetheless.
Playing into the stereotype of the mundane marriage, Fey and Carell go through the humdrum parts of life: feeding the kids, going to work, as Fey puts her mouth guard on before bed. Each date night, for instance, consists of salmon and potato skins. We are set up to believe the couple has marital woes to confront as they watch friends go through a divorce; they've become "the most excellent roommates," but nothing more.
One night, though, Carell takes Fey into Manhattan to a fancy restaurant to invigorate their marriage. The movie contains some charming moments, like when the actors look over at people at tables and make up their own stories about the couples. Unfortunately, the television stars' usual hilarity doesn't quite translate on the movie set.
Claiming another couple's reservation, they are mistaken for a pair who is trying to blackmail a gangster. Your average fifth-grader could have written the script; the implausible plot puts Fey and Carell in danger as they run from a pair of bad cops. The filming is unbelievably amateurish as we watch overly dramatic fight scenes and car chases.
If there's anything redeeming about the film, the takeaway is evident: Marriage can be quite dull, but through trial and hardship (though ridiculously unrealistic), couples realize why they choose to remain married. Though it's painfully obvious, it's an important reminder of what it means to remain faithful in tedious times.
Brett McCracken took a more positive tone in his review for CT, noting that "we need more normal married couples in movies."
Rather than resorting to cheap laughs, gross-out humor or harsh belittling of one another, they instead mine laughs out of the idiosyncrasies of married love (such as the notorious "he's in the mood but she isn't / vice versa" problem). Not once in the film do either of the Fosters lose their love for or trust of one another. But they do grow in both.
It is refreshing to see "normal marriages" played out on the big screen, though Mr. and Mrs. Smith told a much cleverer marriage-oriented story. That movie was also unrealistic but offered a bit more depth about appearances in marriage and truly knowing one's spouse.
I wanted to enjoy this film because of the quaint takeaway about the importance of marriage, but solid family values failed to make this movie worthy of time or money. Unfortunately, playing into stereotypes didn't provide enough substance or laughs this time around.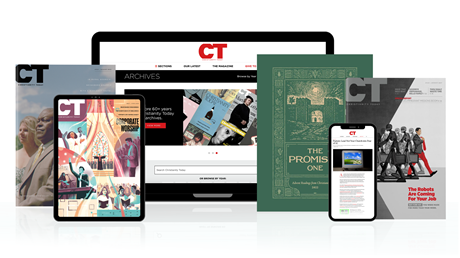 Annual & Monthly subscriptions available.
Print & Digital Issues of CT magazine
Complete access to every article on ChristianityToday.com
Unlimited access to 65+ years of CT's online archives
Member-only special issues
Subscribe
A Failed 'Date Night'
A Failed 'Date Night'