true
Bright colors. Cheery tunes. Epic, convoluted, improbable love stories. Insanely beautiful men and women dancing and lip-synching in musical fantasy sequences that have no connection to the story. Many Westerners, if they have any conception at all of the Mumbai-based Indian film industry known as "Bollywood," have a definite image of the films that come out of Asia's biggest cinema factory.
But it's not just Westerners. "Bollywood is nothing but a man and a woman dancing around a tree and singing!" a South Asian student at my college said disgustedly when I admitted I was becoming a fan. He had a point, though it wasn't just trees. In some of the bigger-budget musicals you'd see them dancing around the Great Pyramids or something. But neither of us knew what Bollywood had to offer outside of its best-known fare.
With today's DVD release of My Name Is Khan, one of Bollywood's most successful films, we take a look at some of India's best movies, and what we can take away from watching them.

Not just a 'singing, dancing nation'
On the DVD extras, director Karan Johar says he wants My Name Is Khan to widen the common view of cinematic India as a "singing, dancing nation." He's made a good run at it, too: Khan earned $40 million worldwide ($4 million U.S.) in its theatrical run earlier this year, making it one of the top 10 grossing Bollywood films of all time. Filmed and set mostly in the United States, Khan's colors are muted. No crowds break out dancing. And the title character, though played by Bollywood's top leading man, is not a standard romantic hero.
The film opens in 2007, with a Muslim man named Rizvan Khan (Shah Rukh Khan) who lives in the U.S. and whose family is experiencing post-9/11 prejudice. Khan begins researching President Bush's itinerary, tracking his every move. He tries to board an airplane and gets stopped for behaving strangely—but it's not what you think. It's not what airport security is thinking either. Khan just wants to look the President in the eye and repeat the film's catchphrase: "My name is Khan. And I am not a terrorist."
Rizvan grew up in Mumbai knowing he was different from everyone, but never knowing why. He could repair almost anything, but had a hard time with basic social interaction. After he immigrates to San Francisco, his sister-in-law, a psychology professor (Sonya Jehan), diagnoses him with Asperger syndrome. Rizvan gets a job selling beauty products to salons, which is how he meets Mandira (Kajol), a hairstylist.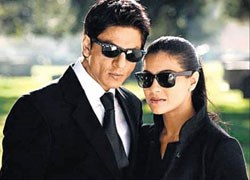 Romances starring Khan and Kajol are almost a film industry unto themselves. Lighting up box offices globally, their sunny charm and playful chemistry defy traditional romantic barriers like class, religion, and family disapproval. In Khan, they also transcend neurology. She's a divorced single mother; he's an awkward salesman who can't say "I love you" out loud. Fortunately, the actor Khan understands that his job is not to portray a syndrome but a person with a syndrome, and we believe him as he finds other ways to say it.
But there's another problem: she's a Hindu and he's a Muslim. The 9/11 attacks have turned Muslim into a dirty word for many Americans. Mandira and son Sameer (Yuvaan Makaar) aren't Muslims, but she's married to one, and they have brown skin. When a shattering tragedy touches their family, Mandira blames Rizvan. In their town of 30,000 people, she tells him tearfully, "They all hate you!" Sending him away, she sarcastically suggests he find the president of the United States and tell him he is not a terrorist. As "Aspies" are prone to do, he takes her literally, and begins the quest which makes up the film's central story.
It's both hard and easy to find fault with the America we see in My Name Is Khan. The film doesn't always hit the right cultural notes, like when some suburban American boys harassing Mandira's son use very Brit-esque words like "bloody." A lot of the anti-Muslim incidents come straight from post-9/11 headlines, but seeing them gathered into one picture is jarring. Is that really how the past ten years looked to Muslims and the wider world?
Religion itself is not the problem for Khan. Many Western critics worry that George W. Bush and other evangelicals maybe believe in God just a little bit too much. Bollywood isn't bothered by strong belief. Quite the opposite: both characters and stars of Indian films often wear their faith proudly, even when they're not making awards-show acceptance speeches. We see many good Bollywood heroes—even action/romance hunks like Khan's usual characters—praying or worshiping at temples or mosques. Bollywood isn't averse to God, but does ask serious questions about how people use him.
Khan doesn't give anybody's faith a pass: the title character flees a Hindu hotel owner who resents Muslims, and he alerts the FBI to a militant firebrand speaker he meets in a mosque. But the film's writers definitely see the U.S. government as having chosen sides. A lady stops Rizvan from buying his way into a Bush fundraiser, saying the event is "for Christians only, honey." You could call this an exaggerated picture, but this is Bollywood, where many things get exaggerated. Maybe the people of Khan's America just have a greater tendency to say things out loud—things that more Americans are keeping inside their heads than we might like to think. And the makers of Khan are from a part of the world where religious battle lines can be drawn along literal battle lines. How easy might it be for people in that cultural context to see that sort of thing when they come across rhetoric defining America as a Christian nation?
A societal reject twice over, Rizvan finds the strongest support on his quest from other perceived outsiders, like the small-town Deep South African-American church that he aids during a Katrina-like disaster that the government ignores. Here Khan comes close to a key aspect of Christianity: at its best, it's a religion of outsiders. Rizvan may not have been able to get into the fundraiser, but the churchgoers in Georgia include Rizvan's family tragedy in the memorial service they'd planned for fallen soldiers in Iraq. Later on, they sing "We Shall Overcome" together in English and Hindi, and it manages to avoid being corny. In any case, when Rizvan finds the America he's looking for, a church's giant wooden cross—the Christian symbol for both absolute rejection and ultimate reconciliation—towers overhead.
Reconciliation is the driving emotional force in My Name Is Khan. A suburban white woman from the town where everyone supposedly hates Muslims says what Mandira needs to hear in order to move from hate to forgiveness. Rizvan finally shakes the hand of a just-elected American president whose name also has Muslim roots (pitch-perfect Tonight Show impressionist Christopher B. Duncan). The film doesn't want to lecture America on its flaws, but to make viewers feel the joys and sorrows of some who have chosen to make it their home.
Rizvan, Mandira, and Sameer aren't treated as ethnic minorities; they're not even People Just Like Us. They ask America to reexamine its concept of "Us." Rizvan seems to think that all it will take is an introduction: "My name is Khan, and I am not a terrorist." In the same earnest, irrepressible way, this film seems to want to introduce the West to a world it thinks it already knows. Bollywood, welcome to America. And America? Welcome to Bollywood. (See the trailer for My Name Is Khan.)
What About the Singing and Dancing Flicks?
Judging by box office numbers, Bollywood's growing wave of popularity in the West seems to involve a whole lot of Shah Rukh Khan, though he's not the only one worth watching. Here are five more recent Bollywood films which made a big splash outside of India. Each of them illuminates some aspect of Indian culture which Western media doesn't often show.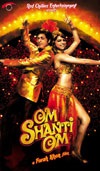 directed by Farah Khan
If your only experience with Hinduism is George Harrison's "My Sweet Lord," well, you won't learn much more from Om Shanti Om. But this "reincarnation romance" brings together two eras of Bollywood history in the double-lifetime of an aspiring film star (Shah Rukh Khan) in love with a famous heroine (Deepika Padukone). It makes for a charming, funny, and evocative piece of pop Eastern theology. (The title is a common Hindu invocation, though no one seems to think it in any way out of place to sing: "All the hot girls put your hands up and say: OM SHANTI OM!" Yeah, Westerners never do thatwith sacred words.) It's also a love letter to an industry that has no problem poking fun at past and present clichés.

(Carry On, Munna Bhai)
directed by Rajkumar Hirani
There's nothing better than a wacky Gandhi comedy to remind the world that "turn the other cheek" is the manliest thing anyone's ever said. Lage Raho Munna Bhai actually started a revival of Gandhian thought in India which caused ripples as far away asWashington, D.C. and the United Nations. The story of a Mumbai mobster (Sanjay Dutt) who starts seeing visions of India's liberator and tries to revive his teachings, the film goes back and forth between absurdly funny and ruthlessly moral. "Live with my picture," the film's Gandhi advises the nation he liberated, "or live with my principles." It's a convicting reminder of the courage and power behind the Sermon on the Mount concepts—forgiveness, nonviolence, loving one's enemies—that Gandhi embraced.

directed by Ashutosh Gowariker
He's a Muslim (Hrithik Roshan), she's a Hindu (Aishwarya Rai). He's Emperor of a powerful sixteenth-century Indian empire, she's the sword-swinging scion of a nobility famed for its terrifying warriors. And this is an arranged marriage, so the wedding happens before the romance. Jodhaa-Akbar is a historical epic in the Ben-Hur mode, set in a time when people rode elephants into battle. Here, Bollywood gives us a different angle on historical Islam: the emperor Akbar is always making speeches about tolerance and religious freedom, and he backs them up by building a temple for his wife's god. A good film for people who want to see what epic can actually mean. One dance number features over a thousand performers. (Oh, and the war elephants aren't CGI. Take that, Lord of the Rings.)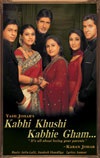 (Through Happiness and Sadness)
directed by Karan Johar
Set partially in London and filled to capacity with Bollywood legends, K3G (as it's called) was one of the first Bollywood films to gain attention in the West, and is a good introduction to the industry. A family saga, K3G features a Shah Rukh/Kajol romance, but the real love story of the film is between Khan's character Rahul and his parents (Bollywood legends Amitabh and Jaya Bachchan), who struggle to overcome their class-based prejudices against Rahul's chosen bride. Bollywood love stories often like to explore the many different love relationships in a single family, and at three-and-a-half hours K3G does a thorough job.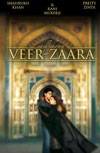 directed by Yash Chopra
Pakistan banned Bollywood films for decades, but movies like Veer-Zaara became underground hits nonetheless. Shah Rukh Khan (yes, again) plays Veer, an Indian Air Force pilot who falls in love with Zaara, a Pakistani girl he rescues from a bus crash near the border. Drama ensues. Veer-Zaara is a call for understanding, highlighting the commonalities between these two bitter nuclear rivals. It also has pointed things to say about opportunities for women and girls in both countries. The film's moralizing is obvious, but apparently effective—reportedly it did brisk bootleg business in Pakistan, helping propel star Rani Mukherjee to iconic status across the border and earn her a dinner with then-president Pervez Musharraf. In 2006, Pakistan granted official permission for the first time in years to another Bollywood film, Taj Mahal: An Eternal Love Story, which paved the way for more in its wake—but went down in history as an enormous worldwide bomb. Oh, well.
Trevor Persaud's name is Persaud, and he is not a film critic. He is Christianity Today's editorial resident.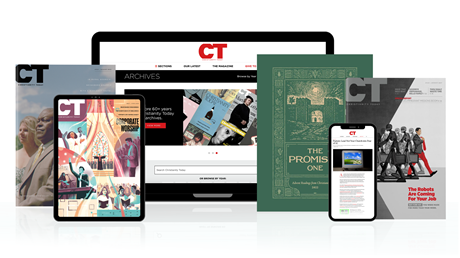 Subscribe to Christianity Today and get access to this article plus 65+ years of archives.
Home delivery of CT magazine
Complete access to articles on ChristianityToday.com
Over 120 years of magazine archives plus full access to all of CT's online archives
Subscribe Now
Bollywood's World View
Bollywood's World View